Film Reviews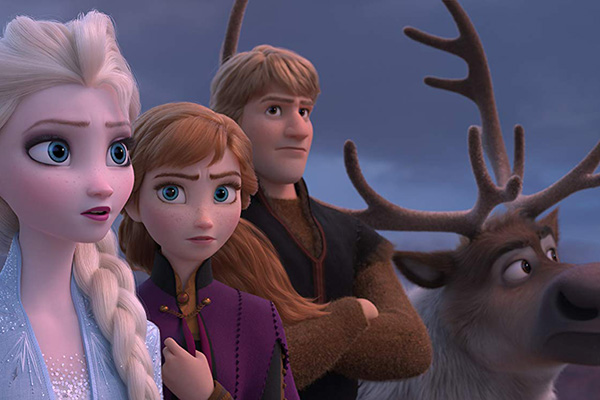 'Frozen II' Continues The Sororial Saga
Written by

Martha K. Baker
I was all set to criticize "Frozen II" as demanding more maturity than the first of the "Frozen" franchise in 2013, for surely there will be more. I was going to alert parents to watch it first so they'd know when to cover their kiddies' little eyes and explain the hard parts.
Then, I found out that my great-nephews, 3 1/2 and 5 1/2, had seen "Frozen II" on opening day. Their mother and grandmother reported that neither boy moved a muscle (of course, they've been coached about how to behave at the moving picture show). Each child was caught in his seat by the spectacle, the colors, the story, the songs. And so I have to rescind my censoring self and acknowledge that even little children will find magnets to draw them to "Frozen II."
The main characters from "Frozen" return: the sisters Anna (voiced by Kristen Bell) and Elsa (Idina Menzel), the beau Kristoff (Jonathan Groff), and the snowman Olaf (Josh Gad). Olaf, who claims to have matured, threads a message about growing up throughout. The team troops out of Arendelle to find out why Elsa has the magic to create ice with her hands. "You're the bridge," Anna says to her sister, to which Elsa responds, "Bridges have two sides, and our mother had two daughters."
They venture to an ancient land, caught in autumn (calling Carl Jung). The world is bound in darkness. This fairy tale was scripted chiefly by Jennifer Lee with a thematic emphasis on the four elements: earth, air, wind, and fire. The writers include Robert Lopez and Kristen Anderson-Lopez. She wrote the original songs, including the "Let It Go" number called "Into the Unknown," which is little more than screaming, bar by bar. There's also a tribute to Queen and other Eighties' music for parents to sing to.
Jennifer Lee directed with Chris Buck, who also directed the first "Frozen." They led a team of Disney animators to create a gorgeous film. "Frozen II," like Olaf, is perhaps more mature than "Frozen." Nevertheless, "Frozen II" captures even little ones' attention if my nephews are any sign of same.