Film Reviews
Film Reviews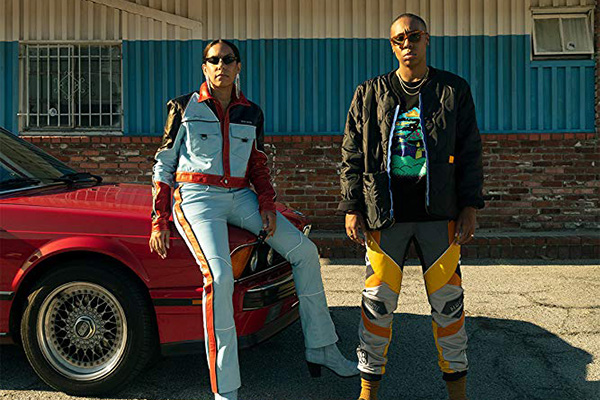 'Queen & Slim': Two People On The Run
By Martha K. Baker
Critics have likened "Queen & Slim" to "Bonnie and Clyde." Although "Queen & Slim" is about two people on the run, it is not a modern, blacker version of "Bonnie and Clyde." It might be likened to "Thelma and Louise," but only in that the both pairs of renegades have been degraded by society.
"Queen & Slim" rises above films about accidental criminals because it is grounded in the way police look on blacks -- a unique injustice. Queen, a lawyer, has finally accepted a Tinder date with Slim, a retail worker. He takes her to a restaurant that doesn't exactly suit her taste. He explains they are there because the diner is owned by blacks. When Queen starts to complain about the waitress, Slim, who knows her troubles, reminds Queen that the waitress is doing the best she can.
On the way home, they are pulled over by a racist cop. He roughs them up. Slip shoots the cop with the service pistol. The autonomous Queen knows what will happen. She insists they run for their lives. All Slim wants to do is call home to tell his father that he's okay. As the two drive on and on, they learn more about each other. They develop a plan. It's crazy, but trusting a black woman is good advice. The film does not burden her with sainthood. They share the run from Ohio to Florida, and Queen shares her complex past as the film becomes picaresque. 
The story came from the disgraced novelist, James Frey. He knew that he, a white man, could not write this script, so he gave the idea to Lena Waithe, known for her award-winning work on "The Chi." She has written a worthy script, full of compassion and harsh reality. "Can I be your legacy?" Queen asks Slim. "You already are," he consoles her.
Daniel Kaluuya, so good in "Get Out," is also excellent as Slim, paired evenly with Jodie Turner-Smith as Queen. The supporting cast includes a shaded Chloë Sevigny and Bokeem Woodbine as Queen's pimpy uncle.
Although Melina Matsoukas has previously directed mostly musical videos, she directed "Queen & Slim" with deep understanding of the words and the characters and the society she was dealing with. "Queen & Slim" is going to be lost in the melee that is December film openings, but it deserves so much more. It deserves to be found.