Film Reviews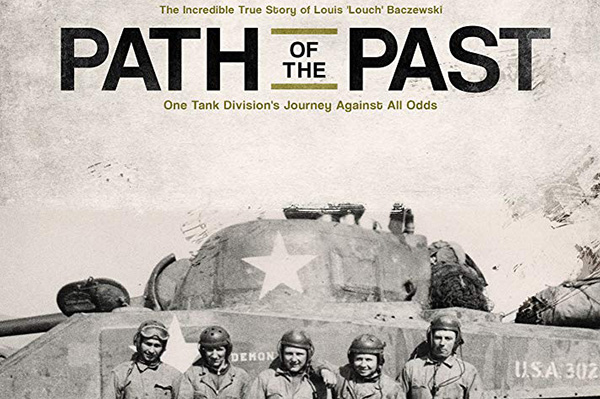 'Paths of the Past' Describes One Man's War
Written by

Martha K. Baker
For all the commemorations this year of the 75th anniversary of America's engagement in World War II, the intimate and moving documentary, "Paths of the Past," brings the battles close to home. Lou Baczewski honors his namesake grandfather, known as "Louch."
Sgt. Louis Baczewski hailed from Pocahontas, Ill. As part of the tank crew in the 3rd Armored Division, Louch fought in all five big campaigns in the European theater of operations in 1944-1945. His grandson is not so interested in the big picture or of grand victories. He cares about the men themselves, the soldiers who paid the cost of war, there on the battlefield or at home.
Louch taught the boy Lou how to fish in Shoal Creek, "that hallowed and sacred place." That's where the boy, grown from fisherman to filmmaker, opens and closes this biography. Often, throughout, he refers to his granddaddy's finally opening up about the devastation in and of Europe. He supported the war, says the younger man of his grandfather, who also doubted war, too.
Baczewski narrates the film, often with sentences of near poetry. He honors his Polish heritage, telling stories about his grandfather's helping Poles after the end of the war. Baczewski includes testimonials from historians such as Ed Wehrle, a professor at Eastern Illinois University, and Steven Ossad, biographer of Gen. Maurice Rose, who headed the 3rd Armored Division. Baczewski included commentary by Todd Despastino, biographer of Bill Mauldin, on America's inferior Sherman tanks, and by James Peterson, a Marine veteran of the Iraq War and an expert on PTSD.
"Path of the Past," with a soundtrack by local musicians such as the River Rats, will be shown for free at the Soldiers' Memorial in downtown St. Louis at 11 a.m. on Tuesday, December 17. It will also be shown at Big Daddies in Soulard on Jan. 16 at 7 p.m. and at the St. Louis Holocaust Museum on April 19 in conjunction with the 3rd Armored Division's liberation of Nordhausen, a concentration camp.