Film Reviews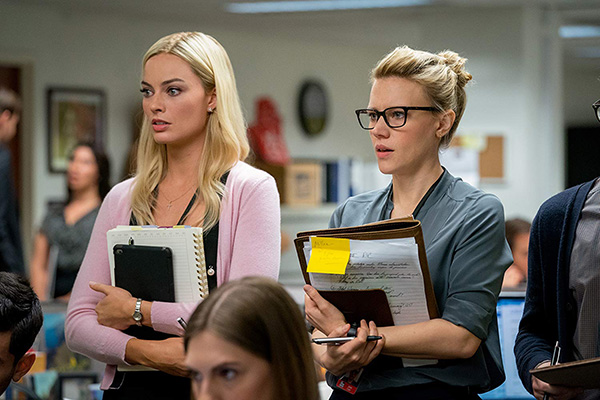 'Bombshell' Blows Up At Corporate Harassment
Written by

Martha K. Baker
One of the hardest parts of watching "Bombshell" is telling the women apart. Fox News hired svelte blonde women, and the film's make-up department, headed by Vivian Baker, made the actresses uncannily resemble the newscasters. Harder, however, is watching the sexual harassment unfold in the network culture of Fox news ("news" used advisedly). 
"Bombshell" is a common term that applies to the looks of the females, but, for this true story, it also applies to the bomb that was dropped on Roger Ailes and, by the way, on Bill O'Reilly. Ailes was profiled last year in an outstanding documentary entitled "Divide and Conquer." Highlighted were his life as a hemophiliac, paranoid that he could die any minute, and his career before Fox, including mentoring Richard Nixon.
"Bombshell" shows Ailes to have remained paranoid as well as sleazy, criminal, arrogant, competitive, and abusive until he died in 2017. The disgusting scene that encapsulates these qualities concerns Kayla Pospisil, played bravely by Margot Robbie. As she is interviewed by Ailes, a Jabba the Hut, he demands that she show him her crotch, and the camera becomes his venal eyes as he slobbers. Her colleagues, Megyn Kelly (played by Charlize Theron) and Gretchen Carlson (Nicole Kidman), enter the law suit that bombed Ailes.
Perhaps it is significant that Jay Roach, the director of "Bombshell," produced "Trumbo" about the black-listed writer, for that film gives him credit as a fighter for right. Charles Randolph wrote the script for "Bombshell"; he also wrote the script for "The Big Short," again signifying his credentials. They have the newscasters speak directly to the camera, to us, as they tour the studio, as they develop a case against Ailes, as they take risks in working in that toxic network, and as they fight it.
Carlson, Robbie, and Theron are ably supported by John Lithgow, fattened up as Ailes, and by Allison Janney, brilliant as Ailes' lawyer. Kate McKinnon has a tertiary role, which she nails, as does Connie Britton as Ailes' wife, who, believe it or not, loves him.
"Bombshell" lands directly on its targets, men with power and immorality to squander. The men poison the land as well as the airwaves; the women sue, setting examples and grounding boundaries.