Film Reviews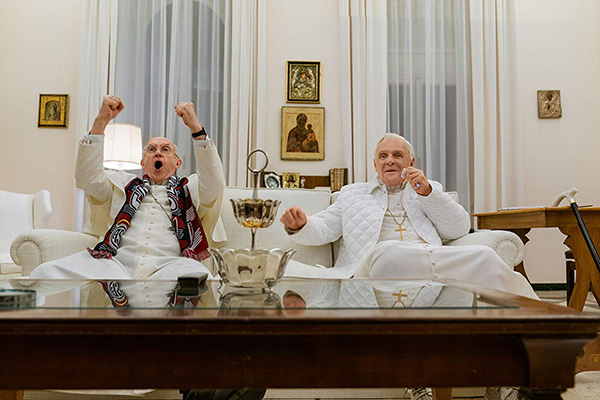 Top 10 For 2019: Many Of The Best Are Foreign Films
Written by

Diane Carson
Top 10s are always impossible, ranking such diverse films in a hierarchical order. Nevertheless, here are 10 I highly recommend.
10. "Last Black Man in San Francisco": a fresh, creative, socially astute take on gentrification, alienation and reclamation.
8. & 9: Two documentaries shine: "Maiden": The fabulous story of the first all-female crew winning the 1989 Whitbread Round the World 33,000 mile race, and  "Apollo 11": a magnificent, exhilarating exploration of the historic June 21, 1969 moon flight seen through rediscovered 70-mm footage and recordings.
7. "The Irishman": Director Martin Scorsese reclaims and reignites the gangster genre through the Jimmy Hoffa story, with Robert de Niro, Joe Pesci, and Al Pacino in fine form.  
6. "Marriage Story": Writer/director Noah Baumbach's psychological dissection of the deterioration of a marriage, meticulously explored from both the wife's and husband's point of view.
5. "Shadow": Chinese writer/director Yimou Zhang stages a stylistically stunning tale of ancient Chinese court intrigue, through a dark palate and with an ingenious, breathtaking final battle. 
4. "Portrait of a Lady on Fire": French writer/director Céline Sciamma's haunting, quiet, gorgeous study of two late-eighteenth century women, one a painter, the other the subject. Adopting a scrupulous woman's gaze, it isolates the characters on an island, as they explores the nature of love.
3. "Pain and Glory": Spanish writer/director Pedro Almodóvar's autobiographical, introspective reevaluation of his professional and personal relationships has heart and soul, regrets and love, featuring a brilliant Antonio Banderas. 
2. "Parasite": South Korean writer/director Bong Joon Ho's satirical skewering of class inequality and resentment combines comedy with horror as two families collide. 
1. "The Two Popes": Pope Benedict and soon-to-be Pope Francis deliberate compromise vs. change, tradition vs. reform, regrets and forgiveness in Argentinian director Fernando Meirelles' beautifully staged interaction of wit and humor, with superb performances by Anthony Hopkins and Jonathan Pryce. 
There are many other worthy cinematic adventures, and I wish everyone many hours of happy viewing in 2020.