Film Reviews
Film Reviews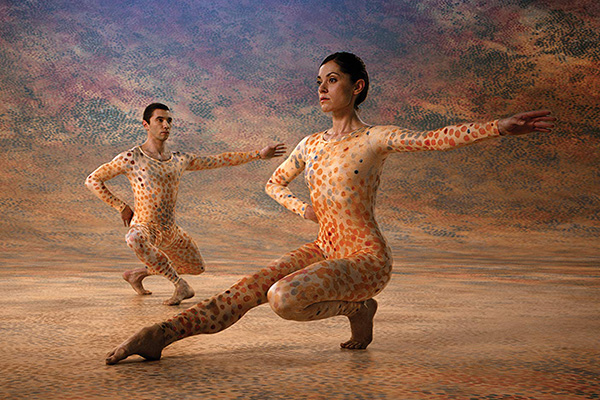 'Cunningham' Studies Dance Moves By The Great
By Martha K. Baker
Merce Cunningham changed the face -- and the feet and the feats -- of dance. People who know next to nothing about dance have probably heard of him, but Alla Kovgan's documentary will fill in the blanks of this choreographic force. The Russian director interfaces vintage film with recreated dances in inventive spaces.
Kovgan concentrates on the germinal time in Cunningham's career, the decades between 1942 and 1972. But she starts modern. She starts with a lone dancer in a long silver tunnel, and after moving the camera closer on him, she pulls out to colorful dancers, dotted on the white roof of a cityscape in Manhattan.
From these scenes comes Cunningham's deep voice. "I was never interested in dancing that refers. It is what it is -- the whole visual experience." To that, he adds to an interviewer, he is neither "avant garde" or "modern": "I am a dancer," he asserts. And later, he says firmly, "We don't interpret. We present. Interpretation is left to the audience."
In between, his distinct declarations are his dances, meditations, and devotions manifested by himself -- those feet, those toes -- and by his dancers. Many of his corps speak, either in vintage interviews or in recent recollection. Barbara Lloyd Dilley, Viola Farber, Valda Setterfield, and Gus Solomens Jr., among others, speak of Cunningham's care of them. He taught without teaching; he parented without being patriarchal or parochial.
Included in this dance history are, of course, John Cage, with whom Cunningham made music, such as in Suite for 5 in 1956, and Robert Rauschenberg, with whom they made art.
Although the documentary breaks no new ground in that genre, Kovgan does tickle with letters seemingly typed on screen as letters are read aloud, and she poses old pictures with new interpretations of Cunningham's dances. He choreographed 180 dances and continued to dance until he died at 90 in 2009. This film documents that life for all to see now.