Film Reviews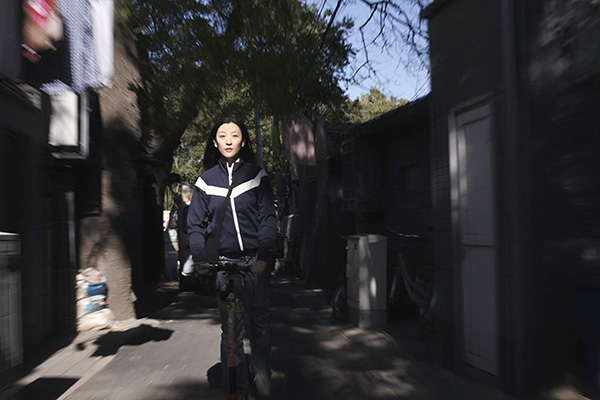 'Girls Always Happy' Ironically Dramatizes Interpersonal Unhappiness
Written by

Diane Carson
The Chinese film "Girls Always Happy" plunges into the contentious interaction of Wu and her mother living in a contemporary Beijing Hutong, those densely packed, old, mazelike neighborhoods where no privacy exists in the small apartments or in the streets. The bitter irony of the American title, "Girls Always Happy," hits like a thunderbolt in the first and subsequent scenes.
Writer/director Yang Mingming plays protagonist Wu. She and her resentful, divorced mother are, in fact, neither girls nor ever more than fleetingly happy. Instead, they choose to berate each other for, what seems, every detail of their daily interaction. The more superstitious of the two, the unnamed mother says mice in the house are a sign of bankruptcy and a bright light over one's head is inauspicious. She also complains to Wu that she can't sleep with the internet on since magnetic waves bother her, that Wu's tilting her head shows lack of self-confidence, and she also corrects the way Wu puts on lipstick. In return, Wu goads her mother, telling her no one cares about mother's worrying about her wrinkles. 
These examples epitomize the increasingly annoying ridicule of each other, as both seek to ingratiate themselves with the grandfather in order to benefit from his will. Predictably, a few interactions with what passes as romantic interests lead to mother's opinion that all men are disgusting. Meantime, both struggle as writers, Wu of screenplays and the mother of poetry. 
The film's roughly two hours running time is divided into three chapters: Milk, Lamb Marrow, and Honeydew. These designations signal the overwhelming emphasis on food with numerous scenes focused on eating. Even when closeups make the meal choices and the characters' behavior quite unappetizing, Wu and her mother enjoy these moments more than any others, though there's no respite from the mother's criticism. Several shots of ugly, tangled wires offer the best metaphor for this rich profile of life in an economically challenged China, 
In Mandarin with English subtitles, "Girls Always Happy" screens at Webster University's Winifred Moore auditorium Friday, January 31 through Sunday, February 2 at 7:00 p.m. each evening. On January 31 only, an introduction and post-film discussion will be presented by Dr. Yongzhen Shu Curtin. For more information, you may call 314-246-7525 or on the web at: Webster.edu/filmseries.