Film Reviews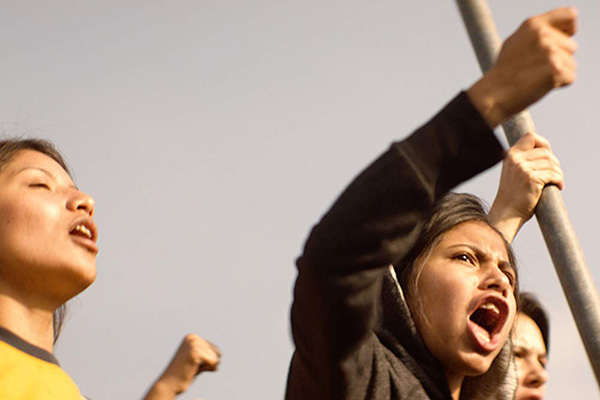 Oscar Live Action Shorts Cover Diverse Topics In Exceptional Films
Written by

Diane Carson
Each year, a selection committee of the Academy of Motion Picture Arts and Sciences nominates five live-action short films for Oscar contention. The current group offers topical diversity with irony, humor, and tragic themes effectively presented, testimony to expert international production and acting for commendable thematic issues. 
In the order listed, first is Belgian director Delphine Girard's "A Sister." Reminiscent of the suspenseful 2018 Danish film "The Guilty," the immediately tense situation begins with a woman's cell phone call to, it's soon revealed, an emergency call center. Very brief flashbacks reveal the danger for the mother's stealthy attempt to convey this to the 911 dispatcher. In the dark of the car, a terrifying drama unfolds.
Equally unsettling, writer/director Meryam Joobeur's "Brotherhood" watches the reaction of a Tunisian, sheep-herding, Muslim family – mother, father, and boys – when the eldest son Malek arrives from ISIS activity in Syria with his wife in full niqab. Very different reactions heighten the conflict, with a razor-sharp metaphor delivered through events with the sheep. A coproduction of Canada, Tunisia, Qatar and Sweden, the title "Brotherhood" expands to include multiple connotations.
Third is writer/director Marshall Curry's "The Neighbors' Window." Living in a New York high rise that offers a clear view of a facing apartment, a young couple with a girl and a baby become engrossed in the lives they increasingly obsess about watching. Unexpected developments prove both intriguing and poignant. 
Next, American writer/director Bryan Buckley's "Saria" gets my Oscar vote. Based on true events, set in the Guatemalan Virgen de La Asuncion Safe Home, teenage orphans plot an escape from their inhumane abuse. Buckley wisely presents this shocking story in a calm, deliberate style, but none of the impact is, for a second, minimized.
Last comes "Nefta Football Club," a French/Tunisian entry by writer/director Yves Piat. Ironic and amusing, two boys' accidental discovery of dozens of powder-filled bags and their disposal reveal a great deal about the Tunisian culture on the Algerian border and communication failure, with a fabulous Adele versus Hadel music mix-up.
Each Oscar nominee presents solid content in intriguing stories. With subtitles as needed, the program of the five Academy Award nominated live action shorts screens exclusively at Landmark's Tivoli Cinema.