Film Reviews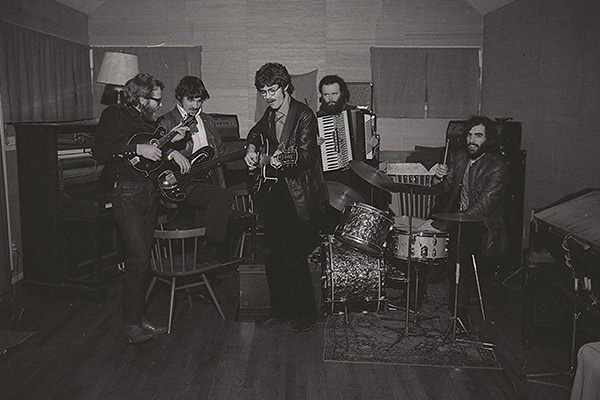 'Once Were Brothers: Robbie Robertson and The Band' Celebrates Great Music
Written by

Diane Carson
Documentaries as well as dramatized films about musicians have achieved notable success over the past couple years. The documentary "Once Were Brothers: Robbie Robertson and the Band" now joins that esteemed group, a profile of the Band as heartwarming as it is heartbreaking. The joy comes from revisiting the 16 years they made great music.
Based on Robertson's 2016 "Testimony: A Memoir," director Daniel Roher gives Robertson center stage, and he tells his captivating story.
Though different from bandmate Levon Helm's 1993 memoir, Robertson, the Band's guitarist and major songwriter, serves as an engaging guide on this journey through dynamically presented archival footage of photographs, home movies, and concerts. Robertson holds forth on The Basement Tapes, Music from Big Pink, the brown album, his marriage to Dominique, and tours.
Supplementing Robertson's detailed descriptions are extraordinary musicians singing the praises of the Band. They include Eric Clapton, Taj Mahal, Van Morrison, George Harrison (in archive footage), Ronnie Hawkins, and Bruce Springsteen who bows to "three of the greatest white singers in rock history." Also extolling the Band's accomplishments are producer David Geffen and Martin Scorsese. Executive producer here, Scorsese directed the iconic 1976 concert film "The Last Waltz," which was the final time the Band appeared on stage together.
Scorsese best defines the Band's expansive, unique sound, noting it reflects influences from country, English, Scotch, Irish, Welsh, Mississippi Delta and blues music. "The Night They Drove Old Dixie Down," "Up on Cripple Creek," and "I Shall Be Released" are all featured here. Highlights also include mid-60s concerts with Bob Dylan, getting booed as Dylan expanded his musical horizons. Yet, as Dylan said, they behaved like gallant knights, standing behind him. Clapton makes an astute observation—that it was so free, he didn't want it to ever end. When that end comes, partly because of the too familiar destruction of drugs, the loss is palpable and hurts. 
The beautiful brotherhood forged by Levon, Rick, Richard, Garth and Robbie spoke through their extraordinary collaboration. As Robbie says, "It was so beautiful, it went up in flames." Now only two remain. "Once Were Brothers: Robbie Robertson and the Band" is available on Amazon Prime.