Film Reviews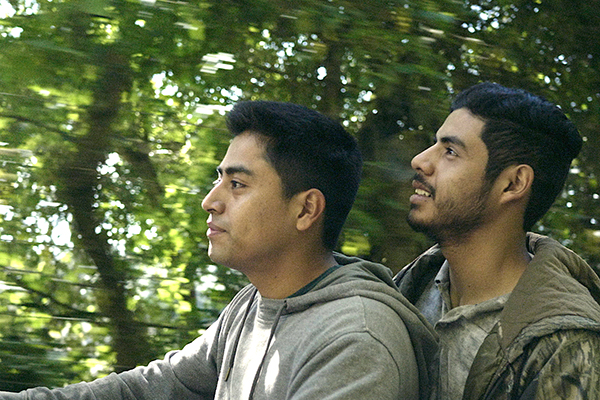 'José' Follows This Gay Young Man In Contemporary Guatemala City
Written by

Diane Carson
José, in the film of that title, lives with his mother in an impoverished area of today's Guatemala City. Working on a busy street corner, nineteen-year-old José hustles for customers in car, truck, or on motorbike, passing by a small restaurant to pull over and order curbside takeout. Through an app, he also meets lovers in a nearby rent-by-the-hour hotel. 
Director Li Cheng, co-writer with George F. Roberson, seamlessly integrates the contemporary socio-political details into José's, his mother's, and his grandmother's daily activities. His religious mother spends most of her time cooking, homosexuality is clearly denounced by the pervasive Catholic Church, a religious procession occurs, the lack of access to education sparks a protest in the city square, José's mother is robbed quickly and without a word spoken with no legal consequences ever shown, his grandmother comments that her husband disappeared after the war, and José visits Mayan ruins. The fabric of life in Guatemala emerges in clear, understated relief as José quite quietly struggles to decide his future course, forced to choose to follow his heart or his head, to return with his lover Luis to his Caribbean home or stay to support his mother. 
José's familiar dilemma invites empathy through newcomer Enrique Salanic's complex, subtle performance. Unhurried, the film follows José through unembellished, neorealist style, with. cinematographer Paolo Giron composing primarily in long shots. Events unfold casually, José being yelled at by his boss, observing the flirtatious interaction of two co-workers, getting to the countryside one time. Chinese born director Cheng chose Guatemala for his film from twelve countries he visited, preferring Guatemala because, he writes, it has long been "overlooked internationally" though it is "the largest country in Central America." His outsider status lends his work a powerful perspective.
The film includes long shots of frontal male nudity, not sensationalized but explicit. Among other awards, "José" won the Queer Lion at the Venice Film Festival. In Spanish with English subtitles, "José" streams with a link to Webster University on the Outsider Pictures website from Friday, May 15 through Thursday, May 28. That link is: https://row8.com/movie-details/87873242_wuf
For more information, you may also call 314-246-7525 or on the web at: Webster.edu/filmseries.