Film Reviews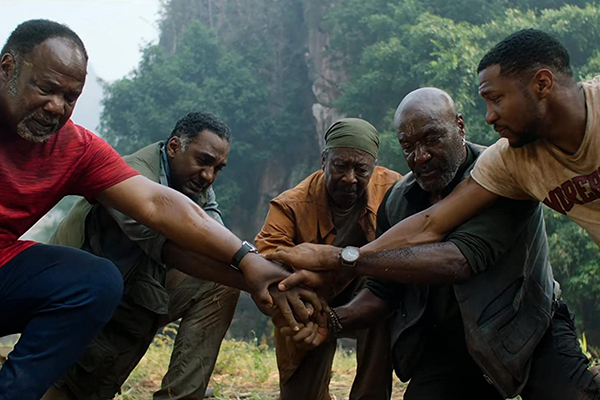 'Da 5 Bloods' Gives A Comprehensive, Essential History Lesson
Written by

Diane Carson
Everyone familiar with director Spike Lee knows, as the cliché asserts, he speaks truth to power. In documentaries (at which he excels) and scripted films, Lee attacks his subject with humor, imagination, joy, anguish, allusions, and, at times, heavy-handed directness. What he doesn't generally receive sufficient credit for is the rich history lesson embedded in his fictionalized narratives. 
All of this applies to his latest work, "Da 5 Bloods." The spine of the story is straightforward. Four black Vietnam veterans—Melvin, Eddie, Paul, and Otis—reunite in today's Ho Chi Minh City to launch a new mission: retrieval of the remains of the fifth blood, known as Stormin' Norman, squad leader for this Big Red One, Army First Infantry group, killed during a late-60s jungle ambush. They also hope to find a cache of gold bars buried at that firefight. Additional wild cards include: Paul's son David, Vietnamese handler Vinh, three NGO workers defusing land mines, a previous Vietnam lover, and a sleezy French wheeler dealer. 
Lee begins with archival clips and photos that perfectly set the anti-war, anti-racism context: Muhammed Ali, Malcolm X, Angela Davis, Tommie Smith and John Carlos (their 1968 Olympics "human rights salute"), Bobby Seale, Kent State, and more, all intercut with iconic (still difficult to see) Vietnam War photos and news footage. Through radio propaganda, Hanoi Hannah reminds black GI's that they're fighting for a country that doesn't grant them human rights. MLK, Jr.'s assassination is announced, Edwin Moses and Morehouse are recognized, and the Boston Tea Party with the first casualty an African/Native American man, Crispus Attucks, whom American history has all but erased. In addition, Lee alludes to classic films: Ride of the Valkyries music from "Apocalypse Now" (I laughed and moaned) and all that Conrad's "Heart of Darkness'" indictment of colonialism plus the famous badges comment from "The Treasure of the Sierra Madre" and what that says about human nature. If this sounds like too much, it isn't in this wild ride through today's Vietnam.
Magnificent performances power the film's two and a half hours: Jonathan Majors doing a lot in a thankless role as David, Norm Lewis as Eddie, Isiah Whitlock Jr. as Melvin, Delroy Lindo in the flashiest performance as Paul, and Clarke Peters who deserves more recognition for his portrayal of Otis. In an unusual move that feels exactly right, Lee has his actors play their earlier selves with no de-aging. As he has said, their memories stay so alive today that, once back in Vietnam, they are right back there with immediacy. 
Even when "Da 5 Bloods" goes off the rails, which it does a couple times (especially the Vietnamese caricatures), it is never dull or easy to dismiss. Lee, as always, is provocative and profound, an essential conscience and a much-needed corrective. "Da 5 Bloods" is streaming on Netflix.