Film Reviews
Film Reviews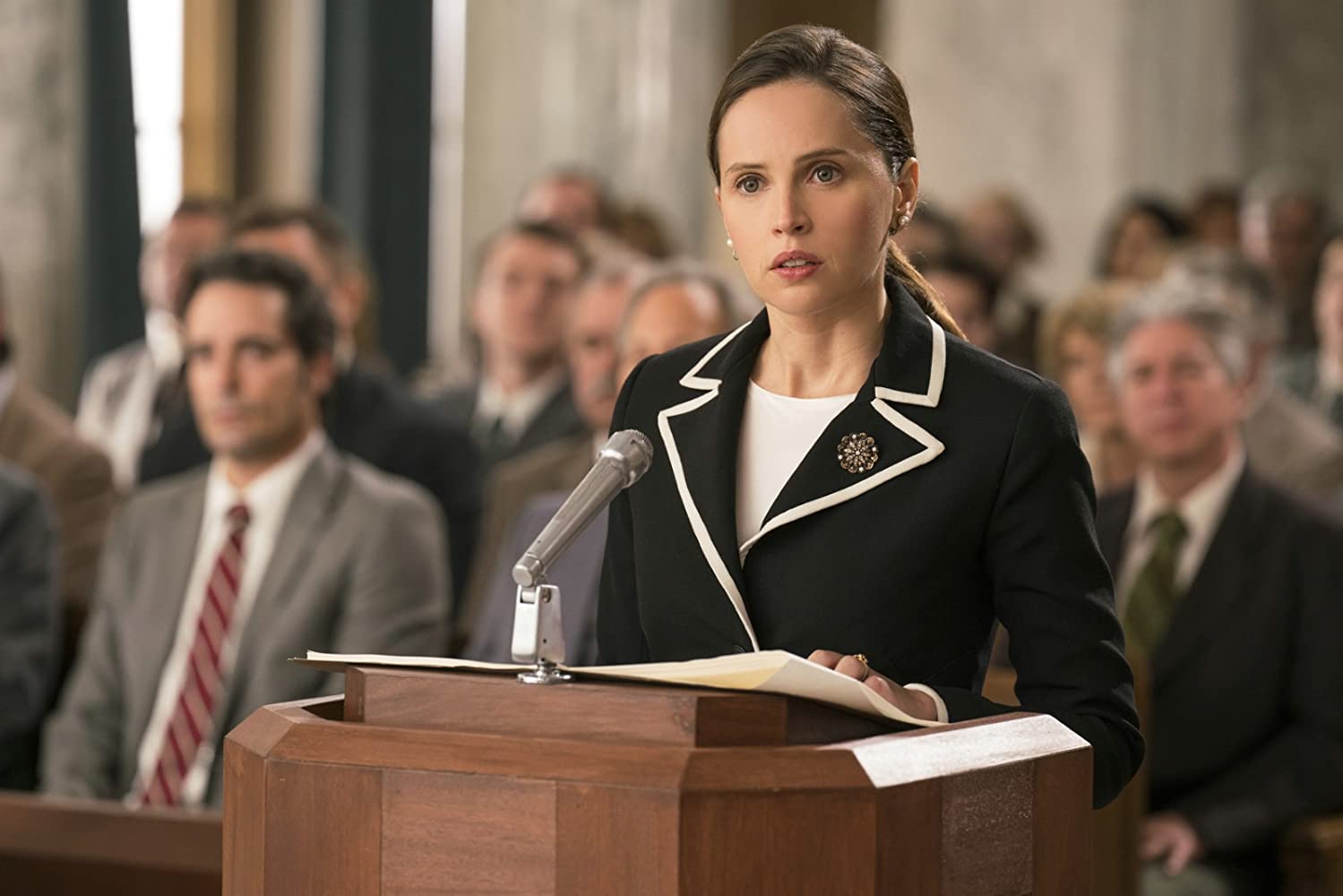 'On the Basis of Sex' Presents The RBG Story
By Ronnie Wisdom
"On the Basis of Sex" has been re-released to correspond with the recent death of its subject, Justice Ruth Bader Ginsberg, by describing her early years as a lawyer.
"On the Basis of Sex" explains it all for you. 2018's documentary, RBG, prepared audiences for last year's feature film, On the Basis of Sex. Whereas the stirring documentary covers the life of Supreme Court Justice Ruth Bader Ginsberg, the feature film covers her early, ceiling-breaking case of a man denied a tax exemption that would have been granted were he female.
Before that, Ginsberg had been studying law, one of the few women in her classes at Harvard and Columbia. She also took classes for her beloved husband Martin, when he was recuperating from prostate cancer. She also cared for their older child, Jane. Because law firms refused to hire a woman, or "another" woman, Ginsberg taught law.
Chris Mulkey well handles the caregiver in the tax case, and Kathy Bates is excellent as a feisty foremother lawyer. Sam Waterston and Stephen Root are classic male-chauvinist lawyers. Sharon Washington is the amazing Pauli Murray, who deserves a biopic of her own.
Armie Hammer serves as Ruth's dear husband, Marty, and Cailee Spaeny expertly handles the significant role of daughter Jane. Felicity Jones, so credible as Jane Hawking in "The Theory of Everything," brings similar credence to the role of Ruth Bader Ginsberg. She exhibits Ginsberg's caring, commitment, and profound intelligence.
Mimi Leder directed from a script by Daniel Stiepleman wherein waiting for Ginsberg's rebuttal is like waiting for Julia Sugarbaker's in every episode of Designing Women. A film about legal transactions requires a lot of legalese; however, close attention to the case and the times and the law pays off. At the end, Ginsberg herself appears, bleeding over from an image of Jones in blue. RBG's voiceover in a classic quote breathes real life into this woman's place in American judicial history.I'm Martha K. Baker. From the Grand Center Arts District, this is 88.1, KDHX, St. Louis