Film Reviews
Film Reviews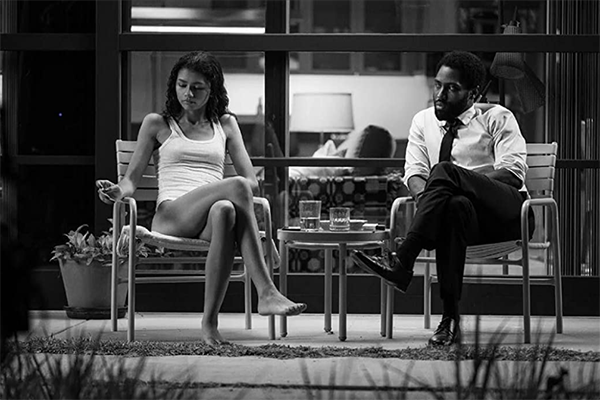 'Malcolm and Marie' Argue Through The Night
By Martha K. Baker
Back in 1966, Mike Nichols directed a fine film of a play by Edward Albee called "Who's Afraid of Virginia Woolf?" For a night, flooded in alcohol and self-loathing, George and Martha argued in front of poor Nick and Honey. By contrast, and due to the pandemic, Malcolm and Marie argue before only a viewing audience.
Both films, shot in black and white, are literate, fierce, even funny at times, sexy, and Gillette-sharp. The titular pugilists have retired to their glass house after the premiere of Malcolm's movie. Wifely Marie prepares mac 'n' cheese for her hungry man while he teases apart the evening -- not only his film but also his contacts with critics, especially the woman from L.A. "I delivered a knock-out punch," he reports belligerently.
The water and Marie boil. Finally, Malcolm, after peacocking about, realizes she's withdrawn. Why? He did not thank her in his aprés-première speech, not for being his partner through the production nor for being the basis of his main character, a former actress who had gotten clean and sober and lives with guilt and shame.
Marie and Malcolm's evening includes nuzzling, smoking, crying, confronting, feuding, accusing, fore-playing, and rebutting. Each combatant, in turn, takes a strong stand; each one listens hard. He mansplains his film studies; she declares, "It's not until you lose someone that you finally pay attention." 
As the sole stars holding down this campaign, John David Washington ("BlackKklansman") and Zendaya ("The Greatest Showman"), command absolute attention, she more than he. 
Still, Sam Levinson holds the reins. As writer and director (and son of director Barry Levinson), he dances with each actor, he contrasts the black and white of skins and sheets and sky, and he alternates dialogues with monologues (Marie's thank-you in Malcolm's voice is brilliant). Levinson's words, most importantly "authenticity," "I'm sorry," and "Thank you," are orchestrated to music by Labrinth. Marcell Rév's cinematography showcases light against dark.
"Malcolm and Marie" is Friday Night Fights without ring, gloves, or bloody blows. Love and hate pound a tattoo throughout and as terraced dynamics in "Liberation" over the credits.