Film Reviews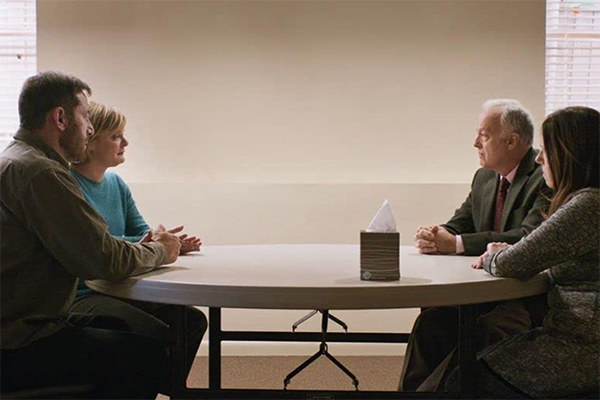 'Mass' sets up an American Tragedy
Written by

Martha K. Baker
No, "Mass" is not easy to watch. It shouldn't be. But "Mass" matters greatly. "Mass" reminds viewers that 5th-century Greek tragedy should be watched with the same level of pain as exuded and evinced by this 21st-century study of pain and loss, forgiveness and confrontation.
"Mass" unfolds terribly slowly and mysteriously. For the establishing shot, director Fran Kranz focuses his camera focuses on a church with red doors, Emanuel Episcopal Church. A nervous woman (Breeda Wool), burdened with sacks of groceries, seeks a young worker's help in setting up a room for a planned meeting. They engage with another woman, who's firm and organized.
The duo leaves the room to four people. They are the meeting. Talk is small. They are polite. Painfully polite. Two couples face off against another pair and each other.
As scenes of the four proceed, an American tragedy seeps in Kranz's words onto the table. "Mass" is all about stories. Each member of the quartet tells her or his story, in terraced dialogue or in soliloquy. Each member of the quartet takes the spotlight in turn under Kranz' studied direction.
These actors carry Kranz' script in waves, ebbing and flowing. Ann Dowd, back in church since her early work in 1977's "Nothing Sacred," fills Linda with woe, especially as she describes a shy and scary son. Jason Isaacs imbues Jay with political energy. Reed Birney maintains Richard's corporate correctness in his pink Oxford shirt and clipped words. Martha Plimpton's Gail trembles with anger and care and force, especially as she describes a son in the mud. All four transcend acting to being humans shot through with angst and yearning.
Playing in the background is "Blessed Be the Tie that Binds," at first plunked in a piano lesson and then, symbolically, harmonized by a choir rehearsing.
"Mass" plays soundlessly on the multiple meanings of the title word. In Greek tradition, "Mass" evokes both violence and communion to tell a story that pounds the heart in "mea culpa." "Mass" is Life turned to Art, returning hate-filled hearts to love.