Film Reviews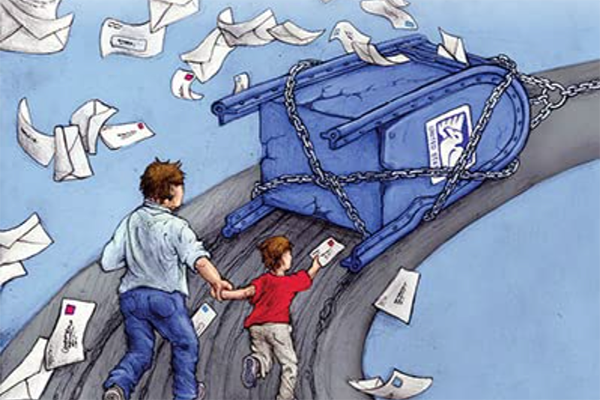 'The Great Postal Heist' rehearses recent postal history
Written by

Martha K. Baker
Jay Galione centers the current situation with the postal service (emphasis on "service") on his father, Robert Galione, a 30-year mail clerk in Maplewood, New Jersey. In doing so, the director of this intense and meaningful documentary starts with very human travails and expands to the bureaucratic chaos on the whole USPS. It isn't pretty.
Jay Galione interviews his father, who was fired for standing up for his colleagues. Galione talks with Wayne Barr, a carrier who witnessed his workmate, Steve Spencer's being bullied until he committed suicide. Audrey Davis, another carrier, saw one of the first instances of a colleague's "going postal" in Michigan. Mary Burkhard, a USPS sales rep, exposed fraud. Jack Mathews, a carrier and president of his union in Gastonia, N.C., started a petition to stop news reports of employees' "going postal" that do not mention that managers lied to the media about not knowing what could possibly have caused it.
The current situation, as defined by employees and workers' advocates, resulted from, among other things, the attempt to take the postal service private. Those who want profits at the expense of employees' mental health and fair wages have been dismantling the postal service. These profiteers include Postmaster General Louis DeJoy, whose family has investments in companies tied to the USPS.
The Center for Public Integrity recently reported that carriers' overtime is not reflected in their checks; furthermore, managers have been caught changing timecards to flatten the budget. As a consequence of the theft of wages, flocks of postal employees quit long before the pandemic.
Galione's documentary includes interviews with employees and with advocates like Ralph Nader, who notes that the nature of privatization has been largely hidden, and with Hank Rauer, president of the Alliance Postal Workers Union in New Jersey. It also includes a heart-breaking scene of mail trucks lined up to follow a fellow carrier to his grave. Sometimes, the documentary is hard to follow as it traces detrimental bills that have been passed in Congress, for example, the Postal Accountability and Enhancement Act, signed by Pres. George W. Bush in 2006. Also considered are beautiful post offices flipped into condos and shoppes.
"The Great Postal Heist" explains a lot about nefarious activity behind one person's dropping a flyer in our mail boxes. The documentary is a vital and revealing report, well-delivered.
I'm Martha K. Baker. From the Grand Center Arts District, this is 88.1, KDHX, St. Louis.
'After Life' continues to explore grief with humor
This is Martha Baker with a KDHX film review of "After Life." Netflix 1/14/22 ff
To answer the loudest question, No. The third and final season of "After Life" is not so knife-sharp as the first two. It cannot be. "After Life" follows the grief-strewn path of Tony Johnson as he tries to wrap his broken heart back together after the death of his dear wife Lisa. He also had to care for his dying and demented dad.
And he had a job to do. Tony is a reporter for the Tambury Gazette. He interviews his neighbors, such as the writer who has ground out 50 bodice-ripping novels. Or the vapid swingers. These laughable interviews make Tambury a bit like Dibley without the vicar. Tony cannot believe these people because his grief matters more than their little lives. 
The six episodes of Season three fly by with each episode evanescent as water through reeds. In each, Tony talks to the man who's moved into his father's room -- and role. He escorts Emma (Ashley Jensen), a nurse at Autumnal Leaves Care Home. He counsels Colleen, the new intern, and Kath (Diane Morgan), the newspaper's long-time sales rep. Tony beats his brother-in-law Matt at every sport. He does not suffer fools. He talks with Anne (Penelope Wilton), the widow who visits her Stan every day while Tony visits Lisa (Kerry Godliman) in the cemetery. And he watches Lisa  on videotape as he pets his life-saving dog.
Each episode softens toward the end. Tony is not quite so cutting, but, through the sharp pen of writer Ricky Gervais, he can still sling barbs. And Tony, like Gervais, remans an atheist even though Lisa believed in an after life. When he declares to Anne on their cemetery bench that there are no such thing as angels, she gently chides him. "Yes, there are," she says. "They wear nurses' uniforms. Some have four legs and bark."
"If you want to be an angel," she adds, "You have to do it when you're alive."
And that's the point of Season Three of this amazing and very realistic show.
This whole series has Gervais'  handprints all over it. That's a good thing. He wrote the dialogue, he directed, he petted that gorgeous dog, he selected the utterly vital music. He plays Tony as hysterically funny and heartbreakingly sympathetic. "After Life" is that rare look at grief that does not shy away from searing pain or shocking humor.
The end of this elevating, energizing series may cause confusion, but the conversation that follows "After Life" will add one more layer to Gervais' admirable foundation.