Film Reviews
Film Reviews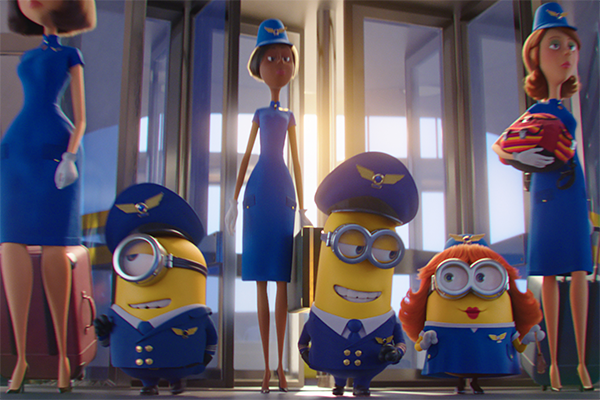 'Minions: The Rise of Gru' raises outright laughs
By Martha K. Baker
There comes a point when watching "Minions: The Rise of Gru" that you forget it's a children's film. Sure, you quickly adopted two rug rats to go with you, a grown-up -- or should I say, a Gru-n-up? After all, you want to get past ticket-sellers, all too prone to yuk it up at the sight of an adult eager to see the third chapter in the Minion saga.
But, there you are, forgetting "Minions" is a children's movie made by the Illumination studios, forgetting even who's voicing the characters. For the record, that's sweet Steven Carell back as despicable Gru. Nun-Chuck is Lucy Lawless, Jean-Clawed is Jean-Claude Van Damme, Michelle Yeoh is the martial arts mentor, Wild Knuckles is Alan Arkin, and Tara P. Henson is Belle Bottom. She declares: "Evil is for adults, not for tubby little punks." And bless Pierre Coffin, who speaks Minion.
What you don't forget is to laugh, chortle, squeal, and/or titter. You are egged on by the little, yellow, ovoid titular characters. Among thousands, Bob and Stuart and Kevin stand out, aided, this time, by Otto, as round as the o's in his name and with his yapper always open to teeth in braces.
They are supposed to be in the supporting cast. You wait patiently for five minutes through the introduction of Gru, the Despicable One, as a boy of 11, his stripedy scarf already a signature. You watch the plot set-up of the Vicious Six, whom Gru wants to join in the worst way. You watch that crew bifurcate into Meanies and one Old Guy, leaving the gap Gru hopes to fill.
The plot, which explains how Gru adopted the Minions, includes a Chinese New Year in San Francisco, a stolen Zodiac Stone and a traded Pet Rock, and a sharp acupuncturist, 
Matthew Fogel wrote the plot, its theme being, "You can't do anything alone." Kyle Balda directed, building on his success with the first two in the franchise. These two men know what engages movie-goers below 4' tall. Hint: gaseous wastes. They know what engages movie-goers above 5': set the plot in 1976 and make musical allusions, such as Linda Ronstadt's appropriate "You're No Good," and cinematic allusions to cartoons and gangster films. For both ages, Balda alludes to the big, appealing eyes of Puss 'n' Boots from "Shrek" as seen on millions of minions. It works.
Everything --  especially those cute little yellow tushies -- works in "Minions: The Rise of Gru." It is, at best, unforgettable.