Film Reviews
Film Reviews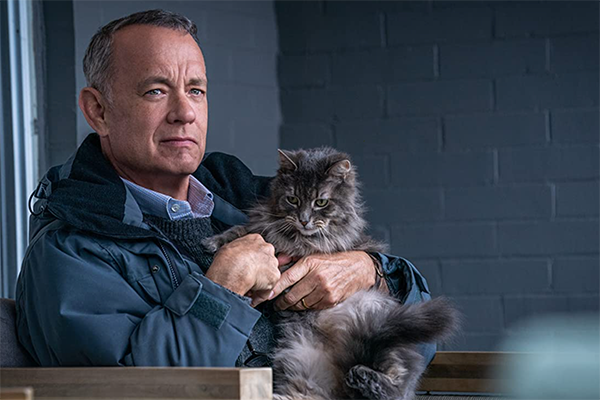 'A Man Called Otto' remakes Swedish book and film
By Ronnie Wisdom
Really, the only reason to see "A Man Called Otto" is if you missed reading or seeing "A Man Called Ove." Fredrik Backman wrote the book. Hannes Holm directed the Swedish original, which was nominated for two Academy Awards and was the highest grossing foreign film of 2016 in the U.S. Otto, né Ove, Anderson has reason to be depressed, even suicidal: his beloved wife, Sonya, has died. His life was black and white before he found color in love, and it has returned to black and white. Each morning starts with his rounds, that is, making sure neighbors close the gates, park their bikes correctly in the rack, and deposit their recycling in the proper bin. He has, as he insists to anyone and everyone, "things to do." 
These include offing himself. But, wait. Into his neighborhood trundles a young couple. The husband is, according to Otto, a nitwit, the daughters are noisy, and the wife, Marisol, is tremendously pregnant. They need to borrow things Otto has, including his expertise -- although he has recently been let go from his job. Marisol brings him her ethnic food in gratitude.
If you saw the Swedish version, the American version repeats the sadness swirling with the hopeful. It's a story about loneliness versus community, neighbors, and the village it takes. And it's sweet and dear. If you did not view the original, it's fun to see what can go wrong and how it can right itself -- with or without Otto's pleasure.
Tom Hanks personifies Otto Anderson, both tight and loose, a man whose heart is too big. He looks like Walter, Jeff Dunham's grumpy puppet. Hanks is well matched with Mariana Treviño as Marisol, perky and preggers. Although the character is huge, the actor never walks as if burdened by that bump; however, Treviño carries off Marisol's caring nature. Rachel Keller plays Otto's wife in flashback, and Truman Hanks, son of Tom Hanks and Rita Wilson, plays Otto in those flashbacks, a barely challenging role of reactions. Wilson, a producer, sings the closing song.
Marc Forster directed. One would expect a sharper knife's edge given his direction of "Monster's Ball" and "Finding Neverland." David Magee wrote the script. One expects more craft from the man who adapted "The Life of Pi" and scripted "Mary Poppins Returns." "A Man Called Otto" retains tragi-comic similarities with Ricky Gervais' amazing series, "AfterLife," but "Otto" veers off the rails too often. Still, "A Man Called Otto" has its charm.