Film Reviews
Film Reviews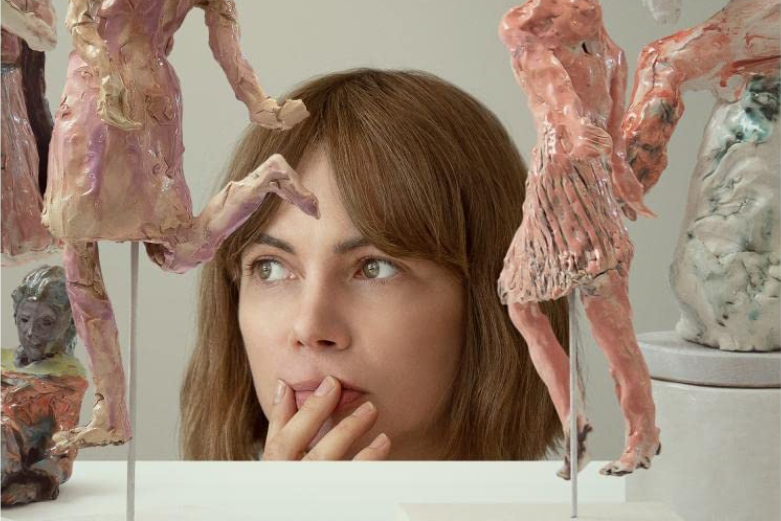 'Showing Up' subtlety follows an artist's show
By Ronnie Wisdom
If just showing up claims more than half of the road to success, then Kelly Reichardt proves the cliche in "Showing Up," a film that balances the starry with the earthy. "Showing Up" seems to be more about the quotidian life of an artist than about the rare rewards of that life, but it turns out the funny, too. 
Lizzy is a dour sculptor, who creates clay women. They need firing for her big show. She is a child of a broken home, working as a receptionist for her artist mother, who is mostly concerned with her ever-missing son. When Lizzy calls her artist dad, she states uninvitingly, "Hi, Dad. My show opens Monday." So that's Lizzy's family. 
Her artist commune includes her landlady, also a sculptor, who has two shows to prepare for. Two! No time to fix the hot water heater in Lizzy's apartment, so it's off to borrow showers for the time-crunched artist. Her hungry cat demands to be fed, which requires a time-consuming trip to the store, away from her work. The cat munches on a pigeon, which Lizzy's landlady finds wounded and foists onto Lizzy. What a metaphor: the fragile artist has to take care of the wounded bird  -- against her will.
As Lizzy, Michelle Williams personifies "sullen," freighted with an attitude of lassitude. When Lizzy finally explodes over the hot water issue, Williams shows her range. The always watchable Judd Hirsch plays Lizzy's father, and Maryann Plunkett ("Little Women") plays his separated wife. Hong Chau, seen so recently and well in "The Whale" and "The Menu," gives annoying life to the ego-centric artist/landlady. Amanda Plummer puts in a juicy cameo.
As writer, with her partner, Jonathan Raymond, Reichardt presents the burdens of an artist's life that manages to successfully include that cliche of the wounded bird. As director, Reichardt locks on Lizzy's face as she stares at the bird; Reichardt locks down her camera at Lizzy's shoulder as the sculptor attaches arms to a figure, reminding viewers that filming is a craft, too. This film includes the ambient sounds of a pigeon's cooing and a cat's meowing. 
"Showing Up" manifests Lizzy's brother's statement that "You have to try to listen to what isn't being said." "Showing Up" is not "Wendy and Lucy," Reichardt's more empathetic film, nor is it "Meek's Cut-off," Reichardt's admirable historical film -- both also starring Michelle Williams. "Showing Up" is a little funny, a little true. It is what is called in the trade a little film.