Film Reviews
Film Reviews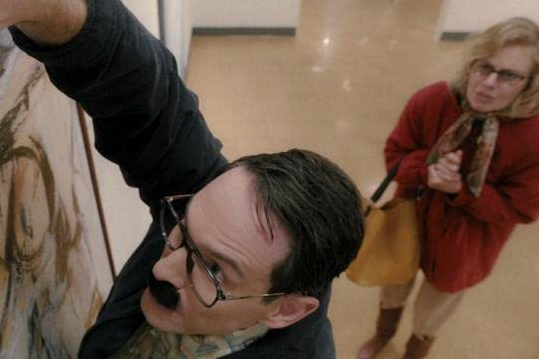 'The Thief Collector' extends beyond de Kooning
By Martha K. Baker
It would be one thing if "The Thief Collector" were just a documentary about the discovery of a stolen painting. It is that. Indeed, the estate dealers who were hired in 2017 to empty the house of  two dead schoolteachers in Cliff, New Mexico, found an oil painting behind a bedroom door.
Directed by Allison Otto, "The Thief Collector" recounts the discovery of the stolen work of art, Willem de Kooning's "Woman-Ochre," worth hundreds of millions of dollars. Otto was interested in the journey of the work, which had been cut from its frame in 1985 in the art museum of New Mexico University. She found so much more.
After piecing together the puzzle of Jerry and Rita Alter, Otto was still left with a mystery. The estate buyers immediately returned the painting, which had been missing for 32 years, to the university. They had been hired by the Alters' nephew, who, when interviewed, expressed astonishment that his aunt and uncle could have perpetrated such a heist.
Shortly before Jerry Alter died, he had given a draft of a series of short stories to his nephew that Uncle Jerry claimed were based on his own life. The bizarre stories include travelogues of  luxurious European sojourns by the Alters, just school teachers, and allusions to an indigenous and undocumented man, gone missing. In between, is the story of the Garden Club Thrift Shop, which benefited from donations from the Alters' collections and made naively by the Alters' nephew. 
The documentary is complex and stinging, and funny and innovative. The roles of the alleged thieves are taken by Sarah Minnich and Glenn Howerton, who also narrates in a whimsical voice. They have fun in re-enactments while working the script by Mark Monroe and Nick Andert. 
Neither Jerry nor Rita Alter is any more available for interview than de Kooning, which leaves a chasm in the documentary, barely filled by photos of de Kooning and interviews with his biographers. Or by the Alters' friends and family, or realtors and the FBI. Or by old home flickers of the Alters teaching and playing clarinet. Or by a great-nephew rehearsing one of Uncle Jerry's stories in The Cup and the Lip.
Otto's documentary keeps as many secrets as the Alters, but viewers like true crime stories even when they are not solved by the end. The film opens with an allusion to "thrill seekers." That phrase could describe the central characters or the audience of "The Thief Collector."