Inside KDHX
Inside KDHX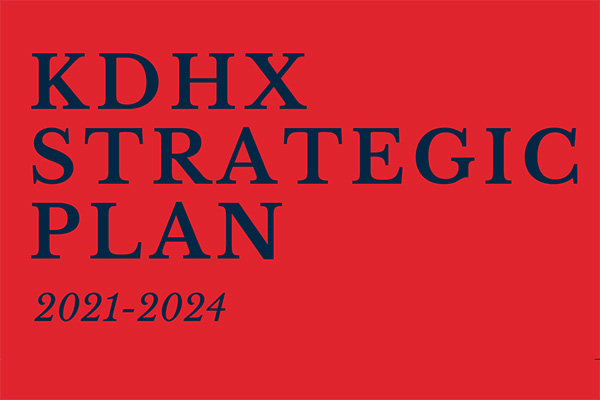 KDHX Update From Media Communications Director Ronnie Wisdom
I believe the role of community radio should be to reach all people, with a goal of improving communities through communication, engagement and support of the arts. As director of the Media Communications Department, I am always seeking new ways to reach those goals and make media access more equitable and accessible for all. 
Despite the massive popularity of social media, radio remains one of the most effective ways to communicate to a community thanks to its accessibility. 
Community radio specifically provides an open mic for people who might not otherwise have a platform to share about the work and services that often are overlooked by other broadcast media.
Community radio also offers the opportunity to promote economic growth via information about local entrepreneurs, businesses and organizations. 
Local nonprofit organizations play a fundamental role in creating more equitable and thriving communities. They feed, heal, shelter, educate, inspire, enlighten, and nurture people of every age, gender, race, and socioeconomic status. They foster civic engagement and leadership, drive economic growth, and strengthen the fabric of our communities. 
These nonprofit groups provide a way for people to work together for the common good, transforming shared beliefs and hopes into action. They give shape to our boldest dreams, highest ideals, and noblest causes. 
The struggles of the past 18-months have put even more pressure on these organizations. Although KDHX has always offered these opportunities, the Media Communications department has started an increased effort in informing local nonprofits of this opportunity through numerous ways including on-air announcements and direct outreach. 
The benefits of providing in-kind media sponsorship to local nonprofit organizations are two-fold. KDHX exposes listeners to a variety of cultural, artistic and community experiences that entertain, promote discourse, and increase participation in our community. By helping these nonprofit organizations through media sponsorships, KDHX is able to provide visibility of their work through on-air announcements, event calendar listings on the website, listings in email newsletters and social media promotion.
We are proud of this work, as it also aligns with one of our strategic priorities of deepening external connections to better serve and engage the full diversity of the St. Louis community.
If you work for a nonprofit or know of one that could benefit from the exposure provided by a KDHX Media Sponsorship, encourage them to fill out an online application or send an email to This email address is being protected from spambots. You need JavaScript enabled to view it. for more information.