Music News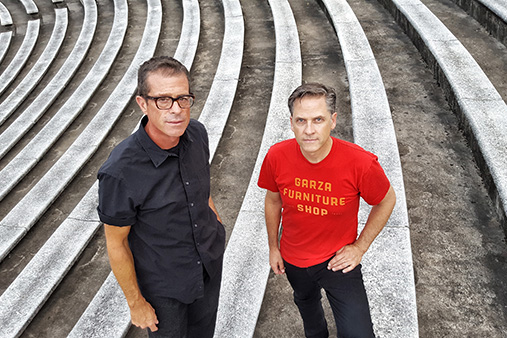 Q&A: Talking with Calexico's Joey Burns
Written by

Michele Ulsohn
Venturing away from their Tucson, Arizona home territory as they have for their past few releases, Calexico, this time around, chose to make a temporary home in a large, rustic, live-in studio on Northern California's coastline to create "The Thread That Keeps Us" (Anti), their ninth studio release. The end result is undeniably one of the more ambitious, experimental and compelling bodies of work in the band's critically-acclaimed 22 year existence.
Digitally utilizing a diverse array of musicians from around the world, the album's 15 tracks expand the band's genre spectrum to include cumbia, ska, jazz, electronica and folk, while still retaining a solid foundation of the haunting, Southwest-flavored indy-Americana that Calexico has become synonymous with.
In support of the album's January release, the band has just embarked, earlier this month, on a massive, five month-long tour; playing the first half of its 57 dates in the U.S., and the latter half throughout Europe. They will be appearing at Blueberry Hill's Duck Room on April 22.
Lead vocalist, guitarist, and multi-instrumentalist Joey Burns was gracious enough to recently share a bit of his undoubtedly busy tour-preparation time to provide answers to a few questions, via e-mail.
KDHX: Prior to writing this album, did you intend to have much of its lyrics be centered around the chaotic and turbulent state of the world, or did that theme just present itself naturally?
Joey Burns: This happened naturally. It's so overwhelming at times when writing an album that it helps to focus on the music first and then think of characters and follow them as they help open the doors to creative themes and motifs. Going to Northern California was the catalyst for that, and it brought up a lot of similar feelings to when I was a kid growing up in Southern California.
What was the motivation behind booking such a lengthy tour and what are you most and least looking forward to experiencing by being on the road for five months?
We like to work and are doing our best to keep the band employed for a longer stretch of time. I suppose this was the norm 10 years ago, and I realize that it is hard these days sustaining a band in studio and on tour. I look at this as a stroke of good luck and the result of truly enjoying what we do. So far, the touring has been really fun and successful. Do I miss my home and my family? Hell yes. Do I wrestle with this? All of the time. So, one step at a time.
Do you still perform Love's classic song from the 60's "Alone Again Or"– which practically sounds like it was tailor-made for your band to cover – regularly in concert? And what other covers, if any, have you recently incorporated into your playlist?
Yes, we love that song, and the band Love. Other cover songs: "Bigmouth Strikes Again" by the Smiths. "Learning to Fly" by Tom Petty, "Jesus and Tequila" by the Minutemen, "Sereneta Huasteca" by Jose Alfredo Jimenez, just to name a few.
Looking back on your career, what are one or two moments that you are most proud of?
Meeting Willie Nelson and recording the Bob Dylan song "Senor" for the Todd Haynes film "I'm Not There" Great song, movie and experience with a true legend and a heart of gold. I will never forget that session and experience. He was so generous and down to earth.
What is your favorite aspect of being in a band – writing, recording, or touring and which one do you find to be the most challenging?
The spirit of collaboration is the best part. It appears in all elements of what we do: music, travel, time spent waiting backstage, or in long lines on the highway. To enjoy each moment is truly the focus. It comes easy for us. We also have to deal with difficult days too. It's not easy all of the time. But with love and understanding, we have maintained the band for a long time. It feels really good.
Photo by Jairo Zavala Ruiz