Music News
Music News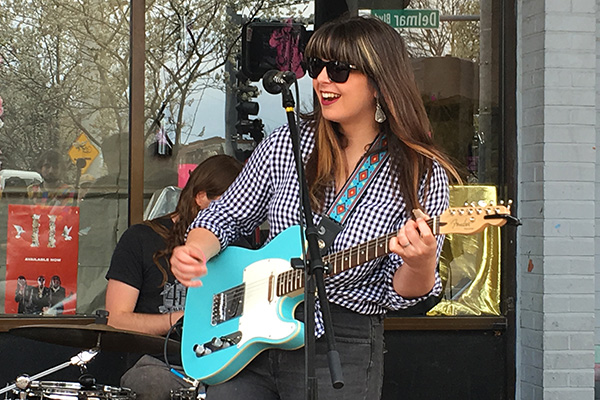 Catching up with Beth Bombara: May 8 Concert Preview and Conversation
By Allison Woodworth
"I was at Jay's International Foods. The girl checking me out looked at me and asked, 'Are you a singer?' And I was like, 'Uh ... I'm in Jay's right now and this is really funny.' And she said, 'I've heard some of your songs on KDHX. Anytime I'm in a bad mood, I listen to Promised Land and it makes my day better.' And I was like, 'Wow, this is amazing." Beth Bombara is recounting her most unusual "getting recognized" story. It's happening more lately, even during this interview. She finds it flattering, but still a bit surreal. "If I'm in a record store, yeah, not too surprising. But Jay's?" 
Bombara has just returned from a two-week European tour, performing her Americana rock at 18 venues. No novice, she has toured nationally as a headliner and also supported shows for Pokey LaFarge, Waxahatchee and Madisen Ward & the Mama Bear. Her most recent album, "Map and No Direction," spent seven weeks in the top 40 AMA radio charts. She has released three full albums and two EPs. 
Though she had an inkling there might be an audience for her in Europe, Bombara was taken by the welcoming and respectful response she and co-headliner Jaime Wyatt received.  
"I definitely noticed a difference between audiences in Europe and audiences in the United States, which was cool and interesting ... I'd expect at standing venues for people to be a little loud, talking. But they were really quiet and just watched ... It took me a minute to kind of get used to that and figure out that this is how these shows are going to be. It was really encouraging."
She enjoyed hearing a different perspective on her music, "Someone said, 'Beth's music is garage Americana' and I thought that was kind of cool. Nobody's ever said that to me before." 
A review by a Manchester U.K. blog Even the Stars summed up their Manchester performance, "Whilst Beth and Jaime might not be household names here, or back home, they're two of the most engaging artists we've seen in a long time. With songs that have a real direction and continuity of purpose flowing through them and delivered by musicians with an innate sense of how to add to them, the audience let both of them know at the end of their respective sets just how impressive the double bill has been. Hopefully we'll see both of them back soon."
Her next performance is "Beth Bombara Live From the Listening Room," an all-ages show slated for Tuesday, May 8 (Doors: 7:30pm/Show: 8:00pm) at KDHX's The Stage. She will perform two sets. The first will be a solo, stripped-down style. The second will include her full four-piece band. A portion of the show will be broadcast live on KDHX's Wax Lyrical.
"One of the big things I'm thinking about now is a new album," says Bombara, who has just begun writing new material. A pace of releasing a new album about every two years has helped her maintain a balance as performer and song writer. "That keeps me engaged. Otherwise I could just get more focused on playing shows. Being on tour is great and it's fun to play your songs that are old to you but are new to a group of people who have never heard them, or never heard them live before."
Bombara finds herself approaching this album in a different state of mind. "When I was writing 'Map and No Direction,' I was definitely in a more depressed state. Now I'm feeling more empowered. I've kind of rediscovered myself. Found some confidence. And I hope that I can write some songs that show that; songs that can empower people to be confident in themselves."
She has been studying song writers like Bob Dylan and Paul McCartney by listening to interviews with them and hearing about their processes. "I'm in a place where I'm trying to focus more on my song writing. Just trying to figure out how to make my own songs and my songwriting process better."
Her process involves being open to trying things out and seeing what works and what doesn't. "Usually I don't know what [a song is] about until I'm almost done writing it ... Generally I get ideas in my head, melodies and record voice memos on my phone. Then have a bunch of random ideas and sort through those and start picking what I think might be promising and recording a little demo and see if it will work with a band or not. I've recorded demos before that have never turned into songs. I just say, 'Ok that idea didn't really fly. Onto the next idea!'"
"I like to not set too many boundaries for myself. Just create. Let it happen. Then take a step back and say, 'What are we working with here?"
To rejuvenate her creativity, Bombara put herself on a strict "Media Detox" diet recently. No Internet. No podcasts. No TV. No books. "I paced around for a little bit and said, 'This is CRAZY.' But then I did some projects around the house that had been nagging at the back of my mind, and that felt really good. And then I worked on writing some songs. It was really nice. Very refreshing. But I hated it at first. The first day, I was like, 'THIS SUCKS.' But it was really good for kick starting my creativity."
However, like most diets, the Media Detox is over. Social media is an important part of being a successful musician and she can't ignore it for too long. 
"For musicians, the Internet has been a game changer. I can be an independent musician and I can go tour and people can know where I'm going to be and they'll show up. That has been life changing for smaller, indie musicians. But it's easy to get overwhelmed."
"I like the accessibility that you have to fans and how people can send you messages and you can reply. Having that closeness is a really neat thing. I've had people send me amazing messages and detailed stories about how my songs have affected them. But if you're just focused on getting more page likes, it crosses a line to becoming distracting to what you're trying to do. You need to make sure you're focused on the music and connecting, not just page likes."
Those connections can make things happen. Just recently Bombara was able to host a pop-up show with Ben De La Cour at Ace of Hearts Vintage Clothing on only a moment's notice, thanks to friends and social media. Her Nashville-based song writer friend was passing through St. Louis and wanted to sit in on a show. Nothing was available, so Bombara told him, "I could do a pop-up show at a vintage clothing store on Cherokee? And he was like, 'I'm game.'" She sent a few texts, made a Facebook post and ended up with a nice crowd for the show. 
Though she hails from Michigan, spending more than 10 years here has made Bombara a fixture in the St. Louis music scene. "St. Louis feels like home to me now. I have a house. It's been surprising. After I graduated college, I traveled around and got my first touring experience and then came to the St. Louis area. I wanted to get a solo project going and I thought this is a good place to do it. Thought, maybe I'll hang out in St. Louis for a year and then go somewhere "cooler." But this city grew on me. I met so many great people. There's such an encouraging music scene. I decided I liked it and wanted to stay more than a year and here I am. Long term though, I don't know where the wind will take me."
Her husband, and band-mate, Kit Hamon is also a transplant to St. Louis hailing from Dunlap, near Peoria, IL. Hamon has been described as "an adept musician on a host of instruments, a versatile songwriter and a recording engineer of skill." Hamon and Bombara each have their own personal musical styles, with his veering more into the realm of synth-based pop and rock. Bombara says their differences, "ultimately make us each play better." 
Hamon regularly backs Bombara in her four-piece and she backs him on guitar in his band. "I enjoy collaborating with other people. It's sort of nice to take a break from the front person thing and sit back and be part of someone else's band sometimes. It is really fun for me." 
A cat named Ma Rainey is Bombara's other love. "She's a loud lady with a huge voice who knows what she wants." While she would love for Ma Rainey to join her on tour, without an RV and some training, "Project Adventure Cat" may never happen. 
Bombara considers her choice to follow the path of full-time musician, musing, "I talk to so many song writers who say, 'There's nothing special about me. This is just my life. It's what I do.' So no matter who you are, there's always an element of some self-doubt. Am I really doing this? Is this what I really want to do? But ... Putting it out there to the universe. That's how I ended up a full-time musician.  You've got to learn by doing."
Story photo: Beth Bombara performs at Vintage Vinyl in St. Louis as part of Record Store Day 2018. Photo by Allison Woodworth 
View additional photos of Beth Bombara in the KDHX Flickr archive.