Music News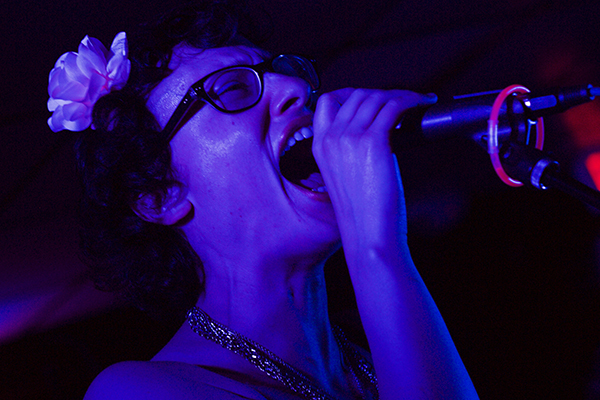 Catching up with Jenn Malzone: Calling Bullshit and Making Music
Written by

Allison Woodworth
Middle Class Fashion, will be part of the KDHX Live at the Listening Room series, June 13, 2018 at The Stage.
Calling bullshit on someone is hard. When it's on yourself, it's even harder. Jenn Malzone knows – she and her band Middle Class Fashion just released a new album called "EGO." 
"I write a lot about heartbreak, so it would be easy to chalk this up as just another heartbreak album. But with this one, I started to realize a lot of that stuff is all kind of bullshit. I started to realize a lot of it was just being created by me and my own drama. And when you realize that, you realize you can make it stop. And that's why I called it 'EGO.' Because it was like, I'm staring down my own bullshit and calling myself out. Saying, 'You're the only one who can stop this. You can make yourself better. Stop acting like some broken-hearted thing that needs this to fix you.' Because we fix ourselves," said Malzone at an interview at The Royale on a recent Thursday night. 
Middle Class Fashion's (MCF) current line-up is Jenn Malzone – singer, songwriter, keyboards, Lindsey McDanel – guitar, Brad Vaughn – guitar, drums and Katie Lindhorst - synthesizers and auxiliary percussion. They are also joined by Matt F. Basler on drums from Tok at present. 
"EGO" is the fourth album for MCF. Malzone hesitates to define their sound, but others have described their first album "Girl Talk" as Ben Folds-style piano pop, their second album "Jungle" as power pop and their third effort "iii" as twilight electronica.
"'EGO' almost ties together the first three albums. I went back and did a bunch of acoustic piano. And then we also have a lot of synth, guitar rock, things like that. So I feel like it almost takes all three of the previous ones and ties into something that I think is really becoming our sound.
"And then there's also, I call it, the 'Sad Beach Vibe' that I found when I was writing it … I was really sad about life. And I went to the beach and it was supposed to be this fun trip. But it was more contemplative, where I sat on the beach and felt sad. So I have a lot of songs on there that have that feeling."
You can see MCF perform a Live at the Listening Room session at KDHX's The Stage on June 13, 2018.  This is an all-ages show with doors opening at 7 p.m. They will perform new songs from "EGO" as well as material from previous albums.
Bringing this album to fruition took longer than Malzone initially had hoped. "When I started working on 'EGO,' there was a lot going on in my life. I was kind of just stressed out and over a lot of things. I wanted to put my head down and work and not think about anything else. So I told myself I was getting sober and going to therapy and was going to work really hard at this and make sure that it's done in one year. And whenever you say something like that, it's kind of dangerous. 
"So a year went by and I realized the album was good but there was still so much work I wanted to do. And I thought 'Should I stick to my word and release it?' But then thought it was better to wait and to do something that I love. I'm so glad we made the changes and added everything else. It just took a little longer. Unless you have unlimited money and unlimited time, which I have neither, recording takes forever … and the process is hard. Because you want to be mentally disciplined but then you don't want to be forcing yourself to the point that there's no fun. There's so much balance. Like so many things in life – always just trying to get it right." 
Recording "EGO" was a divergent, but ultimately satisfying, journey. "I talked to Tom Burns who had recorded us at Fat Buddha, and asked if he had any kind of home set up. And he said he just put together this basement studio. So he was like come on over any night and just start working. So we did that all for the fall and the winter and I would just come to his basement and work. It was great. We'd be done late at night and I would drive home and just feel really good. It was cool. When you're in the same place mentally as someone else and you're making art, it's so helpful."
When Malzone felt ready, she brought in her bandmates to do what they do best. "I'll sit down and write the melody and the lyrics and the chords and sometimes make a demo, or sometimes I just show up at practice and start playing it. It's kind of a bare bones version. They add in the drums and the synth lines and all of the things that make it an interesting song. I feel like they bring it to life. They're really talented people. I'm lucky to play with them."
Various members have flowed in and out of MCF over the years. The current line-up "started out with me and Brad Vaughn in like 2008," recalls Malzone. 
"We started playing music together and were roommates. And he was working in a coffee shop and there was this new barista, Katie. They hit it off and she knew everything about synthesizers. We saw her perform and she was like crazy and wild on stage and we were like, 'We want her!' She started seeing this girl Lyndsey – they're engaged now – who was like this shy, quiet girl, always in the background. But then I started to realize not only is she really smart and cool, but she's this really great guitar player. She played with us for one show and it was like the coolest thing ever. Now she is fully in the band and playing all these crazy lead guitar parts. And is not shy anymore!"
"Brad and Lyndsey are both amazing guitar players who both have their own unique styles and they really interact well together. Katie just knows everything about synth and can create so many cool vibes. And Matt is just killing it on drums. And then I'm happy because all I have to do  is write the songs and some beats and play some chords," laughs Malzone.
Another departure is that this album is all digital – no physical CD. "I want to see how that goes. Having it, like, on Spotify. Most people stream everything." They do hope to produce "EGO" on vinyl later this year.
Something that stands out about MCF is the honesty of Malzone's lyrics. "I feel like I'm finally at this point where I sound like myself … I've been trying to write really honest lyrics that almost make me a little uncomfortable. But that aren't, like, oversharing where they're making other people cringe? 
"If I'm singing a song now about a person I was sad romantically about in the past, and I've kind of gotten over it and made peace with it – I  still feel something emotionally when I'm singing it. And I feel like if I didn't, then I shouldn't be performing the song because then it's just going through the motions … Sometimes it's therapeutic. Like, it can be really hard for me to talk to other people, but then it's so easy to write these personal things and sing them really loudly on stage in front of all these people."
The writing process is part of daily life for Malzone. "I try to write a little bit every day. I have a space in my living room with my piano and I have a piece of art that I like over the piano and some records that are gifts from my friends. I'll put on Christmas lights or something just to get in my head."
She doesn't approach writing with a roadmap of goals or themes. "It's everything I'm listening to and wherever my head is and it just kind of happens naturally. Which is why it's kind of weird when people say why did you make this kind (of music) instead of this kind. It just happens. I think a lot of people have done (albums) intentionally and done it well. But I'm better doing it my way."
Balancing an artist's work with their personal transgressions has been weighing on Malzone. "Like so many things there's not a definitive answer.
"This is going to sound horrible because he has said some really bad things lately. But this was before all of that. Kanye West's 'Life of Pablo' was really in my head when I was doing this last album. … I don't like what he has been saying. But I love how adventurous he is in music.
"This band Crystal Castles – they inspired me. But I can't listen to them anymore because every time I hear the album I think about how she was treated. I always think, 'Will I be able to listen to this again or is this it?' It is really interesting to see the world changing and hope that some good will come from all of this."
She cites King Krule, Frank Ocean, R. Stevie Moore, Why?, Ariel Pink, St. Vincent and Grimes as artists whose work she admires. 
Inspiration also comes from her own family. Her mother plays piano as an accompanist and is a piano teacher. "She's pretty amazing," Malzone says earnestly. Her father plays clarinet and has owned piano stores all of her life, currently running the Steinway Piano Gallery. "It's a great resource because I can just go in there and play these ridiculous pianos anytime I want."
Malzone's younger sister, who resides in St. Charles, Mo. where Malzone grew up, is also artistically talented but puts her efforts into hairstyling and karaoke. "I've tried to get my sister to sing with me but she has stage fright and will only sing karaoke. She's a really good singer. I think (karaoke) is terrifying because you don't know what's going to happen!"
Having a piano teacher for a mom meant that Malzone started playing piano early. "I was forced to take piano lessons from when I was like 5 years old. My mom told me 'You have to practice. It's going to be so important in your life.' And I was like, 'No it's not!' And of course she was right because moms are always right."
Malzone became more interested in music in her early teens, writing "really terrible songs, really terrible lyrics and being so dramatic." In college she studied flute. "It honestly just stressed me out after a while. Classical music – everything has to be perfect. And if you mess up, it's so much pressure and I was kind of making myself sick over it. With rock I can miss some notes and bang my hands on the keyboard and just laugh and it's still a really good show – maybe better. It's just fun. It's passionate. Classical is still great, but this is more for me."
Today, MCF has become a noted part of the St. Louis music scene. "I started hanging out in South City by the time I was like 19 or 20 and realized this is wonderful. I love all the people, the architecture and the locally owned businesses. I was kind of like, 'OK. I belong here.'
"Obviously I always want national attention for us … But there's only so much you can do so I try to enjoy being a band in St. Louis and having such a great scene. I figure if something bigger happens, then great.  But if it doesn't we have a pretty great life right now. It's a good place to be."
Malzone is already getting started on her next album. "I've had new songs that I've been sitting on for like six months now … I think I know where I want to record, I think I know how I want to do it. I'm thinking maybe an EP so it won't take so long. I have lots of ideas. Lots of plans!"
 Middle Class Fashion held their "EGO" Album Release Party at El Leñador Bar & Grill, on Friday, May 18, 2018. Head over to our Flickr page to see the full set of photos by Colin Suchland.