Music News
Music News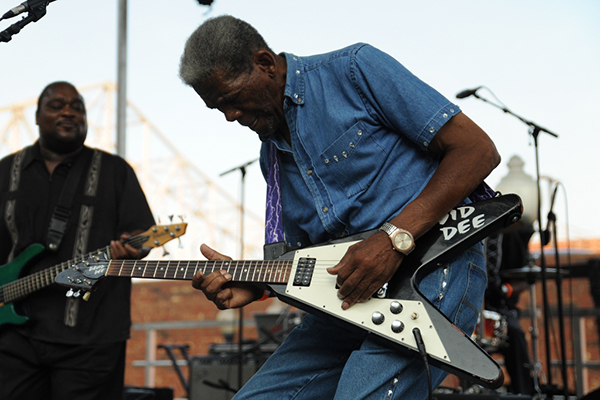 It's Big Muddy time! 23rd annual blues festival hits Laclede's Landing this Labor Day weekend
By Ronnie Wisdom
Labor Day is just around the corner. That means it's Big Muddy time in St. Louis where, like the crosscurrents of the Mississippi, the ripples of Delta roots music swirl through the street. Our 20th century bookends of musical history Scott Joplin and Chuck Berry used those roots to create ragtime and rock 'n' roll. Oliver Sain helped define our soul while Henry Townsend and other delta legends kept our blues true. And, in a city with a longstanding piano tradition, ragtime, jazz, dixieland, barrelhouse, boogie woogie and blues always played well with one another. 
All of that will be on display when the 23rd annual Big Muddy Blues Festival pulls into Laclede's Landing August 31 – September 2.  This year features 69 bands appearing on seven stages. Daily tickets will cost $15 or you can get a weekend pass for $25.  Think of it this way - a two-day pass means you're paying equals 36 cents per band. What a deal!  In addition there will be an opening concert at 7:00 pm Friday night at the Landing and the 12:30-2:30 pm Saturday and Sunday tribute shows at the National Blues Museum prior to the Landing gates opening. 
This will be the third year of the Big Muddy's evolution to a new format that puts the emphasis on the wide pool of local talent in our community. St. Louis is a city where local blues bands like Marquise Knox and Jeremiah Johnson are national acts. And, Europe is calling them along with Al Holliday, Ethan Leinwand, Chase Garret and Tonina Saputo.  
A New Footprint
Of course, no Big Muddy comes without a lot of work, challenges and changes. The festival footprint has changed over the years along with the Landing. Once upon a time there was a Mississippi Nights that hosted the precursors to Big Muddy. The Lumiere Casino changed that landscape. The recent recession and later Arch Park construction hurt business on the Landing. Now with construction underway it is posed for a revival. Unfortunately, the Big Muddy mainstage area on 1st street by Eads Bridge has become part of that construction.  
Festival organizer and St. Louis Blues Society Chairperson Jeremy Segel-Moss remains focused and pragmatic about the challenges. "You roll with the punches. Big Muddy has always moved around the Landing. The question is how we adapt to the situation." 
Part of the adaption has been to move some locations and to add an another stage. The result is an additional indoor stage which opened the opportunity for additional acts to be added to the schedule. 
The big change for 2018 is that 1st Street will be closed. Everything moves uphill. The outdoor Morgan and Lucas Stage off 2nd Street remain in place. A third outdoor stage, a main stage, which will hold each evenings closing performance, will be sited on 3rd Street. The Big Daddy's and Morgan Street indoor stages remain in place. Last year's addition of an acoustic stage at The Lou will be joined by a new stage, a piano room, at The Lodge on Morgan between 2nd and 3rd Streets. Having four indoor stages also will help provide relief should any rain challenges arise.  
Programs and maps will be available at the three entrance gates: 2nd Street by the Metro, 3rd Street and Morgan and Morgan between 1st and 2nd Streets. All of the food and beverage vendors will be found in locations near their restaurants on 2nd and 3rd Street. Locations are still being worked out for other vendors and organizations in those areas. The St. Louis Blues Society tables will be moved to an indoor festival headquarters site on Morgan Street at the former Old Hair of the Dog site. A kids' center will be located nearby. 
On with the Show
The robust Big Muddy schedule Segel-Moss has put together assures that every blues lover will have whatever shade of blue they want to hear. The Friday night opening concert portends what is to come with the Edwards, Case and Erblich Trio providing a mix of classic urban and country blues, Barbara Carr's southern soul, and our own delta legend, Big George Brock. The tribute shows at the National Blues Museum goes to the heart of St. Louis soul. The Saturday show will recognize Fontella Bass with a show organized by her daughter Neuka and son-in-law Tracey Mitchell who was a member of her band. On Sunday, Marsha Evans and Jimmy Hinds will recognize their friend and lifelong collaborator Oliver Sain. 
On the main schedule the acoustic and piano rooms offer a different listening experience with guitar and harmonica blues holding forth in one and ragtime, barrelhouse, boogie woogie and more in the other. The other stages offer all kinds of blues: traditional, electric, folk, jazzy, swing and jump, soul, R&B, and southern soul.  The acts are spaced so that there are many styles to choose from every hour. 
There will be many familiar names and faces from past festivals like Kim Massie, Skeet Rodgers and the Inner City Band and Renee Smith.  There will be second timers like Torey Casey and the South Side Hustle and Annie and the Fur Trappers who both blew their crowds away in their first appearance. And, there will be our rising younger players like Matt Lesch and first timers Tonina Saputo and Little Dylan Triplett. 
Other first timers include Johnny Fox and Greg Silsby and some that may be a surprise like the soulful Uvee Hayes and Gene Dobbs Bradford (CEO of Jazz St. Louis) who only plays blues. And, there's Uncle Albert whose been missing-in-action for a few years. The closing acts will offer a real party atmosphere with Marquise Knox, Big Mike and the The Blu City All Stars and Al Holliday and the East Side Rhythm Band showing off some of the best music this town has to offer.      
It's impossible to do justice to all the great acts that will appear in this brief article, but let's touch on a few of them in order of appearance. Just consider these as appetizers for the big meal. 
Edwards, Case and Erblich Trio
The Edwards, Case and Erblich Trio will open Big Muddy at the free, Friday night concert with a bottleneck guitar, harmonica and bass. Case said their set list will touch on his and Edwards trips in the late '60s down to the delta "to meet and learn from old bluesmen like Bukka White, Furry Lewis, and Fred McDowell." The trio also reprises the therapy program Edwards and Keith Doder put together for Case following a terrible 1980 car accident that left him housebound. To get him up and moving Edwards told him, "we are forming a trio and need you to play." "It changed everything for all of us," according to Edwards. Case got back to work and Edwards became a working musician for the first time. He would go on to play with Henry Townsend for 20 years and Silvercloud for 25 years.  Erblich who learned harmonica from Doder is the right guy to complete the trio. Case will also appear solo in The Lou. Listen for his new song "The Devil's in the White House." 
Barbara Carr
It has been a few years since Barbara Carr has been onstage at Big Muddy but she's ready for her Friday night appearance. "I'm feelin great and glad to be asked to be a part of the lineup," she said. Carr worked with Chess Records and Oliver Sain in the sixties and early seventies until she created her own label with her husband. She began recording in Muscle Shoals and making a name for herself on the southern soul circuit. For her show, Carr plans to do songs from Chess as well as numbers like My Momma Told Me, Juke Joint Jumpin and Partying at the Hole in the Wall. She said she "looks forward to seeing all the beautiful faces smiling and cheering me on." 
Oliver Sain Tribute 
With a lifetime of friendship and musical collaboration with Oliver Sain, Marsha Evans and Jimmy Hinds are thrilled to organize and perform this tribute show. Their band, The Coalition will anchor the set with Amos Brewer joining in on sax. Hinds said Brewer is just what they needed because "he genuinely sounds like Sain when he blows" and that "Oliver had already approved him years back by allowing him to sit in with his band."  You can expect to hear him perform "Soul Serenade." Evans and Hinds also said to "expect some surprises" from the deep pool of talent Sain developed over the years.  
Fontella Bass Tribute
Tracy Mitchell, who has played with Love Jones the Band for the past decade, is working with his wife, Neuka, to organize the tribute show for her mother, Fontella Bass. Mitchell, a singer/guitarist, who toured with Bass for 10 years, has taken the lead role in pulling this tribute show together. He said, "we plan to tap local singers for specific songs," as well as Bass' grandchildren, his son Gibran (piano and guitar) and daughter Jahi Mitchell (vocals) who continue the family's musical tradition. Don't be surprised if Anita Jackson and the Bosman Twins show up. Mitchell also will be appearing Saturday evening with Skeet Rodgers and the Inner City Blues band. 
Gene Dobbs Bradford
Gene Dobbs Bradford may be best known as the President & CEO at Jazz St. Louis but he only plays professionally as a blues musician. After attending Big Muddy for years he said, "it feels fantastic to be asked to play for the first time because it is such a celebration of the talent we have here." His band, The Gene Dobbs Bradford Blues Experience, with his hard-driving harmonica and soulful vocals in the lead, generally takes a blues/rock/funk approach. "But for this festival," he said, "we want to get back down to a set of soulful blues."   
Uvee Hayes
With her brand of blues and southern soul Uvee Hays has been a name in St. Louis music circles for decades. She said she, "is so excited for her first appearance at Big Muddy", and promises "we're gonna have some fun." The band for the show will include James McKay (bass), Eric McSpadden (harmonica), Dennis Brock (guitar), and Al Burns (drums). Expect to hear cuts from her latest cd's, From a Woman's Point of View and In the Mood. Hayes applauds the loyal blues fans in St. Louis and promises to "give the crowd a show because they deserve it." 
Marcell Strong
Recently recognized by the National Blues Museum for his lifetime contribution, Marcell Strong has been a bluesman for nearly 60 years. It all began on a bet about singing at a bar with Piano Slim. That turned into a job and his vocals led to shows with Albert King, Little Milton, Oliver Sain, and Ike and Tina Turner. He still belts it out with his band The Apostles. When asked about Big Muddy he tells you: "Love it. Love it all the time. It brings back so many memories of all the groups there have been here [in St. Louis] over the years." He said he "remains hopeful about the music scene with so many new bands coming up." Strong is preparing a set of R&B and blues for the festival while working on a new CD, "Looking for My Love."
Little Dylan Triplett
It has been some kind of year for Little Dylan Triplett. Singing soulful blues at the National Blues Museum, the Baby Blues Showcase, the Red Door and sitting in with Marquise Knox, Carol Mason and Skeet Rogers has put the 18-year-old on the St. Louis musical map. Triplett also participates in his church choir, the Edwardsville Chamber Choir and solos with Edwardsville High School's drama club that won awards on the Fox stage in June. Triplet said he finds his Big Muddy opportunity "so amazing and unexpected to be able to be part of something so special." 
Greg Silsby
Greg Silsby is really looking forward to hitting The Lou acoustic stage in his first Big Muddy appearance. For two decades he was a singer/guitarist in a variety of bands. When a long stint with the Cumberland Gap came to an end five years ago, Silsby said, "I knew it was time to go solo and to take the time to dig into the blues I love." His hard work has resulted in a finger style blues act. Don't look for a set list. "I just let the songs roll as they come into my head," he said. But, he did say to expect some original music combined with stylings featuring Mississippi John Hurt, the Reverend Gary Davis and Big Bill Broonzy. 
Tonina Saputo
Tonina Saputo was named after her uncle Tony Saputo, a well know local musician, who died in a tragic 1991 airplane crash with several members of Reba McEntire's band. She has been making a name for herself since returning to St. Louis in 2017 with a degree from the Berklee College of Music and an album, "Black Angel," that she recorded in Spain. Most often you will find her playing standup bass using her nontraditional voice style as an instrument to sing in three languages. She said she realizes her approach "may appear to be jazzy, but I feel it is R&B and soul." Her tight band with David Gomez on sax, Joseph Ferber on guitar and Keith Bowman on drums plays regularly at the Dark Room. Saputo is excited about her first ever Big Muddy.  She plans to work up a blues-oriented show reaching back to her "father's southern culture and Texas blues roots."   
Chris "Iron Jaw" Taylor
"Iron Jaw" is not a newcomer to Big Muddy having appeared previously as the harp player with Skeet Rogers and the Inner City Blues Band. Facebook made the connection with an old friend, guitarist Nathan Byrd, that he had played with years ago in the Interstate Connection Band. Byrd recruited him to The Alley Tones and their Music House Studio. Chris said he was "stunned when they welcomed me with a gift," –  a Hohner Chromonica 64 harmonica. Chris said he is "blowing his ass off and looking forward to September." For Big Muddy they will have a new CD in hand and be playing a combination of original and cover songs. 
HyC (Jacinta Branch Griffin)
HyC first played Big Muddy as a vocalist with the Skeet Rodgers and Inner City Blues Band. This time the "Princess of Soul and Blues" said she is "excited and rarin' to go" with the band she formed two years ago, The Fresh Start Show Band.  It is a band of pros with Frank Dunbar on bass and Tommy Johnson on guitar providing the foundation for HyC's take on Koko Taylor, Gladys Knight, Etta James and Denise LaSalle. She will draw from a newly released album and said she "is working on her first original material and may have a few surprises up her sleeve." 
Uncle Albert 
After 5 CDs and nearly 20 years on the road, Uncle Albert took a long break when their drummer passed away a decade ago. Tim Albert had his job as a technical director at the Sheldon and Lisa Campbell had plenty of work as a vocal coach. They would occasionally play as a duo in Europe along with a few Uncle Albert gigs. Now they are ready to play more. Albert is excited because "it has been a few years since we last played Big Muddy," he said. "It is a safe environment to show off material from what our next CD will be." Be prepared for everything from great keyboard and vocals from Campbell to "kick you in the head electric blues." 
Johnny Fox 
Johnny Fox is a singer/songwriter/guitarist who appears solo and with The Roadkill Orchestra, a self-described group of "Midwestern River Billies." His Big Muddy appearance will be a solo act as a part of the acoustic room. "It's an honor to be playing with so many musicians who have taught me so much," Fox said. He also gave a shout out to Jeremy Segel-Moss for "all his hard work in putting the festival together." His thing is the blues and he plans to use his steel guitar to "try and make as much racket as I can." He also plans to have his "Jukin' and Jivin'" CD available'.
Ticket and additional show information can be found at www.bigmuddybluesfestival.com.