Music News
Music News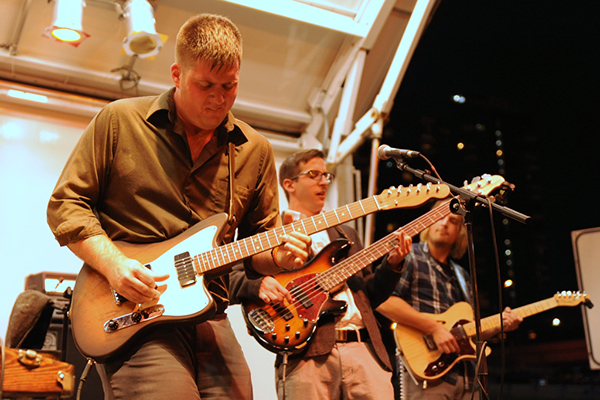 Al Holliday: He's got a good thing
By Ronnie Wisdom
It took going to prison to make Al Holliday realize that if he was truly going to be a musician he needed to do it full time.
The prison part came in 2010 when he used his new Parks and Rec and Tourism degree from the University of Missouri to get a job supervising recreation facilities at the Eastern Missouri Correctional Institute. The music part was home grown. 
Experiencing Al Holliday and the East Side Rhythm Band for the first time is a revelation. As band members come on stage you start counting and begin to wonder when will they stop. When Al yells, "How y'all doin'?" and all 10 begin to play – my-oh-my. Holliday leads, attacking the keyboard while the rhythm section pounds out a relentless beat, the horns reply and as his gravelly growling voice ramps up and the backup singers weigh in, it's magic. Your body begins to sway and your feet start moving.  It's the eastside kid's calling card.     
Maybe it was preordained. Holliday's parents, Jan and Angie, met in a Belleville, IL music store. His dad was a singer/songwriter, guitar teacher and engineer. "There was music in our house all the time," according to Holliday. "There was soul and R&B and a radio dial set on 88.1 (KDHX)." His first instrument was a fifth grade trumpet which quickly gave way to strings when he got his first guitar at age 12 and his dad began to each him.  
The first band came at age 13 and by 14 Holliday was teaching himself the piano. High school brought a three-piece outfit with Holliday playing guitar, keyboard and doing the vocals. He laughs when he says, "the experience taught me that I like to be in charge of my music."
That band, The Revolution Sweethearts, attracted a local following that included a middle-schooler named Caleb Klinger, whose bass now drives the rhythm section of the East Side Rhythm Band. College would provide the skills he uses today in writing and arranging his music.
Holliday arrived at Mizzou in 2006 to find a thriving music scenes in Colombia, MO. He found kindred spirits and formed Al Holliday and the Lucky Stars. His vision and band got bigger growing to seven members including a trumpet and an alto and tenor sax. While studying for a degree in the School of Natural Resources, he also found a music educator who would become a friend and mentor.
"I kind of wandered into the School of Music to check it out because I wanted to learn more about the big band sound," recalled Holliday. "I met Dr. Doug Liebinger, the head of the Jazz Studies Department. He welcomed me even though I wasn't a music major. He brought a group from our band in and worked with us as a jazz combo. Doc taught the toughest course I ever took. It was a year-long study of jazz, harmony and arranging in jazz, soul and R&B world in my junior year. The final exam was to hand-chart and arrange an entire big band song. It taught me how to write and arrange music."   
Holliday left Mizzou with a degree and his first CD – "Soul Supper" – a seven-song live studio recording with five originals. "The horn section," he said, "it gave it a Booker T and the MG's feel." It was also the end of the Lucky Stars. 
Going home meant finding a job and hooking up with old Collinsville musicians and friends. He said working at the prison was important. "You learn that inmates are real people like you and me who made mistakes. Working full time made me focus. I realized that I needed to make music my full time occupation.  So I committed to doing it," he said. 
The sound Holliday had been developing blossomed as he wrote and slowly built the East Side Rhythm Band. He said his inspiration comes from "the regional and R&B sound and artists that do their own natural thing." Leon Russel, Joe Cocker, Allen Toussaint, Bonnie Bramlett (Delaney and Bonnie) and Taj Mahal are on that list. But, the eastside holds a special place in his heart because it is the place Ike and Tina Turner defined soul and R&B.
"Tina Turner is an inspiration. She is the hallmark St. Louis soul and intensity," he said. There's also a dash of New Orleans funk in his inspirational mix.   
 Holliday fell in with a widening circle of St. Louis musicians, like the Funky Butt Brass Band, while spending a couple of frustrating years trying to use a digital click track approach to his 2013 release, "Made it Through the Mill Again."
It led to "a moment of clarity," he said. "I needed to do this as a live album to capture the energy." He tapped friends from Funky Butt to put together a six-piece horn section and cut it in one day. Later, through that same group, he would find another piece of his band puzzle – Derick Trammel's baritone sax.    
2103 was a pivotal year for Holliday. The release drew raves and the Riverfront Times named him "Best Male Vocalist" and "Best R&B Artist." He began a five-year gig at the School of Rock teaching keyboard, guitar, vocals and ensemble. And, he settled into a south St. Louis home – with his love Emily Ligon – that was perfect for iced tea, critters and a studio with ample space for band practice and private lessons. The singer/songwriter had found his comfort zone and the songs followed as he began to build a studio.   
Holliday wanted to be able to produce his own music because "private studio time and projects cost a lot." Eventually a 2" analog tape player would join the soundboard, a rescued Wurlitzer Electric Piano, other music gear and the washer and dryer in the unfinished basement. But, old gear doesn't fix itself, so he learned how to do that, too as he developed his production skills.  He said it is all part of his long-term plan to "build a larger studio for my music and others." 
Holliday's 2015 cd, "Natural Remedies," was cut live-to-analog tape at Sawhorse Studios. He loved the old-school analog approach. "With this one I found a new direction, a voice, a symmetry that went deep on songwriting textures," he said. The feel of the electricity and soul of the bands' live performances was apparent on the release. "It was," as one reviewer noted, "made with as much blood, sweat and tears as fried chicken and potato salad."  
By 2016 the East Side Rhythm Band became a unit and the basement was a fully functioning studio. There had been a lot of band personnel changes over the years. Ryan Torpea (trumpet) Caleb Klinger and Derick Tamel were all veterans of Natural Remedies. Ania Cook (vocals), Hilary Fitz (vocals), Jared McFarland (drums), Matt Lyons (guitar), and Zac Minor (sax/flute) had all joined the band. The last piece was the 2016 addition of a tenth member, Alexandra Sinclair, a talented keyboardist/vocalist and fellow teacher at the School for Rock. 
They all know their way around the local music scene. Torpea, Klinger, McFarland and Lyons are part of the rock/jazz group Animals in Hindsight. Derick Tramel, who has played with Funky Butt Brass Band and Big Mike Aguirre and the Blu City All Stars, loves "the vision Al brings to everything he does and his willingness to take ideas."  Vocalist Ania Cook, an award winning Madagascar native, came through the Colombia music scene and the Roots N Blues N BBQ Fest. Sinclair, who also plays with Torey Casey and the South Side Hustle, said "this experience has been nothing short wonderful to see something come together – we have been together long enough we know what he [Al] wants." 
At the Big Muddy Blues Fest 2017, the band was hitting their groove. Their Saturday evening performance mixed new and old original material with some blues covers. Many in the large Lucas Street Stage audience had never seen them, but the raw energy, funk, soul, and emotion of their performance had the crowd on its feet shouting and dancing. The band tore into each song building and feeding the frenzy. At one point Holliday was on his feet pounding the keyboard when he grabbed his guitar and began slashing away and belting out lyrics. His face was flushed and body visibly vibrating with so much energy and emotion that you would swear he was going to levitate. It left everyone breathless.
After that, they were ready to make a new cd. 
The new songs were stage-tested, the analog tape machine was fixed and studio was ready. Holliday knew what came next. "You gotta put a deadline on it. So, I set a release date before we started," he said. "A May 2018 date made us focus."
When they started he realized the piano was bleeding into the other microphones so they moved it upstairs. "No problem," was Holliday's take, "I just ran a mc wire through the floorboards to the basement." Although, he admitted, "it was kinda strange to be playing on the first floor with the rest of the band in the basement, but it worked because we are so tight."  
The release title, "4963," tells you Holliday is at home, literally. That's the band in the cover photo standing on his front steps. The full throttled chords, growl and grit of the first song, "Ain't No One Got a Good Thing," tells you they got it right. This is an album filled with empathy, love, soul, emotion and all those swirling influences Holliday has crafted into his own unique style.  
"Real Good Woman" is a down-home love song about his life with Emily. The rolling organ chords of "That Bird Has Flown" sets the stage for Cook and Holliday to tell a heartfelt story about her journey here. There's also direct nod to the eastside in "Time Ain't Long" that Holliday said is "a funky feeling of the blues 100 percent inspired by Albert King."  Empathy flows like a river through "Lady on the Street." Holliday chuckles when describing "Little Woman of Mine" as his "best impression of Nirvana Unplugged."  
Social consciousness also weaves its way through the cd. The changing tempos of "Wake Up, America!!," written and performed with Kenny DeShields, speaks frankly to the poverty in our own backyard. "Days (4963)" is an emotion-laden song inspired by home and haunted by the police shooting death of Philando Castile.  The soft rendition of "No How, No Way," which Holiday thinks represents his "deepest song writing," came from "feeling messed up about a messed up world." 
"4963" is a masterwork of blues, soul and funk from an evolving singer/songwriter and band that does St. Louis proud. Europe is about to find out all about "that good thing" when Holliday heads there in November. Like us they'll soon find out they just can't get enough of it.