Music News
Music News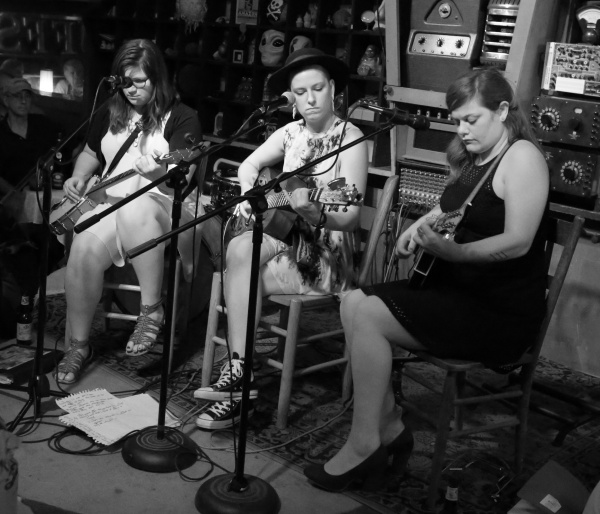 Concert photos: River Kittens Purr At Joe's Café, Thursday, June 9
By
There were a number of new faces at Joe's Café on Thursday night. It's likely they were fans of the River Kittens who ventured to E-LOOP (my acronym for East of The Loop) to hear their favorite band.
"These three are probably not used to playing before such a quiet crowd," Buzz Wall whispered to me. He was referring to the unwritten policy at Joe's that the audience politely listen to the music, not chat or text. Of course, consumption of wine is accepted and encouraged.
The River Kittens consist of Allie Vogler on vocals, guitar and banjo, Martha Mehring on vocals and guitar, and Mattie Schell on vocals and mandolin. For the performance at Joe's, the Kittens began by featuring each member soloing.
Schell got things rolling by covering Bob Dylan's "Simple Twist Of Fate." That seemed somewhat fitting, since rumor and urban legend suggests that Dylan himself will appear at Joe's in five years to celebrate his 80th birthday. My neighbor Colleen gave me this intel, with the disclaimer that it's a secret.
Each Kitten followed with a favorite song, including Sam Cooke's "A Change Is Gonna Come," Creedence Clearwater Revival's "Long As I Can See The Light," and Billy Joel's "I Can't Tell You Why."
The Kittens harmony style and simple string accompaniment worked well on every piece, including the Beach Boy's "Don't Worry Baby," and their first set finale, "Somewhere Over The Rainbow."
Photos by Bill Motchan.
Click here to see the complete collection of photos.