Music News
Music News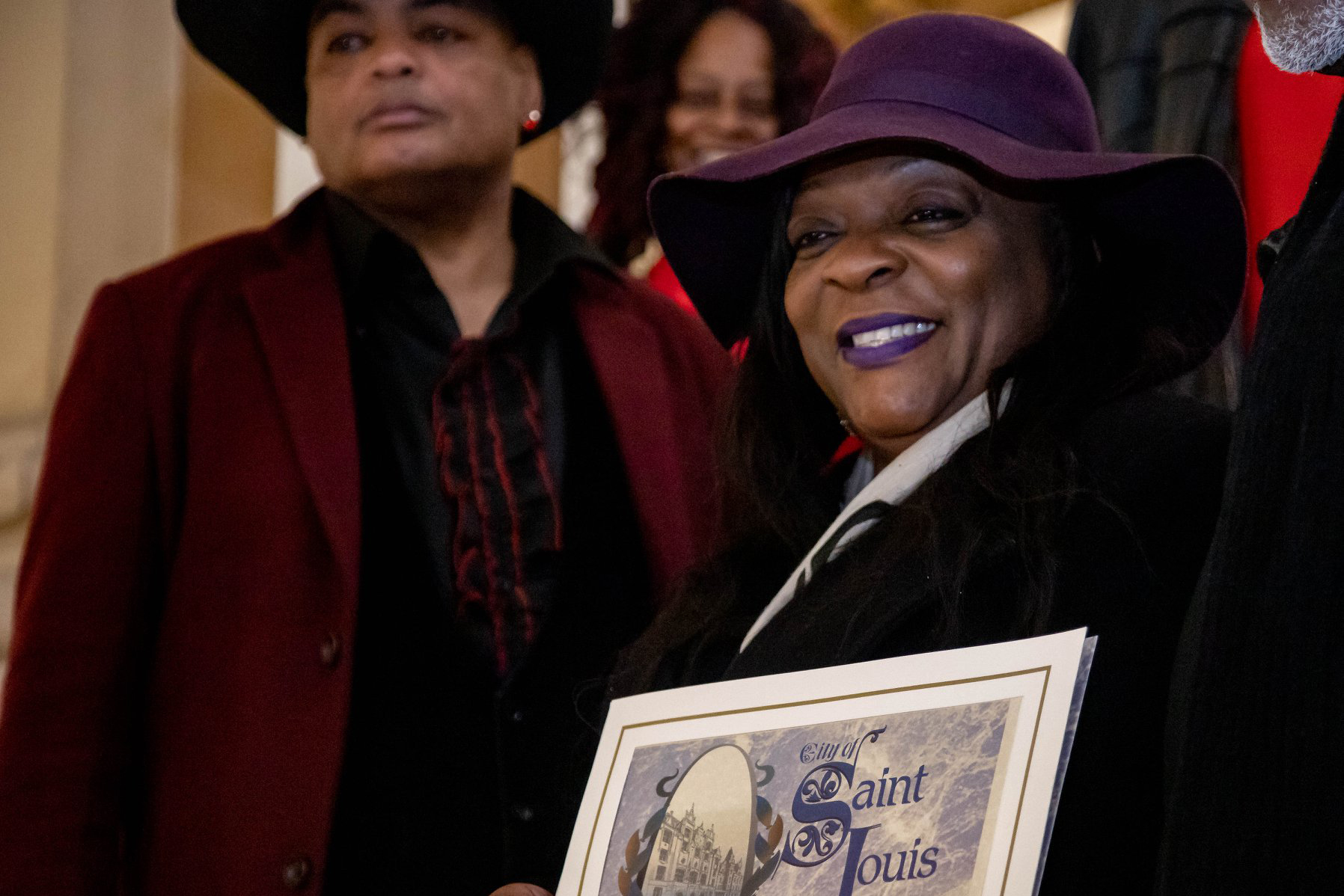 A Journey Worth Taking: Hy-C and Fresh Start on the International Stage
By KDHX
Sometimes you just know. That's what Hy-C (Jacinta Branch Griffin) will tell you. She heard that little voice in the back of her head at the 2019 International Blues Challenge (IBC) in Memphis. She was going to make St. Louis proud. It was just one more step in a most improbable journey.   
Surrounded by 300 musicians at the 2019 IBC band orientation, Griffin knew she would win: "The room was full and noisy, but in the middle of all the excitement, I paused and looked around at all these musicians from all over the world. It was then I knew, at the end it would just be me standing." By Saturday night, Hy-C and the Fresh Start Band were the last ones on stage at the Orpheum. They were also the first St. Louis band to win the IBC.   
Growing up in University City, an inner ring suburb of St. Louis, Griffin did not know the blues, but she knew its cousins well. She was steeped in the gospel music of her father's church, where she and her mother sang in the choir, and inspired by the soul stylings of Gladys Knight.
During her teenage years, the 1986 University City High School grad drew accolades for her vocal prowess in church and school. But that's where her musical pursuits ended, as life, children and work intervened. More than two decades would pass before she would take up singing again.  
When Griffin was forty, she began dating a well-known local blues singer. "It was a learning experience," she says. "Up until that time, I didn't like or know much about the blues. But I began listening." The music spoke to her: "It was about the everyday trials and errors of life. I realized it was about me, my life, and that I knew the blues. I began thinking, I can do this."  
When a girlfriend turned her on to Koko Taylor, it was a revelation: "She could tell a story because she lived that life. I heard that growl and knew I had that growl too. I listened to all her songs. I learned her music and made it mine by rearranging it to fit my way of doing it. It's Delta blues, a low-down dirty blues style."
One night, when another singer failed to show for her boyfriend's gig, he asked the audience for any volunteers and Griffin put her hand up. She sang her favorite song, Gladys Knight's "Neither One of Us." People were surprised. They weren't aware that she could sing but they liked what they heard. She became a regular guest with the band, performing a few songs each show.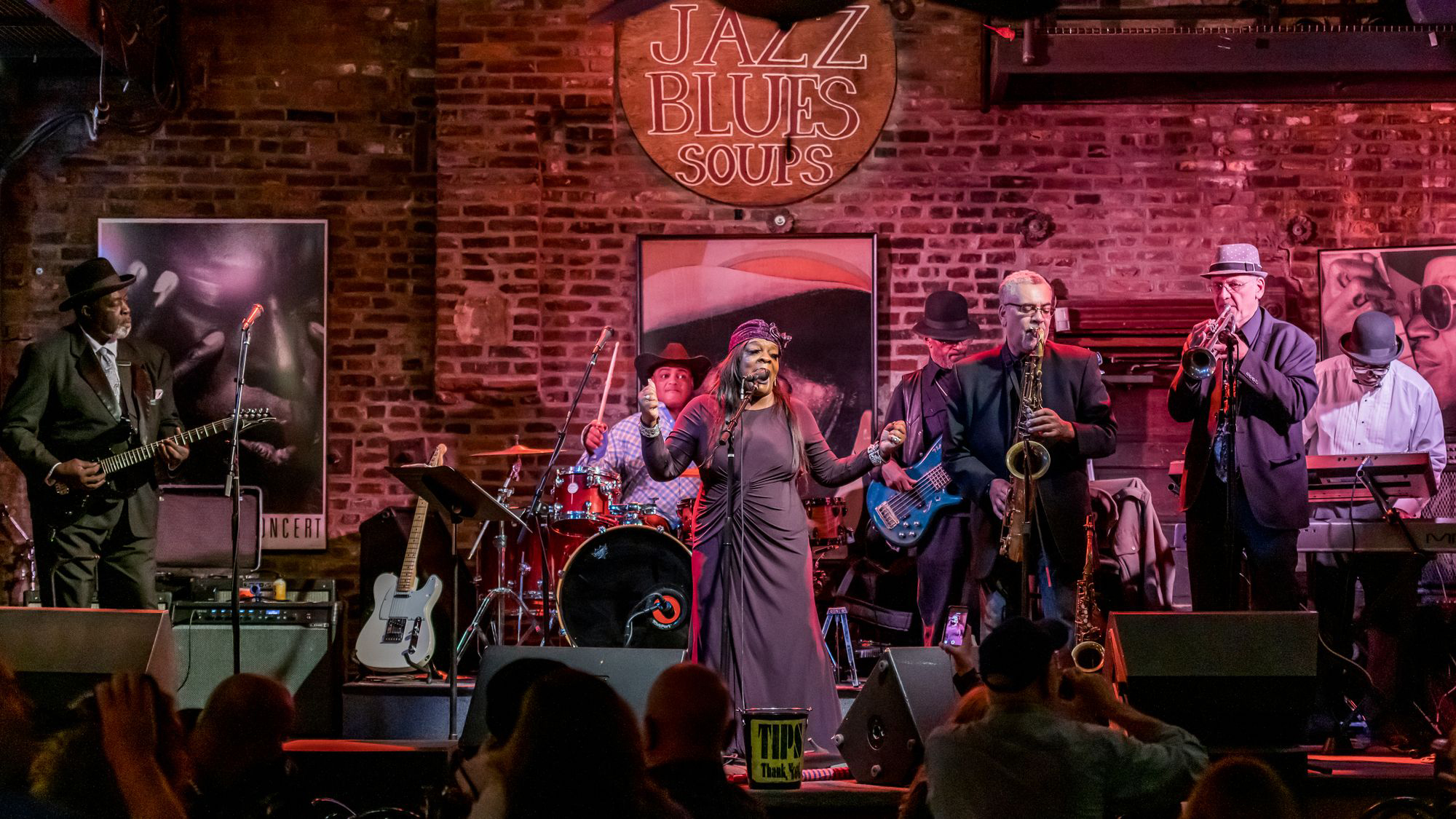 Hy-C and Fresh Start. Photo by Reed Radcliffe.
Eventually, the enthusiastic crowd reaction to Griffin's appearances encouraged her to think bigger. Maybe it was time to form her own band and carry the show on her own. In 2015, she made the leap with several bandmates. More would follow as the Fresh Start Band took shape.  
By 2017, Griffin was surrounded by a tight group of experienced musicians, many of whom had been playing together for years. It included Tyrone McCain (drums), Andre Petty (keyboards), John Smith (rhythm guitar), and Stan Coleman on sax. The lead guitarist, Tommie Johnson, had played with Little Walter and Ike and Tina Turner.  Frank Dunbar, the music director and bass player, had traveled the world with Albert King, Barbara Carr and Chuck Berry.
Dunbar believed that the the band's potential rested in a combination of their musical chops, Hy-C's voice and her hard work in learning blues music. "Our sound," he observes, "is driven by the distinctive groove and rhythmic patterns set by the bass and drums and from the gospel and blues of our upbringing." Word of mouth spread as the band won over club audiences.  
The IBC entry was a fluke. The St. Louis Blues Society called Griffin looking for another band for the regional competition. When they explained what the event was about, she said: "I want to compete." After the band won at regionals, Jeremy Segel-Moss, the chair of the Blues Society, informed Griffin that she needed to perform an original song for the international competition. He also invited her to appear on the Blues Society's annual compilation of original music, '18 in 18.' The offer inspired her first original song, the one she closed every IBC set with, "Memphis Here I Come."
Griffin wasn't the only one who believed they would win; Dunbar did too. When they left for Memphis, he told his bandmates: "Don't worry about the other bands. If we play our sound with HY-C singing over the top, we will win." The improbable journey became the musician's dream of a lifetime, a miracle.   
The group's win capped an amazing week for St. Louis blues music in Memphis. Another talented local band, Torey Casey and the South Side Hustle, made it to the semifinals for the second time. Matt "Rattlesnake" Lesch, one of our young guitar guns, was featured with the United by Music North America Band. Marquise Knox was there mixing and playing a prominent role in a packed Race and Blues workshop. (The Blues Society and KDHX modeled the format with their February 2018 three-part series).  
Griffin is still a bit overwhelmed with the celebrity and the work ahead. She beams with pride when talking about the February 1 ceremony at city hall, where the band received a Board of Alderman proclamation stating: "While we are often overlooked as a player on the international stage, this success puts us squarely on the map." She is quick to thank the Blues Society "for all their work in supporting local musicians." And for the local clubs like Al's Lounge, Deja Vu, the National Blues Museum and others who believed in her.
While Griffin prepares for the upcoming festival season, the local music community has stepped up to help. Marquise Knox, Roland Johnson, and Eugene Johnson are working with her on writing original songs for a new album that she can take on the road.
Come May, Hy-C will be back in Memphis for the IBC music awards, this time as the winner. She says she looks forward to being there because, "someday I would like to win the Koko Taylor award." Her St. Louis fans are cheering her on. As she proves, a journey that once seemed improbable has become one where anything is possible.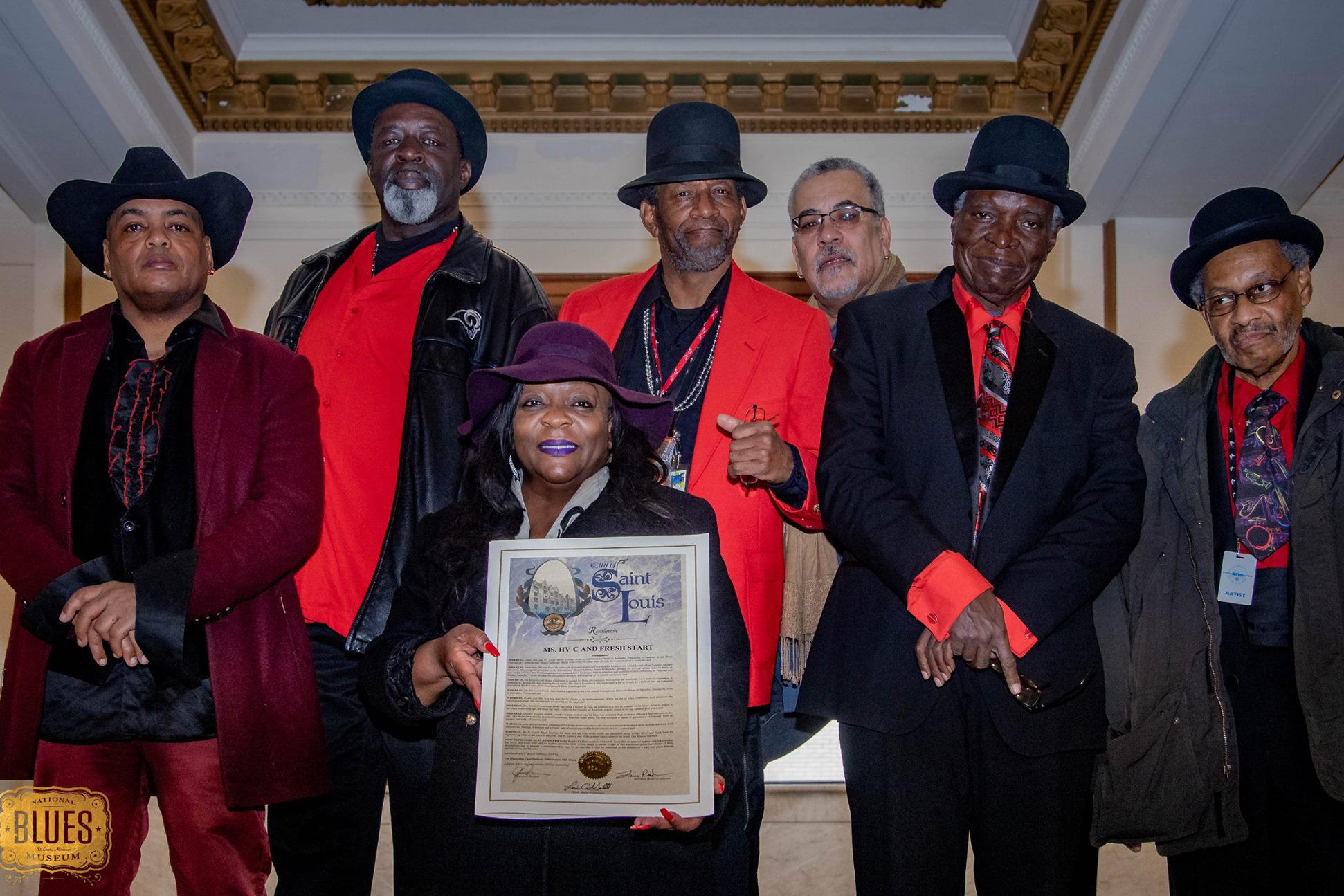 Hy-C and Fresh Start. Photo by Glenn Reigelman / National Blues Museum.
Hy-C and Fresh Start Summer Tour Dates:
May 8 - 9 / IBC Awards Show / Memphis TN
June 8 / Gladstone Summer Time Blues / Gladstone MO
June (TBA) / Eureka Springs Blues Weekend / Eureka Springs AK
July 4 / Spirit of Kansas Annual Blues Festival / Topeka KS
August 9 - 11 / Heritage Blues Festival / Wheeling, West Virginia
August 30 - September 1 / Big Muddy Blues Fest / St. Louis, MO
September 5 - 8 / Big Blues Bender / Hard Rock Casino and Hotel, Las Vegas NV