Music News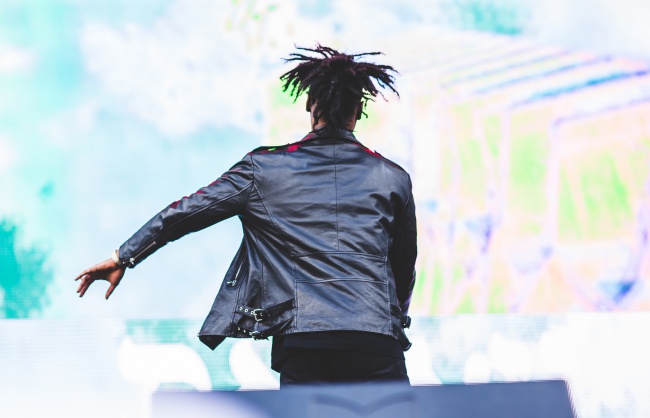 Festival photos: Soundset Music Festival, Minnesota State Fairgrounds, Sunday, May 29
Minnesota State Fair Grounds were the host of this year's Soundset Music Festival. The first set of the day was DJ TIIIIIIIIIIP with all his special guests. Allan Kingdom and Bobby Raps followed, jumping around with water flying through the air and bumping random classic rap songs. Murs & 9th Wonder provided a nice throwback and old school warm up. The sun was at it's worst at that time of day, but it was cool to see the people who were there early and supporting the artists.
Aside from the music, there was a lot going on. The center of Soundset was like a landing strip of stages and food, a ferris wheel, and even a skatepark. Skate competitions went on all day, allowing attendees to show off their skills for a small crowd and for a chance to win some money. Next to the Skatepark was a signing booth with scheduled signings with many performers. Kids were lining up every hour and missing out on some big acts just to get an autograph from their favorite artist. There was also a VIP signing area, with other performers exclusively signing autographs there as an added benefit.
The first standout act was Finding Novyon, who had energy that was undeniable. He may not have been the biggest name on the list, but the crowd responded to him as if he were the headliner. Afro had that same feeling when it came to connecting with the crowd. Other standouts were Anderson .Paak and his band, who had an electric performance with lots of insane facial expressions to illustrate the fun they were having. Prof also put on an amazing show that ended with him floating around the crowd in a giant blowup raft. 
The headliners of course stole the show. Future and A$AP both had blockbuster shows with the whole festival in attendance. A sea of people caught these last few shows. Soundset really is an amazing experience to take on in just one day, but there is good reason that it is known as one of the best Hip-hop music festivals of the year.
Photos by Cory Miller.
Click here to see the complete collection of photos.