Music News
Music News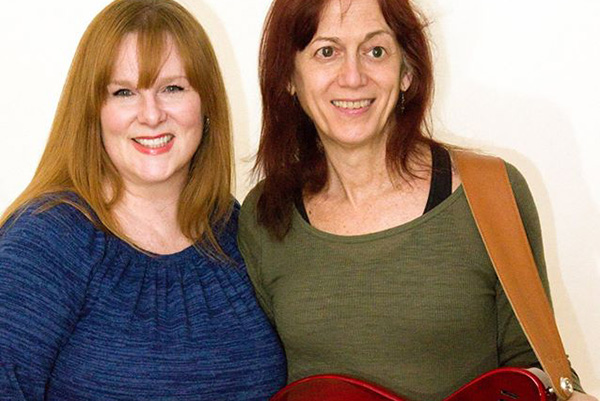 Locally Grown: Sisters Magnolia and the Weeds
By Ronnie Wisdom
There's some magnolias and weeds growing in the St. Louis sound garden. The Sisters Magnolia, Andrea Morse and Pam Camp, announced their arrival with their January 1, 2020 CD release, "Coming of Age." The Weeds came later, growing out the Thursday night jam at the National Blues Museum. This new woman-led band, Sisters Magnolia and the Weeds, will make its debut at the National Blues Museum at the February 15, 2020 Saturday Showcase.  
Morse (electric/acoustic guitar and vocals), the driving force behind the CD recorded in her home studio, found Camp through a 2018 Craigslist ad she placed seeking a vocalist. Camp was delighted to find a musical sister who was "a multi-instrumentalist, producer/engineer, with a keen ear and amazing writing ability." It was a meeting of rock, blues and country. They spent a year working together on what was supposed to be a studio album.  
While Morse and Camp worked on the album, both began participating in the Thursday night "Sittin on the Porch Jam" at the National Blues Museum. There they found friends and talented musicians from across the city. Morse became a regular bassist in the band that also features Jake Curtis whose own band was the St. Louis representative for this year's International Blues Competition in Memphis. When it came time to release, Coming of Age, the Sisters realized this needed to be performed live. 
The answer was easy. They turned to the musical family they had found at the jam session to form The Weeds: Connor Lynch (guitar), Peter Laucis (keys), Steve Eschbacher (drums) and Robert Elmore (bass). Camp and Elmore had also played together in a previous band. The one change jam band followers will notice is that Morse will be playing guitar rather than bass because that's how she wrote the songs.  
What got you interested in music/blues?
Andrea: I grew up in New York city on Staten Island. I went to my parent's church choir rehearsals and dreamt of playing in the 'folk' service. This led to formal instructions and later being part of school orchestras. In highschool I picked up the bass and realized how much I loved the tone, feel and role of the instrument. Our home became the place for friends to jam. At that time Muddy Waters, Johnny Winters and Edgar Winter got lots of spins on the turntable. 
Pam:  I played piano. We had Sunday afternoon family "singings" where I learned about music, sight reading, and harmony from old gospel hymns. I went to college on a music/theatre scholarship and now teach vocals part time. My voice has always lent itself to a country/blues style. In the mid 90's I was introduced to the blues and joined the "Slidewinder Blues Band" and became intrigued with Etta James, Koko Taylor, and Bonnie Raitt. 
How did you get started?  
Andrea: When I was younger playing in and around NYC it was easy (79' – 85'). The music scene was red hot. I ran sound a lot in my 20's, which led to my first music gigs. I opened for the Ramones on two occasions and played legendary clubs such as CBGB's. 
Pam: I threw myself into music when my husband passed away. The emotional release and healing power helped me through many tough times. In the mid 90's, I won "The Charlie Daniels Talent Round-up" for best female vocalist singing a blues song, Bonnie Raitt's "Guilty." That opened a lot of doors.  I did shows with Carrie Underwood and opened for Janis Ian, Gene Watson, Lonestar, and many others. I also was a studio demo artist recording mostly Broadway, blues, and country. 
Who influenced you? 
Andrea: My bass tone is inspired by players like Marcus Miller and a handful of other jazz bassists. In St. Louis, I've played with Julia Tenkku (GrooveTHang), Fun With Cats, Tony Hall, Larry Gwaltney, and I'm a member of the National Blues Museum's House Band. 
Pam: I was drawn to the profound power and textures Linda Ronstadt's voice. My first band, The Pam Camp Band, was classic rock and I fronted others - blues, jazz, Americana, and country. In 2014 I became a vocalist with the Smash Band. I have sung with Kingdom Brothers, Matt "Rattlesnack" Lesch, and other local artists as well as being a member of Songs of Africa Ensemble and singing in a duo with Jeff Walschauser. 
Tell us about your upcoming CD 
Andrea: I satisfied my "need to play" addiction by building a studio at home outfitted by Emmy Award winning Engineer Michael Cirile of Trebb Audio of NY – a lifelong friend.  Our process begins with a rhythm track.  I write from several different points of view. This is music I refer to as my Mellencamp music; Mid-America with a bit of a southern twist now and again. We've sometimes referred to artists like Linda Ronstadt… but we'd be happy if listeners had the opportunity to classify the material.  Another lyricist worked with us on the debut release, however, we'll be working on our own moving into the next one. The tracking was mixed and mastered by Paul Niehaus of Blue Lotus. Our hope is that listeners feel inspired, uplifted and hopeful. And, that they'd like to see the band live.  
What is your favorite blues song and/or most memorable gig?  
Andrea: Johnny Winter did a live version of 'Good Morning Little School Girl'. We played that a lot when I was in New York and it's just a cool riff. But I suppose that we did a couple wild gigs – like working a commuter train platform, on the legendary Circle Line site in NYC and of course a few outrageous shows for bikers.
Pam: Bonnie Raitt's "Guilty" has always been a favorite of mine and most recently Beth Hart's "Thankful." Singing on national TV for The Charlie Daniels Talent Roundup was memorable. Another was opening for Lonestar where we had a crowd of over 8,000.  I also loved when Smash Band opened for The Band Perry at Fair Saint Louis.
What do you see in the future for yourself, the band and the blues community?
Andrea: A female-fronted group that kicks it is so special to me. My hope is that SMW will do gigs that allow a greater number of people to experience what we do. No matter what has transpired in my life I always feel the need to play, to create and to perform. A second SMW release is in the works as well as another recording, my instrumental rock/smooth jazz/funk project, "Forever Dreams." And, I will continue to work with the NBM to promote the great original art form called the blues.  
Pam: I see SMW continuing to write and record new material and performing many live shows in the upcoming year. With the backing of folks like Dave Beardsley with STLBlues Talent, I see us opening for major acts coming into St. Louis.
Tell us about the St. Louis blues community, what do you want the world to know? 
Andrea: What makes the local scene for me is the National Blues Museum. It's true that I've met and played with some awesome people since I've been in St Louis, but I've never made so many friends and felt like we had a musical family until I started spending time there. 
Pam: Being a transplant, I am intrigued by the community of blues artists here in St. Louis, and how they truly are a family and are welcoming to new artists like myself. The National Blues Museum is a St. Louis treasure that preserves and continues to advance the art form of blues.
Anything else you want to highlight?
Andrea: I'd like to remind people that making music is a time consuming and relatively expensive process. The economics of making music is very fractured. I encourage people to go out and see a live band. Buy the merch... CD, t-shirts…whatever. Your purchase won't contribute to gluttony, more likely make it easier for the artist to write, record and perform more. And after all, if you like what they do, it's a win. 
The Coming of Age CD Release Concert will be held 7-10PM, Saturday, 2/15/2020 at the National Blues Museum with Molly Simms doing a solo set as opener. Contact the museum for more information.