Music News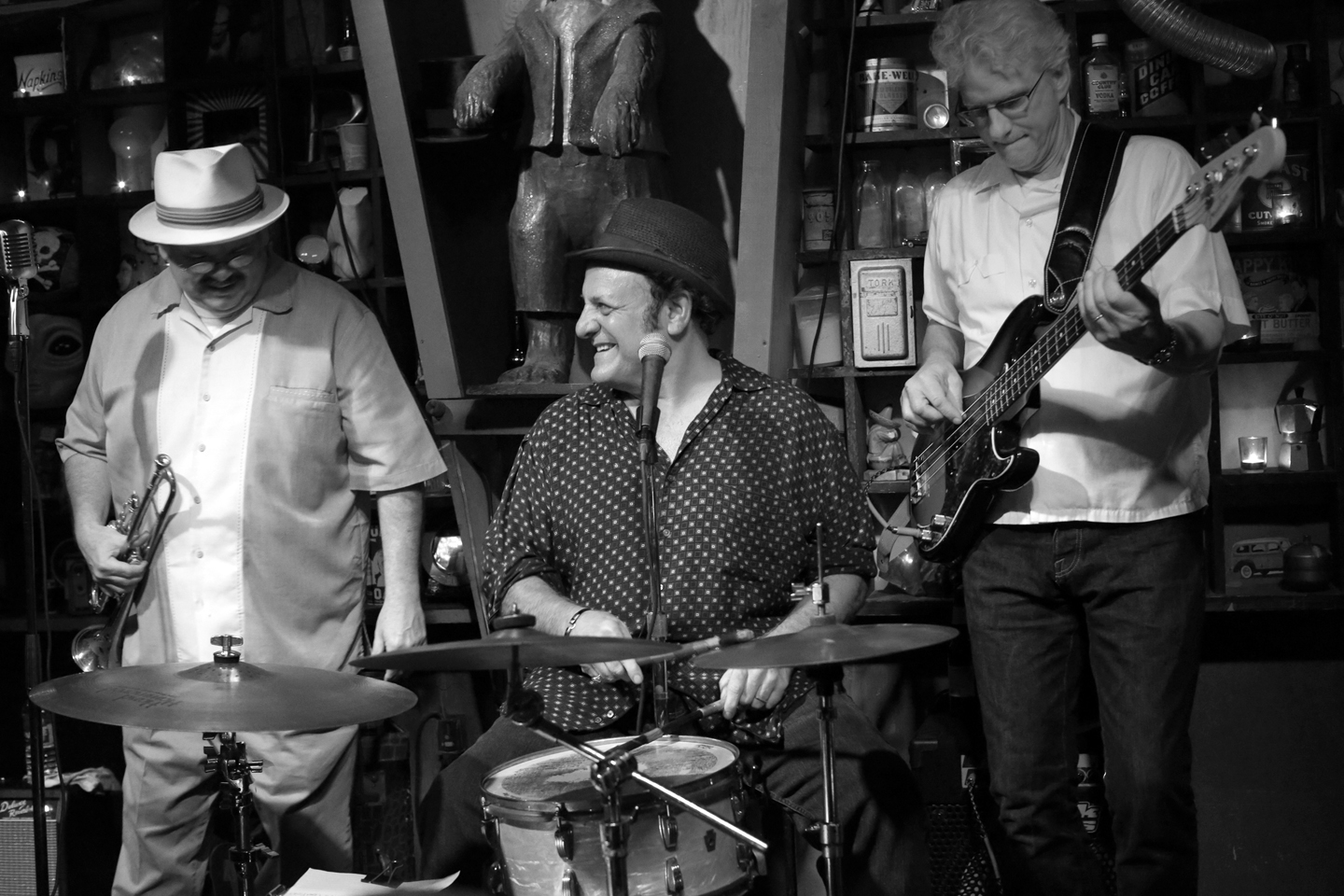 Concert photos: Hudson & Friends at Joe's Cafe, Thursday, April 28
Dark days are over for fans who can't handle the end of Hudson and The Hoo Doo Cats' 25-year run.
Drummer and head Cat, Hudson Harkins, is re-emerging around town with a new band, Hudson and Friends.
Those friends could be any combination of local players who Harkins chooses to groove with on any particular night. At Joe's Café on Thursday, Harkins' friends included vocalist and trumpet wiz Brian Casserly, bassist Vince Corkery and Aaron Griffin on guitar.
I asked Harkins before the show started how he was handling life after the Hoo Doo Cats.
"I'm mixing it up, playing with different people, and it's been a blast," he said.
Harkins was particularly excited that Aaron Griffin was sitting in. At 20, Griffin is a bit younger than Harkins' other bandmates. Griffin (who also plays with the Soulard Blues Band) was unfamiliar with a fabric that's also the title of a song that the group rehearsed earlier in the week. The song title: "Rayon."
Rayon, I love the way it feels against your skin,
You've got Rayon, and then the loving can begin.
"The kid (Griffin) says to me, 'What's Rayon?'" Harkins laughed. "Man, you talk about a generation gap!"
Griffin has a bit of a legacy, taking over his father Larry's old guitar spot in the Soulard Blues Band.
Harkins and Friends brought much of the Hoo Doo Cats vibe to the show, mixing blues, jazz and "jitterbugabilly." They kept it light throughout the performance, joking around between songs.
Corkery, low-key as ever, hung out at the bar with me and Buzz Wall until mere seconds before showtime. According to Joe's Café impresario Bill Christman's promo on this version of Hudson and Friends, "Vince Corkery is too good to be playing with these guys, but needs the paycheck to expand his collection of colonial drill bits."
Photos by Bill Motchan. 
Click here to see the complete collection of photos.
Related Articles