Music Reviews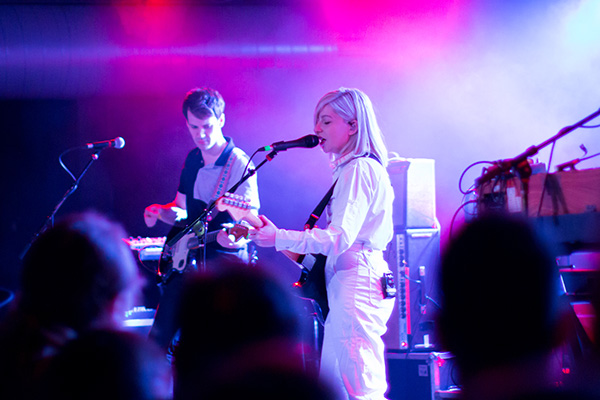 Alvvays rides the new wave at The Ready Room
Written by

Matt Monroe
As a kid, I watched a ton of VH1. Specifically, I watched a lot of the retrospective programming they had, whether that'd be shows like "I Love the 80's," "The 50 Sexiest Video Moments," or "The 100 Greatest One-Hit Wonders of the '80s," the latter of which is important as there was a common thread that was strung across many of that decade's one-hit wonders – new wave. The genre was dominant in the pop world from the late '70s to the mid-to-late '80s, but died out over time due to overexposure, with its remnants helping make up early alternative rock. 
While new wave might no longer be as relevant in the mainstream, there's still plenty of bands left of the dial that keep its influence alive and well, with one of those being the Canadian indie pop band Alvvays. The band brought their live show to The Ready Room last Friday (April 27, 2018) on a hot spring night, playing to a sold-out crowd.
Before Alvvays hit the stage, Frankie Rose was up first with a fantastic set that seriously impressed me. Despite being a fairly established musician with a stellar solo career and stints in bands like Crystal Stilts, Dum Dum Girls and Vivian Girls, I never really got around to listening to her, but sure will now after hearing her live. While Alvvays' new wave influence can be a bit more tucked in, Rose is loud and proud with it as with the stage's projected visuals. I felt like I was being warped back into a dystopian 1980s. Before her set, Rose shared that she and her band went to the City Museum and got stuck stuck in a cave, which is a standard affair for most City Museum visits. 
I was honestly afraid going into Alvvays set – not that I thought the band was going to put on a bad performance. Far from it actually, as I saw them a few months ago at Thalia Hall in Chicago and loved every second of it. What I was worried about was a potential repeat of an incident they had at a show recently in San Luis Obispo, where a man ran up on stage and according to a Reddit commenter, "pushed [vocalist] Molly [Rankin] aside, then walked up to the mic but didn't say anything – he then immediately jumped off the stage into the crowd after a security guard tried getting him." A similar incident happened last year at a concert in Belgium and the band was compelled enough to put out a note on their social media, telling grabby concertgoers to "please stay home!"
Luckily, these fears were put to rest as the band played a captivating, fantastic and incident-free show for the St. Louis audience. From the 2017 release "Antisocialites," the band kicked things off with the song "Hey." It's a pretty apt opener, as not only is it a warm welcome to everyone at the show, but it's also a stellar new wave-inspired cut (which sounds eerily like A Flock of Seagulls' "I Ran") that almost instantly popped the crowd. The momentum continued to shift forward with "Adult Diversion" from the 2014 release "Alvvays" and "In Undertow" and "Plimsoll Punks," – both from "Antisocialites."
There's something I noticed constantly throughout Alvvays' set and fully realized once the show was over – this is a band that does not have a bad song in them. From the studio to the concert hall, every song makes a graceful transition. While it perfectly closes "Antisocialites," the song "Forget About Love" serves as a impeccable mid-concert cool-down, with Rankin handing off her guitar to bassist Brian Murphy to fully focus on the song's somber vocals. Every peak must have its valley though, which makes "Your Type" a superb way to kick the set back into high gear as it's probably the most punk rock song that band's ever recorded. 
And I can't forget to mention "Archie, Marry Me," which over four years after its release is still a small burst of indie pop perfection. You want to know how to not only write a hook, but build your way to it? Study this song. An anthem for the millennial generation, nearly everyone in the crowd, myself included, were singing along to the song's cries of student loan debt, sailing and marriage without the hubbub. While my night peaked during this song, I still found myself wholly emotional during songs like "Dreams Tonite" and "Party Police," emotions that stayed with me all the way from I-170 to my bedroom and will probably stay with me until the next time Alvvays comes back to town. 
 Photos by Karl Beck. Check out more photos from the show on our KDHX Flickr page.