Music Reviews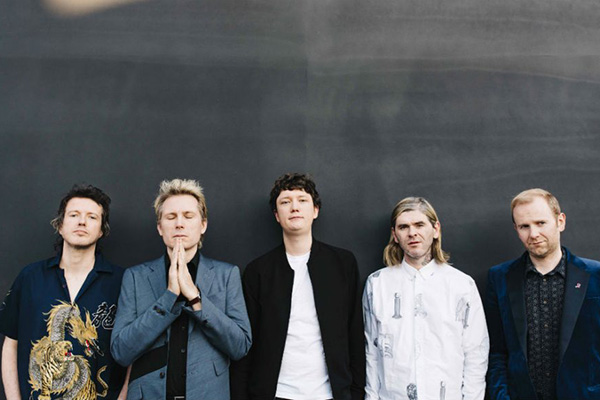 Franz Ferdinand brings their distinctive dance rock to The Pageant
Written by

Courtney Dowdall
I was stunned to realize it has been 14 years since Franz Ferdinand's self-titled album and anthem single, "Take Me Out," first introduced to the world their distinctive take on dance rock. But it's true – the world met Franz Ferdinand in 2004 and St. Louis met the band at the Pageant when they toured their stunning debut album in 2005. Fast forward so many years later and they still sound fresh as a bunch of Scottish daisies playing tracks off their exceptional newest release, "Always Ascending," along with a healthy sampling off the debut album and a hit compilation of singles and EPs released in between. Opening acts Remember Remember and Priests played in satisfying contrast with one another as well as the headliner, making for a diverse and well-rounded musical evening at The Pageant on May 2. 
Originally hailing from Glasgow, Scotland (same as Franz Ferdinand), Remember Remember's anchor, Graeme Ronald has relocated to St. Louis since the original lineup dissolved in 2015. Once a multi-instrumentalist music collective, the sound is now a one-man ambling construction of sounds and loops. Ambient, shoegazey and experimental, Ronald adds elements one at a time and introduces a variation on the theme with each pass, resulting in a unique and complex creation borne precisely in and because of a synchronous moment in time. Newly inserting himself into the live music scene in St. Louis, we can hope for more serendipitous creation opportunities around town in the months to come. 
And then for something completely different, Priests growled, glowered and glowed in kinetic neon pink dissonance. Bright, bold silk flowers sprawled across the drums and keyboard complimented singer Katie Alice Greer, shrieking like an angry wrestling announcer in a safari hat, high-waisted jeans and high tops, "Footloose" dancing and gyrating across the stage. Guitarist GL Jaguar shredded away in his corner for a selection of fast-paced, punk-inspired tunes, sometimes repeating commands à la Romeo Void's "Never Say Never," other times allowing drummer Daniele Daniele a turn at spoken word from behind her kit. 
While all three acts are technically classified in the "post punk" category, their respective sounds betray the shortcomings of such a limiting and inadequate a concept as "genre." Franz Ferdinand brought a hyper-organized, impeccably-timed set to the evening, opening up with their brilliantly disco-inspired dance tune, "Always Ascending." A whiff of LCD Soundsystem and a touch of Bowie's "Fashion," the newest single seems built for opening a live show with its soft vocal intro bursting into irresistible dance beats and bright harmonies.
The band seemed energized with their new members and material, making the old tunes feel brand new and hot as ever. In the years since the first album came out, Franz Ferdinand has accrued a hefty catalog of songs to fill an hour-and-a-half set with few, if any, unknowns or lesser-known tracks. They covered all the favorites, including "The Dark of the Matinee" and "Michael" from the self-titled album, fan favorite "Do You Want To," and "Ulysses" in the encore set. 
Whereas opening acts seemed fueled by a raw sense for the moment, Franz Ferdinand felt a more crafted sound and experience, working hard to engage the audience. "Take Me Out" brought all the strings to the front of the stage for a bit of choreographed bravado, though drummer Paul Thomson unfortunately remained in the shadows at the back of the stage for most of the night, making it difficult to gawp at his crisp and precise delivery across the set. Dino Bardot and Alex Kapranos' guitars were works of art in their own right, in stunning teal and magenta compliments or black and tortoiseshell veneer. Bassist Bob Hardy made magic with deft fingerwork creeping like the nimblest spider up and down the fretboard. Julian Corrie worked the synth with a guitar strapped to his back, occasionally stepping up to the mic for one backing lyric at a time. 
Kapranos, more sprightly than ever, made a compelling case for his nomination as the Hardest Working Frontman in the Business, bounding and scissor-kicking his way across the stage in sharp black suit, repeatedly calling St. Louis out by name with requests for audience participation. So effective were his commands that the entire floor crouched/squatted/sat down just as directed, like a performance of the Isley Brothers' "Shout" telling us to get a little bit softer now, minus the clear direction on when or how we were to jump up and shout now, so that we drifted up gradually, sheepishly, wondered where we missed our cue. 
After the briefest of walks offstage, the band closed the set with another four songs, including another new single, "Lazy Boy" as well as "Lucid Dreams," dedicated to Linda McCartney. The big closer, an extended version of "This Fire," had the crowd chanting along as the band basked in the roar and the red stage lights. A truly delightful and gratifying evening, Franz Ferdinand proved impressively on-point, in timing, composition and selection of accompaniment, proving a thoroughly entertaining and diverse sampling of all the fun that "post-punk" has to offer. 
 Franz Ferdinand - Photo by Cara Robbins