Music Reviews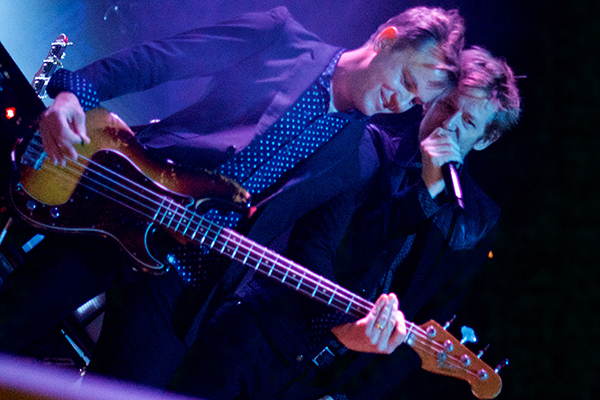 Spoon Dazzles with Career-Spanning Set at the Pageant
Written by

Amy Burger
If slow and steady wins the race, Austin-based indie rockers Spoon are undoubtedly champions. With 25 years and nine albums under their belt, the band, featuring charismatic front man Britt Daniel, drummer and co-founder Jim Eno, multi-instrumentalist Rob Pope, guitarist/keyboardist Alex Fischel and touring guitarist/keyboardist Gerardo Larios, just seems to get better with age. Their 2017 release, "Hot Thoughts," may indeed be their best yet, and was easily one of the best albums put out last year. 
Spoon brought its tour in support of that album to The Pageant on Wednesday, May 16, returning to St. Louis just eight months after a high-energy set at last year's LouFest Music Festival, and was greeted with enthusiasm by the packed house of fans.
The tightly scheduled show kicked off promptly at 8 p.m. with a compact but forceful set by fellow Austin musician/singer/songwriter Walker Lukens and his band, proving an apt opener that connected well with Spoon's audience. Lukens wowed with his synth-heavy blend of rock that has an 80s-throwback sound yet at once seems quite contemporary, anchored by solid songwriting and his soulful vocal style. 
The dance floor filled with Spoon fans anxiously awaiting the main course as Fischel stepped out into the darkness and began playing the keyboard intro to catchy/upbeat "Can I Talk You Into It." Daniel and the rest of the band soon sauntered onstage to cheers as Eno's crisp drumbeats brought the song up to speed. Daniel looked every bit the rock star in a black jacket and black jeans, clutching the microphone in a wash of pink lights. 
Over the course of their hour-and-a-half set, Spoon provided a career-spanning dose of its signature experimental rock, alternating between energetic, danceable cuts and more ethereal, psychedelic tunes. Daniel was friendly and chatty between songs, noting that the band arrived in town the day prior and had been "walking amongst you," going bowling and dining on local barbecue. 
Set highlights included a trio of standout songs from "Hot Thoughts" including its infectious title track, which got the crowd dancing and bobbing their heads, as did the equally rhythmic "Can I Sit Next to You."  In contrast, darker "I Ain't the One" began with only Fischel on stage for a trippy synth solo before the rest of the band returned and Daniel crooned expressively as he lay on his back on a platform mid-stage. 
Sultry "Knock, Knock, Knock" highlighted Daniel's smoldering growl and the precision of Eno's beats. A lengthy, jam-filled version of "My Mathematical Mind," provided the evening's most experimental, psychedelic moments with a swirling stew of keys and guitars building as Daniel made otherworldly sounds with his voice in the microphone.
A couple of older, upbeat fan favorites, "I Turn My Camera On" and "The Underdog" punctuated the beginning and end of the main set, providing additional opportunities for the crowd to get down on the dance floor.
After a hearty round of applause and a brief break, Spoon obliged a four-song encore beginning with Daniel offering a stunning solo version of "I Summon You" before the full band returned for the triple treat of "Metal Detektor," "You Got Yr. Cherry Bomb" and dazzling finale "Rent I Pay," ending in a frenetic haze of strobe lights and shredding guitars.
It's worth noting that the sound mix for this show was pitch perfect, adding to the band's impeccable delivery and allowing each note and member's part to be heard with total clarity.
In the often-tumultuous world of rock and roll, there's something to be said for consistency. Spoon is an absolute workhorse of a band that continues to perform and create at the highest level.
Setlist (courtesy of Setlist.fm):
Do I Have to Talk You Into It
Inside Out
I Turn My Camera On
Trouble Comes Running
Knock Knock Knock
Do You
Via Kannela
I Ain't the One
Hot Thoughts
Satellite
Can I Sit Next to You
My Mathematical Mind
Don't Make Me a Target
The Underdog
Got Nuffin
Encore:
I Summon You (Britt solo)
Metal Detektor
You Got Yr. Cherry Bomb
Rent I Pay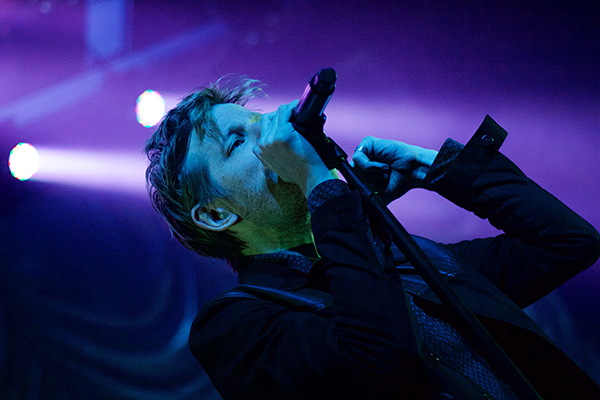 The Pageant hosted a Texas-sized night of live music on Wednesday, May 16, as Austin bands Spoon and Walker Lukens took the stage to an enthusiastic crowd. Head over to our Flickr page to see the full sets of photos by Colin Suchland.