Music Reviews
Music Reviews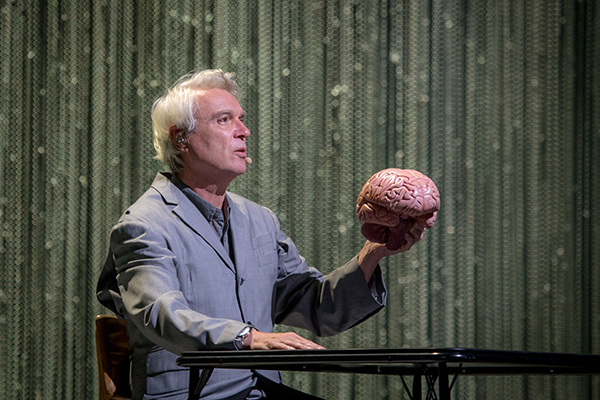 David Byrne's Innovative Production Transforms What A Concert Can Be
By Ronnie Wisdom
The curtain rose, the lights came up and David Byrne appeared sitting at a table center stage, in front of him a large model brain. It seemed more like a one man theater performance than a rock concert at first. This was just the beginning of an incredibly exuberant, subversive and stirring music experience at the Peabody Opera House on Friday, June 8.
Fans of Talking Heads were drawn to them not just for their music, but for their fascinating visual artistry. In that same way, David Byrne delivered a show that was so much more visually that anyone could have expected. To the delight of everyone with an eye for photography, every moment and every square foot of the performance area was deliberately picture perfect. 
All 12 band members including guitar, bass and keyboard were completely wireless, mostly barefoot, dressed in androgynous matching grey suits, walking and dancing in choreographed lines making circles and pinwheels like a marching band. Because of this there wasn't a bad seat in the house; it was actually advantageous to be in the nosebleeds where you could see the formations playing out. They moved around the illuminated three-sided box with walls made of 30-foot-tall aluminum chain curtain which sometimes resembled the raining lines of green code in The Matrix. Half of the ensemble were percussionists with snare and tenor drums on chest harnesses and some strange instruments that were intriguing and unfamiliar. There were two designated back-up vocalists who's dancing was a captivating mix of tai chi and fast-paced movements conveying messages in a strange sign language. You could find yourself so mesmerized by the dance that you miss out on the half-dozen other things happening on stage. 
The setlist was equally split between material from the new album, "American Utopia" and Talking Heads favorites like, "Slippery People," "This Must Be The Place (Naive Melody)" and "Once In A Lifetime." As a nod to "Stop Making Sense," the Talking Head's groundbreaking 1984 concert film, a lamp was used as a dramatic, yet minimalistic prop. Byrne stood still next to it and the band, slowly marching in a large circle, becoming silhouettes as they passed in front. At one point a light was placed at the edge of the stage to cast a huge shadow of Byrne against the back wall. The shadow reminded me of his younger self, the two moving their hips together, arms outreached on both sides, the same way for 30 years. 
As the last song and second encore, the band returned to the stage with only their percussion instruments. Their demeanors had changed reflecting the gravity of their send off message. It was a cover Janelle Monáe's, "Hell You Talmbout," a cry for justice that has become a common protest chant during demonstrations against police brutality. In it they repeated the names of victims including Sandra Bland, Trayvon Martin and Stephon Clark followed by, "Say his name! Say his name! Say his name! Won't you say his name?" Everyone was on their feet, hands raise, and singing along with every verse, the loudest being, "Michael Brown, say his name!"
This was the second time during the show that Byrne brought the audience's attention to what is going on outside this theater, in our communities and on our streets. Before playing the single from his new album, "Everybody's Coming To My House," he addressed the importance of voting in local and regional elections. The takeaway from this show was an acknowledgment that things need to change in America, but from an overwhelmingly optimistic perspective. And in David Byrne's typical quirky way, it was, strangely enough, also from the perspective of a dog.
Wearing a large cowboy hat, boots and a western-style lace shirt, Benjamin Clementine opened the show with several minutes of performance art. One red spotlight was on the stage until he sat down at the piano. He was accompanied by a bassist and his voice is one that has to be heard; it's deep, beautiful, and expressive like that of an opera singer. For his last song, although I'm not sure he had planned on it being his last, he sang of peace and questioned why this concept is so difficult. Someone shouted something from the crowd. I can't be sure what they said but it sounded like "Preach!" Being that the room so so quiet, it was very distracting. Clementine looked into the audience and asked the person what they had said. They repeated themselves and he got up and left the stage. It would be really nice if audiences realized that even if they're shouting something positive, it's still rude. That was a really beautiful moment that was interrupted because someone wanted to hear their own voice. 
David Byrne. The Peabody Opera House. Friday, July 8, 2918. Photos by Monica Mileur. Check out the full set of photos over on our Flickr page.