Music Reviews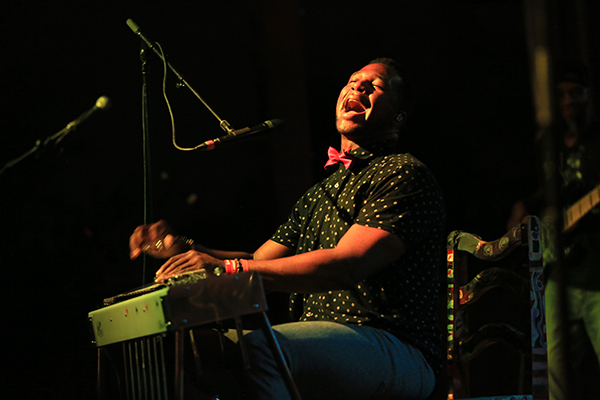 Robert Randolph and The Family Band school Atomic Cowboy in the art of Sacred Steel
Written by

Bill Motchan
There are a couple of good reasons Robert Randolph has been compared to the "Jimi Hendrix" of the pedal steel guitar.
One is his uncanny ability to bend and hold notes, making them cry for mercy.
Another is that he gets the instrument out of its own comfort zone – meaning, he doesn't keep the guitar stand upright and standing straight all the time.
Randolph fronts The Family Band, who are masters of funk in their own right. A good-sized crowd of all ages watched Robert Randolph perform his pedal steel guitar magic at the Atomic Cowboy on Aug. 31. It was a smaller stage than Randolph played a year ago at the last Loufest.
Opening for Randolph was a local rocker – Big Mike and his Blu City All Stars. Big Mike is Michael Aguirre, who hails from the rock mecca of ... Belleville, IL. He has played alongside many great blues artists and his Blu City team was in fine form as the Randolph warm-up. 
Aguirre was another victim of Loufest's demise – he was scheduled to appear with Kevin Bowers' Nova. If you haven't heard Big Mike and the Blu City All Stars, head down to Beale on Broadway most Sunday night. You won't regret it. It's a high-energy, soul and rock extravaganza.
After the audience was sufficiently rock-ready from Big Mike's set, a brief light rain shower cooled down the open air stage, but the heat came back when Randolph and The Family Band took the stage.
Funny thing about the pedal steel guitar – it's typically used by country bands. Do a google search on the instrument and you'll learn that the most-mentioned pedal steel players are white men. One of the funkiest of the bunch is Sonny Landreth, who occasionally plays with Jimmy Buffett's Coral Reefer Band.
So how in the heck did Robert Randolph pick up this twangy instrument?
From church. No kidding. Randolph's childhood was a religious upbringing. He and his family learned about a gospel music tradition called Sacred Steel. He loved the sound of it and now he's one of the best in the business at an instrument that's the polar opposite – difficulty-wise – of a ukulele. 
Randolph's musical influences were lap steel gospel players, but stylistically he favors Stevie Ray Vaughan and naturally, Hendrix. Randolph loves the instrument because as a guitarist, you can do a lot with it: play bass, strum rhythm, or in his case, power blues and funk.
You kids out there who dream of playing pedal steel, keep in mind you'll need to learn to master an intricate system of levers and pull rods that bend some of the strings. That's how you achieve a gazillion different chords and scales. Oh, and your right foot controls the volume – not unlike a Hammond B-3 organ. Put it this way: you need a lot of hand-eye coordination to get the pedal steel guitar to do its thing.
 On the other hand, there's one fairly cool upside: You get to sit down.