Music Reviews
Music Reviews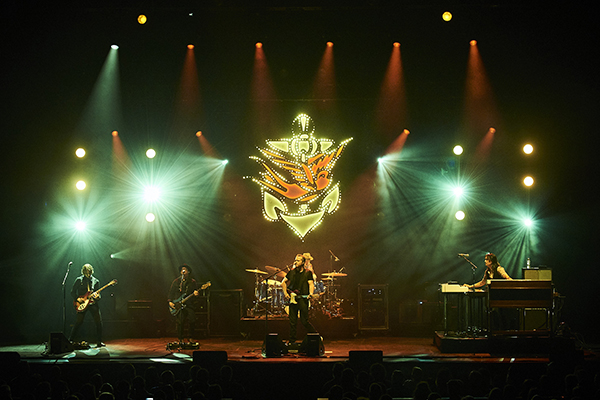 Jason Isbell & The 400 Unit blend raw emotion with sonic perfection at The Stifel Theatre
By Ronnie Wisdom
Jason Isbell and The 400 Unit made a triumphant return to the newly renamed Stifel Theatre on Monday night (Sept. 10), playing to a packed house with Minneapolis-based Communist Daughter providing opening support. Isbell has made St. Louis an annual stop on his tours and appears to have as much affection for the city as his local fans have for him. This could, in part, stem from his early days opening for St. Louis' own Son Volt – Isbell has oft praised and thanked Jay Farrar for his influence – and the fact that The 400 Unit's keyboardist, Derry deBorja, was playing in Son Volt when Isbell met him. 
Over the past five years, Isbell's fans have watched in awe as the singer-songwriter-guitarist rose from the ashes of serious alcoholism and a somewhat stalled career to release a trio of critically-acclaimed, award-winning albums, beginning with 2013's "Southeastern," its 2015 follow-up "Something More Than Free" and last year's "The Nashville Sound," his latest credited with The 400 Unit. 
If you must hit rock bottom before getting to the top, Isbell certainly accomplished that. Prior to launching his solo career, the Alabama native was best known as one arm of the Drive-By Truckers' famous "three axe attack" and songwriting team, collaborating on three of the band's best albums before departing in 2007 amid tales of reckless behavior and blatantly intoxicated performances. 
Though he went on to release several critically acclaimed albums while touring with Son Volt and Ryan Adams, among others, Isbell's demons continued to haunt him. He finally entered rehab for alcohol and drug addiction at the urging of Adams, his manager and his now wife, musician Amanda Shires. His newfound sobriety ushered in a new era of creativity and quality in his songwriting.
That painful journey can be felt and heard in every note and carefully chosen lyric of Isbell's songs; and just when it seems he can't possibly get better – he does. He proved this in spades at Monday night's show, which spanned songs from those three stunning albums and revisited material from the rockier time of his life before sobriety. 
The band kicked things off with one of those older tunes, "Go it Alone," from the 2011 album "Here We Rest." When you are as gifted an artist as Isbell, the best thing you can do is surround yourself with others who possess equal talents, and Isbell has undoubtedly done that with The 400 Unit. While he offered a master class in songwriting, guitar playing and vocal perfection, the band was there to further elevate him at every turn.
Guitarist Sadler Vaden dazzled with sublime slide solos while deBorja's performance on keyboards and organ gave depth and soul to each tune. Bassist Jimbo Hart and drummer Chad Gamble are the heartbeat of the ensemble. The only missing ingredient was the lovely Shires on fiddle. Isbell noted that she recently released a new album and was off on her own tour. 
The set leaned heavy on tunes from Grammy-winning "The Nashville Sound," including "Molotov," high-energy "Cumberland Gap," "Tupelo," "Hope the High Road," and "Last of My Kind." Weighty "White Man's World" featured deBorja's churched up organ as Isbell preached, "There's no such thing as someone else's war. Your creature comforts aren't the only things worth fighting for."
He treated Drive-By Truckers fans with the achingly beautiful "Goddamn Lonely Love" before the rest of the band (save for deBorja) departed the stage, leaving Isbell and his acoustic guitar to perform the gut-wrenching portrait of cancer, "Elephant," after which he joked, "You guys are getting all the 'Parental Advisory' songs – I know you can deal with it." 
Perhaps one of the most incredible things about Isbell's live performances is his ability to move so effortlessly between emotional, acoustic ballads and high-energy, guitar-shredding rock songs and positively destroy both. The only thing that seemed to rattle his cage were fans who insisted on recording with their smart phones despite signs on the doors prohibiting recording. 
Isbell interrupted a verse during "Speed Trap Town" to comment to one such fan, "Hey, Siri, stop recording." Later, during what was by far the emotional apex of the set, an acoustic performance of "Cover Me Up," he was thrown again just moments in – pausing completely to point to the perpetrator, yelling, "Stop filming me!" Taking a beat, he graciously began the song again, giving it the full attention it deserved. 
The gorgeous ode to Shires and his sobriety began with only Isbell and his guitar on stage, his emotion-filled vocals positively soaring in the small theatre. Vaden quietly slipped on stage to lend his soft slide and the remainder of the band trickled in as the audience rose to provide Isbell his first standing ovation of the evening.
Equally as impactful was set closer "Children of Children," a song about young parenthood and the most stirring cut from "Something More Than Free," with Isbell switching mid-tune from his acoustic guitar to electric before delivering the song's transcendent ending solo.
Both Vaden and Isbell kept their guitar techs busy all night, switching instruments on nearly every tune. With the crowd already in a state of elation, the band returned for a two-song encore beginning with the Drive-By Truckers roof-ripper "Never Gonna Change," culminating in an all out shred-off between Isbell, Vaden and Hart. They ended the show with the tender and moving "If We Were Vampires," which would have benefitted from Shires' presence as the tune evokes the harsh and inevitable truth of one of the spouses eventually outliving the other.
Isbell is unafraid to wear his heart on his sleeve and the audience is greatly rewarded for it. As for his ever-improving songwriting, the precision and focus provided by his sobriety makes him a living testament to the power of second chances. 
 Jason Isbell & The 400 Unit at The Stifel Theatre, Sept. 10, 2018. Photo by Chris Malacarne.
Head over to our Flick page to see the full set of photos from the performance.