Music Reviews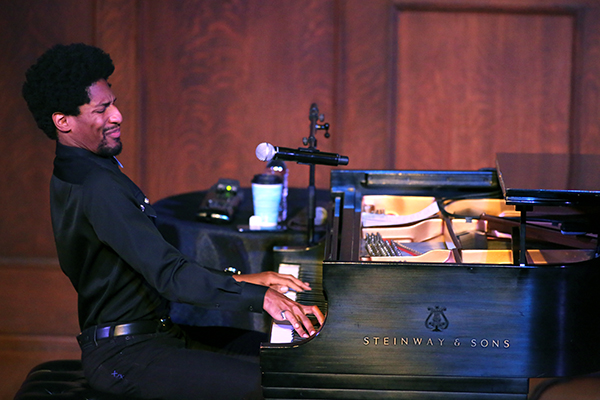 Jon Batiste Unleashes his Inner Jerry Lee Lewis
"Music is the international language," Jon Batiste informed the audience at the Sheldon Concert Hall on October 20. He then set out to prove his point...and succeeded.
It was a stripped-down show: just Batiste and a Steinway grand piano, with no accompaniment. Which was a far different vibe than his performances with Stay Human, his band on 'The Late Show With Stephen Colbert.' Batiste commanded the stage and captivated the audience during his solo gig. He had the at-capacity crowd up and clapping along for much of the show.
Batiste is touring to support his new album, produced by T Bone Burnett. The album, 'Hollywood Africans,' is named after a 1983 Jean-Michel Basquiat painting. It's also his first major-label solo effort. 'The Late Show' has been his primary focus since he joined the production three years ago, which left Batiste with precious little time to compose new music or hit the studio.  
Every morning Batiste writes (handwritten, not on a laptop) to clear his head. He does it to block out distractions and open his creativity. "I get in the moment and music takes me to another place," he told the audience in a serious tone. He paused and smiled. "I also have to mention that we have stuff (merch) out in the lobby."
'Hollywood Africans' is a mix of original Batiste compositions and covers. He made this material the focus of the Sheldon show, mixing in some candid commentary. Although his boss, Colbert, is a comedian, his humor often addresses serious subjects. "We talk about some not so greats things on the show. So I like to bring the love, Batiste said, by way of introducing "Don't Stop," a song he wrote for the album. "The message of this song is also a message to myself to stay on your journey."
Batiste played a variety of ballads and up-tempo numbers. The latter included "Kenner Boogie." Near the end of the piece, Batiste channeled Jerry Lee Lewis, kicking back his piano stool to stand and play.
As a breather after that song, Batiste improvised on the piano a bit, began humming and then singing "Amen." He waved for the audience to join in, and they happily complied. Batiste then walked out into the audience, going up and down the aisles offering the mic to anyone who wanted to perform a mini-solo.
Afterwards, he walked back to the stage, then pulled out his smartphone. "Let's do that one more time," he said. "I'm going to put it on my Instagram!"
Set List for Jon Batiste at the Sheldon
Blue Monk
St. Louis Blues
What a Wonderful World
Nocturne No. 1 in D Minor
When the Saints Go Marchin' In
Kenner Boogie
Amen
Don't Stop
St. James Infirmary Blues
Chopinesque