Music Reviews
Music Reviews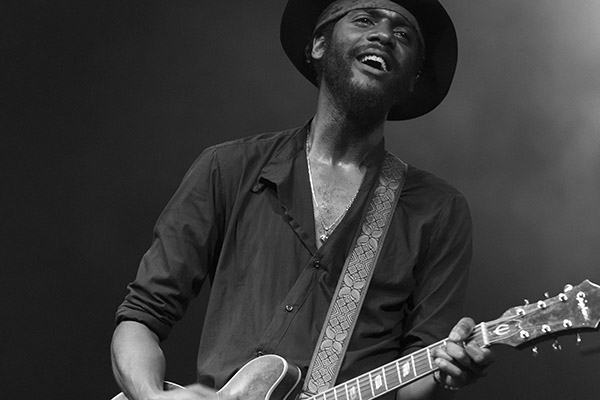 Gary Clark, Jr. Dazzles in High-Energy Show at The Fabulous Fox
By Ronnie Wisdom
Grammy-winning guitar virtuoso, singer and songwriter Gary Clark, Jr. made his second St. Louis appearance of the summer Monday night, having pumped up thousands of Blues fans at a free outdoor concert ahead of Game 4 of the Stanley Cup Finals in June. 
"I got to meet Nelly. It was dope," Clark reminisced to the nearly sold out crowd at The Fabulous Fox, a much more intimate environment in which to display his musical prowess. Touring in support of his third album, "This Land," Clark's unique blend of blues, rock, soul, funk and R&B, along with his impressive guitar and vocal skills, has steadily grown his fan base since he first emerged on the scene. With each album, he's pushed boundaries while remaining true to his bluesy roots, having cut his teeth in the clubs of Austin, Texas under the tutelage of guitar legend Jimmie Vauhan. 
Fellow Austinites Greyhounds opened the show. Backed by a drummer, the duo consisting of guitarist Andrew Trube and keyboardist Anthony Farrell (both of whom played in the touring band of JJ Grey and Mofro) were a great stylistic match for Clark and had no trouble getting the audience warmed up. Both outstanding musicians, the duo traded vocal duties, focusing on songs from their 2018 album, "Cheyenne Valley Drive."
Upon entering the venue, ushers noted that this was a "standing show" and Clark had no problem keeping fans on their feet for the near duration of his two plus hour set. From the moment he emerged amid a wash of blue light, taking center stage in his signature wide-brim fedora and striking an introductory chord, the crowd was rapt. 
Backed by his stellar band featuring bassist Johnny Bradley, rhythm guitarist Eric "King" Zapata, drummer Johnny Radelat and standout keyboardist Jon Deas, Clark kicked off the set with blues-heavy "Bright Lights," an early hit from his first album, wailing "You gonna know my name by the end of the night." Truer lyrics were never sung. The tune featured the first of many of Clark's dizzying guitar solos of the evening.
The majority of the set focused appropriately on Clark's latest material from what may be his most diverse and personal album yet, including groovy "What About Us," the reggae rhythm of "Feelin' Like a Million," punk-edged "Gotta Get Into Something" and heavy/funky "Got to Get Up." Fuzzy "Low Down Rolling Stone" featured an extended psychedelic synthesizer solo by Deas. 
The song that packed the biggest punch and audience response was album title track "This Land," an anthem for the Trump era if there ever was one. Though its lyrics, including "Go back where you come from/We don't want, we don't want your kind," were borne out of a personal experience of Clark's, they speak to the larger tone of the Country as a whole. The crowd sang along with Clark on the repeated refrain, "This land is mine."
Sultry "Our Love" was the sole number Clark performed from "The Story of Sonny Boy Slim, which included a transcendent solo on his Gibson Flying V. Main set closer "Pearl Cadillac" was positively epic with Prince-inspired falsetto vocals and soaring guitar, leaving the audience cheering for more. 
Clark obliged with a three-song encore beginning with a section of "Things Are Changin'," played with only piano accompaniment. He then invited openers Greyhounds to the stage for an all-out jam on "Don't Owe You a Thang," allowing Trube and Farrell to show off their skills, as well as the rest of the band. Though past the 11 o'clock set end time, the band kept on playing, ending the show with a scorching cover of The Beatles' "Come Together." 
Gary Clark Jr. is what one might refer to as "the total package," a crazy-good guitarist with a voice to match, stage presence galore and original songs that seem to effortlessly span across genres. At 35, he's at the top of his game and his star seems poised to only shine brighter in the future.