Music Reviews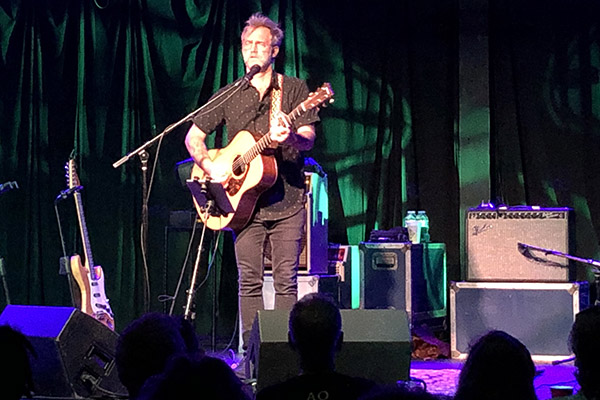 Anders Osborne bares his soul in acoustic solo show at The Ready Room
Written by

Amy Burger
Acoustic solo shows can be daunting, especially in a club environment, having to command a room alone onstage with only a guitar. Unless you're Anders Osborne. The New Orleans singer/songwriter mesmerized fans at The Ready Room Friday night with stripped down versions of some of his best and most soul-searching tunes. 
Chairs lined the dance floor of the venue for this intimate affair, a stirring set of personal stories and songs spanning Osborne's extensive catalogue and 25 year career. He played on donated guitars, his own favorite instruments having been stolen after a recent show in Northern California. He kicked off the set with reggae-inspired "Born to Die Together" from his "Flower Box" album. Osborne's soulful voice more than filled the room and a dreamy guitar solo set the tone for just how captivating he can be with no assistance whatsoever. 
While he included a few more upbeat tunes like jaunty "47," the majority of the show focused on more introspective songs that highlighted Osborne's lyric-writing gift. He's a true poet in the tradition of many of his inspirations – Bob Dylan, Van Morrison and Joni Mitchell to name just a few. He's equally adept on guitar, using it to create both melodic and rhythmic sounds as needed, plucking gently at times and strumming furiously at others. 
A pair of songs from his most recent album, folky "Buddha and the Blues," was a highlight, including the dreamy title track and the stunning "Fields of Honey," a deeply personal song about struggles and gratitude. He delivered the lyrics with such honesty, crooning, "I got lucky and I got out, but this staying sober is hard to think about."
Later in the set, he credited St. Louis blues guitarist Mike Zito for helping him achieve sobriety, along with fellow New Orleans musicians Ivan Neville and the late Dr. John. After he hit rock bottom, they arranged a bed for him at a rehab facility in Los Angeles. Osborne joked, "I said the only way I'm going is if I have a first-class ticket." 
While his manager responded with a slew of profanity, Zito, he says, told him it would be no problem. "I got on the plane and I was in the middle seat in coach the whole way," he laughed. That flight a decade ago changed his life. To pay it forward, he's since founded Send Me a Friend, a sober support network for musicians. 
Osborne's first standing ovation of the evening came with the beautiful "Coming Down," another song that deals with themes of addiction. The room was dead silent as he rocked back and forth, clutching his guitar and belting the chorus, "Keep your arms wide open, I'm comin' down." Toward the end of the song, he transitioned into an extended jam, using both his voice and his guitar to make a myriad of sounds echoing a variety of folk and world music influences. 
The second ovation followed a brand new tune called "Bewildered," the title track from a forthcoming album due next year, which reflected on key social/political events over the decades of Osborne's life leading up to the current political climate, illustrating why he's such an adept storyteller.
He finally strapped on the electric guitar that had been sitting on the stage throughout the set and played slide for the blues heavy "Send Me A Friend," before closing the set with "Lucky One," again expressing his gratitude through his music, singing, "I can't explain how I'm still here today, I'm just thankful that I am." 
After taking a humble bow and leaving the stage, Osborne returned for a two-song encore. He grabbed the electric guitar again and began strumming the Bo Diddley beat of "Jealous Love," followed by bluesy "Boxes, Bills and Pain."
Over the years, Osborne has played in many local clubs in various formations, with his own band, joining North Mississippi Allstars and as part of the Southern Soul Assembly tour; but it was a rare treat to hear this master singer/songwriter pour his heart out solo in a room of die-hard fans that truly appreciated it.