Music Reviews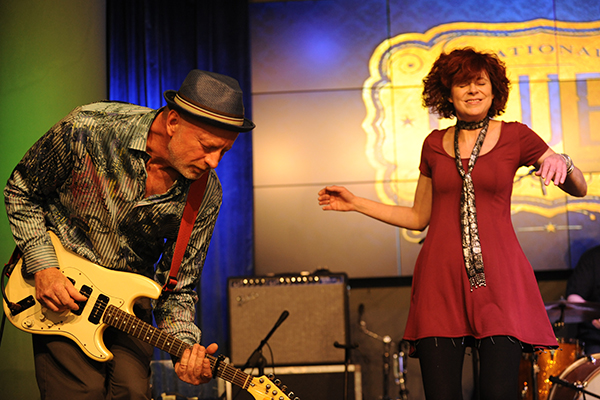 Green Eyed Blues Is A Special Blend
Written by

Bob Baugh
It was just five years ago that St. Louis blues music fans began to hear about a new vocalist in town. Laura Green showed folks that she had a voice with energy and emotions that could shake the rafters or, like a good bourbon, go down low, slow and soft. Her new cd, Green Eyed Blues, gives you all of that. 
Green, originally a jazz and folk vocalist in the early 2000s, got bit by the blues by joining a blues band while working in southwest Missouri in 2012. When she returned to St. Louis in 2014 friends encouraged her to form the Laura Green Blues Band. It was, she says, "a baptism under fire … forming and leading a man band, booking, learning new material and discovering I enjoyed writing."
Green would up her game in 2015 by joining with STL guitar great Rich McDonough to form their own band. One of her first songs, the jaunty, "Bone to Pick" appeared on 15 IN 15," a compilation cd produced by the St. Louis Blues Society. It also batted leadoff in 2016 on her first cd, "The Green McDonough Band." The album was complimented by a well-deserved 2017 trip to the semi-finals of the International Blues Competition in Memphis.   
The popular Green McDonough Band came to an end in 2018 when work and life resulted in Green's relocation to Phoenix, Arizona.  She may have moved but the blues remained in her soul. Her songwriting continued along with regular trips back home to visit with musician friends at David Torretta's Casa Del Torretta studios. The combo of some of the finest players in town, Green's voice and songwriting skills and Torretta's engineering skills has resulted in an exquisite example of St. Louis blues, "Green Eyed Blues." 
There's a little of something here for everyone. Green's three signature songs from the Green McDonough Band cd are all here: The jaunty "Bone to Pick" is about things that need to change in a relationship while the upbeat "Pretty Little Thing" is a declaration of independence. "Don't Know Why" is simply some low-down slow blues about misery and loss told equal measure by guitar and Green's vocals. 
The eight new originals on "Green Eyed Blues," all written by Green, bring an additional mix of blues styles. "Still in Love" is a straightforward blues tune about love lost. "It Ain't Easy" invokes a bit of gospel with its piano opening that evolves into a rockin solo and church choir chorus. "A Reason to Sing the Blues" invokes funky bringing hints of Motown and Stax into the mix. "Mama Don't Cry" is a standout that takes you to the hill country where Green's sweet voice interplays with a slick pickin blues guitar.  
Of course, "All the Kings Horses," the longest track on the cd, is all about lies and broken hearts as told by soaring vocals and crying guitars. "Baby No More" moves with a beat to tell you that there is a price to infidelity. "That's Rights," with its compelling drums and guitars punctuated by Green's vocals drives an electric blues performance that makes dancing mandatory. "Cry," is an upbeat shuffle about saying bye-bye to a former lover. 
What this album does so well is allow space for everyone to show off their skills. Green's songs, vocals and her co-production with Torretta give all the terrific musicians in the ensemble a place to shine.  The clarity of their playing, from the rhythm section and keyboards to the compelling guitar solos, compliments and wraps its way around the voice of a singer in her element. Yes, "Green Eyed Blues" is like a finely aged bottle of bourbon. Take a sip. You'll like it.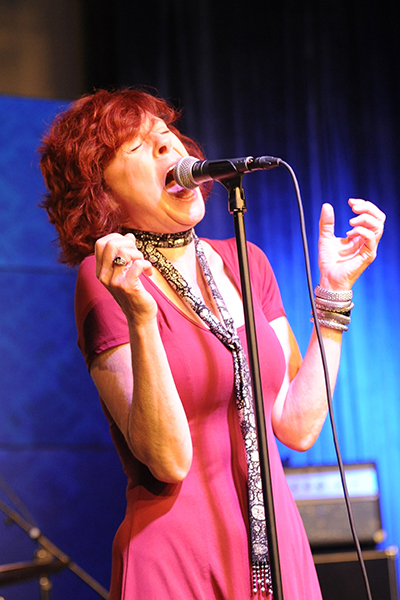 Laura Green performing on stage.
All photos by Bob Baugh.