Music Reviews
Music Reviews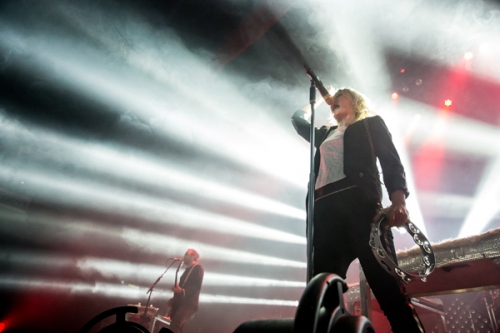 Metric stuns musically and visually at the Pageant, Friday, March 4
By Super User
The synth pop outfit of Emily Haines and James Shaw with Joshua Winstead and Joules Scott-Key delivered a stellar set to an amped crowd at the Delmar Loop venue.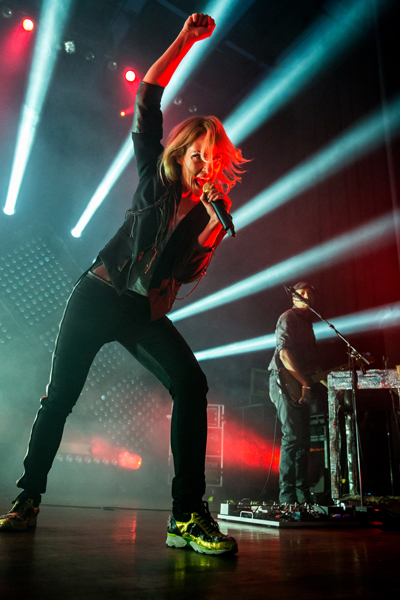 Metric, known for making albumPhoto by Dustin Winters that blur the lines between synth-rock and ultra catchy pop, performed an amazing set at the Pageant on Friday night. I was astonished at just how good Emily Haines and co. sounded, probably due to this being my first live experience with the group. Having poured over every meticulous and multi-layered recording from Pagans in Vegas (2015) to their first effort, Old World Underground, Where Are You Now? (2003), I assumed the group, formed in Toronto in 1998, would come off muddy in a live setting. Nothing was further from the truth. The core of their songs and arrangements resonated throughout the Pageant as clearly as the proverbial bell, as the crowd in the pit sang along and joined Haines in fist pumping during the song "Help, I'm Alive." In short, Metric sounded like live bands should sound -- loud enough to feel the music reverberating in the chest, clear enough to catch the singer's lyrics, even on lesser-known tracks, huge, dynamic. From the floor of the Pageant to the balcony, there was an electric atmosphere that resulted in so many souls dancing, singing, moved by Metric's two-hour-plus set.
Mid-show, Haines invited some members of the Pageant's staff to sing on stage with her, to an acoustic song that required two distinct harmonic parts. One staffer, shy at first, sang a verse after Haines assured her that, "You've got this." Even the biggest cynic had to grin a bit while the crowd cheered on the sudden, reluctant rock star. It was one of those charming moments when the amps cool off for a bit and the lights are bright and it's truly good to see and hear another voice encouraged by a vocal powerhouse such as Haines.
Louis C.K. once wryly joked about the good looks of most bands, assuming that pulchritude is only a marketing device for music. I'm sure there's a degree of truth to what he says. But in the case of Haines and the rest of the band, I can only say that they are first-rate musicians that also happen to be beautiful. And why not? Just as the young can console the old, I found solace in seeing the beautiful figures in Metric putting everything they could into their set -- jumping around the stage, loving their vocations, working at every strobe-lit instance to push themselves further into the music. Metric's set was seamless, other than deliberate interactions with the crowd. From numbers like "Artificial Nocturne" to "Patriarch on a Vespa," the night of music appeared whole, of a piece. I left the club not only surprised but grateful. At a certain point in the show, Haines held a long piece of silver fabric that writhed in air and lights while the band revved up the synthesizers, drums, guitars. As I walked outside along the Pageant, the voice of a man croaked to another, "Did you have an acid flashback in there when that cloth was whippin' around?" "I don't know," he replied. Metric was the best show I'd seen in months, flashbacks or not. It was a visually and musically stunning evening and I'll be back again.
Raphael Maurice is a translator and poet who lives in St. Louis. He is an admirer of most music, and can be found on Twitter @RaphaelPMaurice.  
Photos by Dustin Winter