Theatre Reviews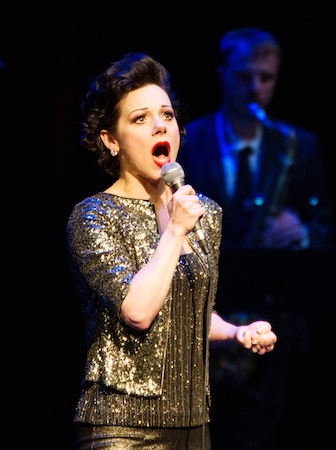 Angela Ingersoll authentically channels a more glamorous era in the image of Judy Garland
Written by

Tina Farmer
If you think it's a bit disarming bumping into an icon from a bygone era, imagining waking up one morning and discovering you were the spitting image and possessed the powerful, evocative voice of Judy Garland. Pretty much the crème de la crème of singular talent, right? Welcome to the world of Angela Ingersoll, a multitalented performer with a knack for capturing Ms. Garland to the finest detail and nuance. Ingersoll was in town several weeks ago, and I had the chance to sit down and talk with her about her career and how a little girl born well after Ms. Garland's passing grew up to become known as the country's pre-eminent Garland performer.
"When I was a child the library was my world," Ingersoll begins. "I grew up in a family of modest means and we frequently checked out VHS tapes and records to watch at home. I was introduced to Julie Andrews, Eartha Kitt, Edith Piaf, Judy Garland and a host of other female performers, and I become obsessed." Her family immediately noticed similarities between Ingersoll and the legendary actress and singer, and a quick glance at pictures of each woman at the age of 10 verifies the similarities. Biten by the bug, Ingersoll attended a performing arts high school and continues to study to this day; she's always looking for more information and insight on her signature character.
The actual transition from a boisterous three-year old with a doting family and a large and varied record collection to a career filled with performances reminiscent of Garland wasn't quite instantaneous. "I've always felt a connection, maybe because, like her, I'm petite, with a big voice and slightly crooked teeth," she observes. "At first, I was simply imitating her, but as I've grown as a performer, I've learned to use my own voice to find Judy." Like most professional artists, Ingersoll continues to refine her craft and to explore other performers she admires. The result is a talented singer and performer with an impressive range who is equally comfortable in her own skin and when developing a character. All that said there is no denying that she's a drop-dead gorgeous ringer for Garland at her peak.
Though she has played a variety of roles and several of her cabaret concerts include songs in the style of many recognizable voices, with Janice Joplin among the most surprising touch points in her repertoire, Ingersoll has always admired and respected the talent and joie de vivre of Garland. She is quick to point out that Judy was the original "tween," noting how MGM created a huge marketing campaign around her emerging femininity and was very controlling over every aspect of her life, including her appearance. "She grew up in a time when the industry was enamored of pharmaceuticals," Ingersoll explains. "That had a tremendous and ultimately devastating impact on her, physically and psychologically."
Ingersoll counters the negative stories by noting Garland's incredible patriotism, her consistent charitable contributions, and her willingness to embrace everyone equally. "She was a really genuine soul who loved everyone – it didn't matter if you were male, female, black, white, straight or gay – and wanted to be loved in return. Her concerts were a safe place full of childlike wonder, and she just wanted to share that feeling, that loveliness, with everyone." A fan of the intimacy and personal interaction that occurs in cabaret and nightclubs, Ingersoll invites the audience to see the star as she does: an incredible performer with an expansive, open heart and sensitive, artistic nature.
Ingersoll strives to bring the same warmth and audience embrace to her concerts, which include her own personal stories as well as tidbits and recollections on Garland's life in addition to a variety of familiar and lesser known songs. "Judy was always focused on creating authentic connections and making people feel happy they attended her shows, and she mixed up her sets according to the location," Ingersoll enthuses. "I want to capture that same feeling, that sense of communion between the audience and my performance. So, yes, you will definitely hear selections from 'Meet Me in St. Louis' when you come to see my show (and I hope you do)!"
St. Louis theatergoers have the good fortune to be able to catch Ingersoll in performance several times in the coming months. This Saturday, you can see Ingersoll's "Get Happy" performance on PBS Channel 9 as part of its special spring programming. In April, she begins a limited six-performance engagement, "Judy Garland: Come Rain or Come Shine," at the Playhouse @ Westport Plaza, and later this summer she returns to St. Louis in a show about Garland's life.