Theatre Reviews
Theatre Reviews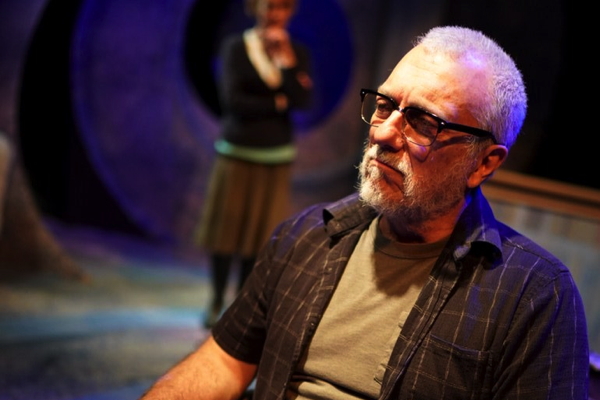 If a tree falls and nobody hears... If a life is lived and the memories are gone...
By Ronnie Wisdom
Upstream Theater has opened "A Tree, Falling" by Australian playwright Ron Elisha. We enter the Kranzberg Theatre to see a dream-like set in a rough steely gray, warmed with touches of rust. A window, center, is flanked by two great compelling whorls or vortices. Or are they eyes? A similar pattern covers the floor. On one side there is a fridge and an old-fashioned wood stove, on the other side a bed. In all this scenic designer Christie Johnston continues Upstream's tradition of superb production values.
This play is about an old man, Lenny, and Lola, a volunteer social worker—or "Friendly Visitor." Lenny seems to have Alzheimer's disease. Now I tend to avoid plays about disease and Alzheimer's is such a fashionable topic for dramatists and screen-writers. But I went to this production because Upstream is a favorite of mine and they have rarely disappointed me. Also because the cast consists of two of my very favorite actors—Jerry Vogel and Kari Ely. They do not disappoint.
Lenny lives in the moment. Though he can recall his younger years in intimate detail, his short-term memory is totally absent. Again and again and again he asks Lola, "Who are you?"  Lenny is often perfectly content: no regrets about the past (What past?) and no worries about the future (What future?). But sometimes he can be cranky as hell about the light switch that doesn't work (it's really the disposal switch) or the TV remote that refuses to respond (it's got dead batteries—or it's a cell-phone—or it's a book).
There are problems with the script. For most of the play Lenny's lines are like irrational sit-com jokes. It's simply impossible for Lola to have human communication with him. He burns her cell-phone in the stove. He burns his family photos. He was a concert pianist, so she loans him a keyboard. He burns it.
If a tree falls and no-one hears it...? If a life is lived and the memories are gone...?
Then, in hospital, after a stroke, Lenny begins pouring forth wisdom. 
And Lola. What are we to make of her?  She repeatedly argues with Lenny, trying to persuade him that yes, he can remember—his wife, his career or even her, Lola herself. This is surely not a technique recommended for dealing with Alzheimer's patients.
But Lola needs something from Lenny. Her life is somehow so unsatisfying. She needs something more. Kari Ely fills Lola with frustration and, in the end, with a clear love for Lenny. This is an actress whose face can express the utter limits of poignancy and anguish. In a final dream-like moment Jerry Vogel is allowed to rise above the cartoon character with which he's been burdened and to command a rich, full, happy, imagined life with the Lola she might once have been.
It's an odd play. What do the names mean?  Lola is the iconic temptress, yet Lenny is hardly tempted. Lenny's last name is Riefenstahl; what in the world is this evocation of Hitler's masterful propagandist, Leni Riefenstahl, doing in this play? 
Ah, well, it's a good evening of theater, and it's well worth your attention.
"A Tree, Falling" continues in Upstream's production at the Kranzberg through April 29.
 Photo: Jerry Vogel as Lenny and Kari Ely as Lola