Theatre Reviews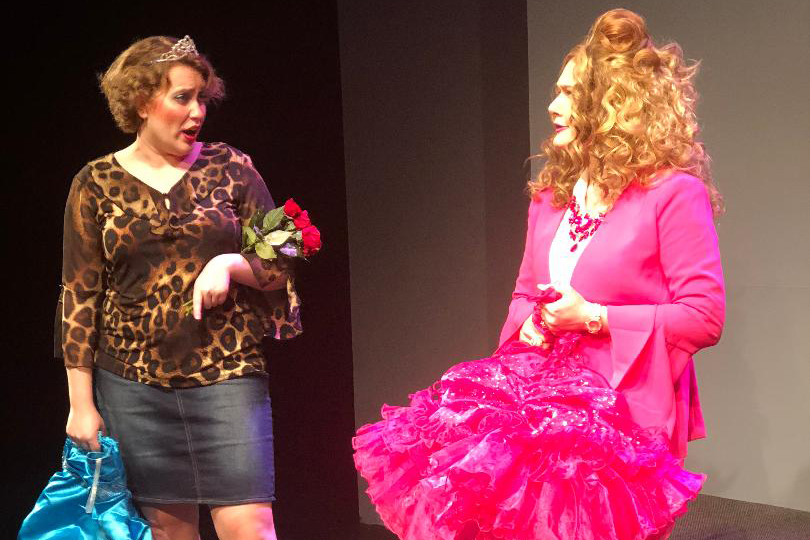 'Pageant Play' is a riotous parody with dark shadows
Written by

Steve Callahan
To parody the child-beauty-pageant industry is such a cheap shot. It's far too easy to mock those stage mothers who push and push their little girls into that fantasy princess world of glitz and tulle and tiaras and precocious sexuality. It's been done and done and done. But "Pageant Play" is different. It's more. This play is so over-the-top that we are swept away in its sheer excess. And this production by the UMSL Theatre Department at the Kranzberg is blessed with such lightning pace and such relentless, explosive energy that we simply can't look down on all those cheap laughs; we succumb, flattened by the beautifully detailed, outrageous mockery. 
We find ourselves in a meeting room at the Red Roof Inn, where Bob and Bobby are pitching their training program to a roomful of eager mothers. Their program is called "Touch the Sky Finesse Coaching" and (for only a bushel of money) they will guarantee that your little precious will be a WINNER!
One of their clients is Pinky, a trim wealthy Texas socialite who has an ugly, life-long obsession with these pageants. Her 6-year-old daughter Chevrolet has been winning beauty contests since she was 3-weeks-old. But Pinky is relentless; Chevy absolutely must win the pageants leading up to her becoming Supreme Queen. (Pinky even plots to enter her into the Little Miss Wheelchair pageant.)  
Another eager mother is Marge, whose little girl Puddles is a newcomer to this art. Marge has a very practical goal – earning $5,000 to bail her abusive husband out of jail. Puddles starts winning – and this drives Pinky right over the edge.
Let me say now that no little girls are harmed in this production. (Though I did see a 6-or-7-year-old a few seats down from me in the audience; her sensibilities may have been bruised by some of the very rough talk in the play.)  No little girls actually appear on stage. They are represented by bright frilly little pageant gowns carried by their mothers. They are tossed around casually and sometimes used as weapons – a brilliant device that shows how the kids are mere props for their ego-driven combative mothers.
All the while Bob and Bobby give lessons on the essentials: Smile, Hair, Eyes, Illusion and (if all else fails) Talent. They coach in the artful shrug, the pucker pout, the toss of a hip, the batting of lashes, the mischievous spank of a cute butt and generally the expression of an adorable little sluttiness. It's a business that devours little girls to inflate the egos of mothers whose own childhood Princess dreams were never fulfilled.
This is an all-student production, but true professionalism abounds. The two leading ladies are so very fine. Jordan Cooper, as Pinky, drives the show with utterly frenetic energy. She's amazing; she wields a wonderful sense of comedy and a spot-on Texas accent. Carolyne Antoine, as Marge, is equally admirable, giving full dimension to a character rather less cartoonish than Pinky. We learn early on that the childless Marge, after seeing a gaggle of little contestants promoting a pageant in a mall, had simply stolen one little girl, bleached her hair and named her Puddles, so that she, Marge, could get some of that prize money. 
Wallat Baban and Josh Mayfield are delightful as Bob and Bobby. Dylan Houston makes a handsome and long-suffering Gunnar (Pinky's husband). 
In a flash-back scene we learn why Pinky became such a "psycho-bitch":  her mother had forced her into these pageants. At age 12, when her mother noticed her lack of "development," she hustled poor little Pinky to Mexico for quickie breast implants. Mama is played with bravura by Sage Hayes. Mama's tactic with little Pinkie is to tell her, "If you win I'll buy you a puppy. If you lose – I'll buy you a puppy, let you keep it for a day and then get your uncle to shoot it!"  
Marge's jailed husband, Bud, is (surprisingly) played by a woman, Heaven Washington. A woman in this role is a little disconcerting, but Ms. Washington does fine work. And the whole show, after all, is very far from realism. 
Special praise must go to director Andre Williams. This is his first effort at directing, yet he guided his cast to such brilliant, unflagging pace, never missing a laugh. No choreographer is listed, so one must assume that Mr. Williams should also get credit for the clever dance routines. Bravo!
Glen Anderson's set simply, yet attractively provides all the essentials – including multiple exits for the pop-in/pop-out action of classic farce. Felia Davenport's costumes are exactly right.
It's a strange world – with unnerving dark shadows. There's the jailed wife-beating husband who insists on conjugal visits. (She says, "You look so good in orange. You should wear it more often.") There's a brawling "cat-fight" between the mothers.  There's the total de-personalization of the tiny contestants. ("Can I buy her off ya?")  There's an utterly casual reference to Jon-Benet Ramsey.  It's quite unlike anything you've ever seen. And it's a hoot. It's UMSL's production of "Pageant Play," which appeared at the Kranzberg last week.