Theatre Reviews
Theatre Reviews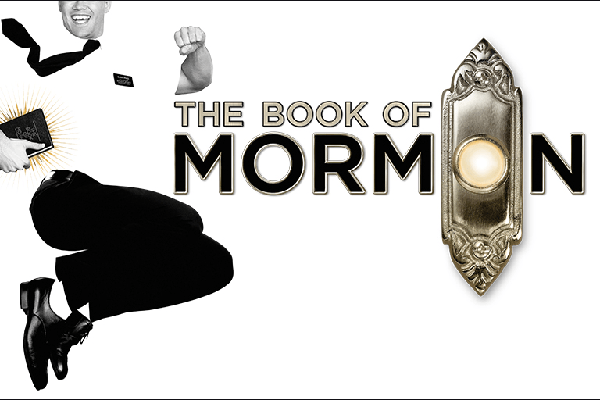 'Helloooo!' or, the Call of the White-shirted American Mormon
By Ronnie Wisdom
This was the first time I've seen "The Book of Mormon" on stage, although I've known the soundtrack for years. However, simply knowing the soundtrack in no way can prepare one for being bludgeoned (yes, I stand by bludgeoned) by the live experience, recently on technicolor display at The Fabulous Fox Theatre.
Book, lyrics and music created by the bad boys from South Park, Trey Parker and Matt Stone, along with collaborator Robert Lopez, Mormon opened on Broadway in 2011, winning a glut of Tony awards thereby. There, and in several touring productions, it's still going strong.
I could describe Mormon as many things: irreverent; shocking; crass; crude; profane; insensitive. But the word I think describes it best is, fun. A hella lot of fun. It's a simple story, yes, but one that insults the opinions, spirituality and principles of just about everyone who could possibly be in the audience to see it. And here, that's not a bad, but a very GOOD thing. I half expected disgruntled patrons rising mid-performance to exit in outraged protest, but didn't see a one. 
Two young Mormon "Elders," fresh out of Elder school, are paired as missionaries and sent to Uganda in central Africa to do their god's work of "Making More Mormons." Elder Price (Kevin Clay) is gung-ho and devout and has a god complex, sure he can Mormonize(?) the entire world single-handedly. Elder Cunningham (Conner Peirson), so un-devout he hasn't even read the Mormon Bible ("too boring," says he), is a self-described "follower" who really only wants a friend who won't belittle him. The journey these two subsequently undertake equalizes their extremes and challenges their training and spiritual beliefs, to biting but hilarious effect. 
It's a strong cast overall, with several players taking multiple characters. I found the strongest among them were Clay and Peirson, Andy Huntington Jones in a couple of roles, Ron Bohmer in at least four and Kayla Pecchioni as sweet, naive Nabulungi (or any of the 15 other names hilariously given her by Elder Cunningham). Pungent humor, inventive dancing and costumes and strong characters (and voices!) kept the energy high and the pace brisk.
Set, costumes, and staging (sequins! tapping! explosive diarrhea!) seemed carefully crafted to look almost low-budget community theatreish, but that couldn't keep down the extremely professional production that shone though nonetheless. It was chock full of small but comical touches overall, so much so that probably several viewings would be necessary to pick out and appreciate them all. With a running time around three hours, with intermission, it was a most entertaining night of theatre.
I welcome the next visit of "The Book of Mormon" to St. Louis and will not hesitate to cough up the bucks for another chance to have any and all of my personal principles and beliefs affronted and derided so entertainingly.