Theatre Reviews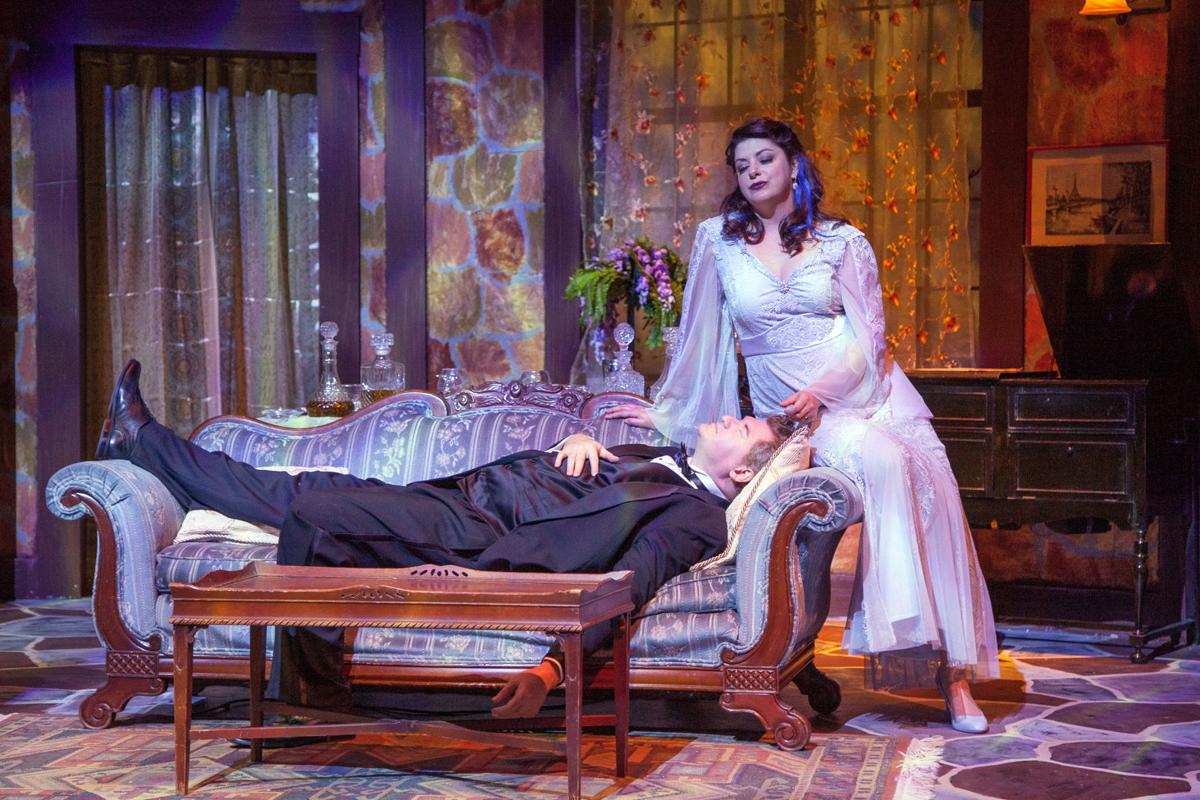 Light and frothy, 'Blithe Spirit' is a perfectly delightful escape from the summer heat
Written by

Tina Farmer
When it comes to sharp, witty comedy Noel Coward fits the bill. Act Inc clearly understands, selecting the perennially popular "Blithe Spirit" for their summer season. Director Jane Sullivan and the cast gleefully dive into the sometimes absurd and always funny comedy that's an entertaining diversion lively enough to chase away boredom.
Writer and bon vivant Charles Condomine and his wife Ruth have invited friends over for dinner and a séance. Neither Charles, his wife, nor their guests believe in such things, but Charles is writing a book and wants to research. After light conversation and a number of drinks, the cheerfully eccentric Madame Arcanti obliges, and manages to call forth the ghost of Charles first wife, Elvira, though naturally only Charles can see her.
The humor is constant and the action quick-paced, as Elvira seems determined to reunite with her husband. First there's a series of small accidents that injure both Charles and the household maid Edith, then there's the car crash, but I won't spill any more details. The script, written in the 1940s, is at times predictable, but Coward's witty dialogue is a joy to listen to, even when an actor or two occasionally slips on the requisite British accident.
Joe Cella is charmingly adroit as Charles, he and SaraJane Alverson, as second wife Ruth, are smooth and glib, carrying off the sense of the cynical upper crust with ease. Initially Charles quite enjoys both of his wives fighting for his affection, but it begins to wear thin when the cats claws come out. Alverson is the epitome of mid-century chic and intelligence as Ruth and her quickly darting eyes don't miss a thing, even when she can't see that thing. Alverson moves with a sense of refinement and good breeding, but she lets her real feelings flicker over her face with uncanny timing. Her Ruth is all knowing and a bit too jaded for emotional explosions, but don't let her cool exterior fool you, she'll dig her talons in if needed. She is the first to figure out Elvira's plot and tenaciously ready for the fight.
In contrast, Annalise Webb's Elvira is coy, flirtatious and fully committed to getting her husband back. She is purposefully all over the place in her performance, at first playfully then ruefully, but always gracefully, flitting about as she plots and schemes to get what she wants. She plays with Charles and, to a lesser extent Ruth, like the cat playing with the mouse that's soon to die. Webb gives Elvira big expressions and gestures, but she's always in control, carefully plotting every move; though there's mention that she didn't play chess well, she seems a natural at gamesmanship.
Kathy Rush is humorously over the top and filled with hippy dippy sensibilities as Madame Arcanti. She blows in and out of her scenes with the disorganized force of a minor hurricane, but there's method or a good deal of luck in her madness. Tim Naegelin and Liz Mischel add the right mix of snobbery and curiosity as Doctor and Mrs. Bradman, they may arch their eyebrow in concern occasionally but are otherwise open to new ideas and experiences. The séance scene is quite funny as Naegelin and Mischel fully commit to being guests fully committing to something they clearly don't believe. Amanda Brasher steals several scenes as the awkward and untrained maid Edith. She plays the role a little dimwitted, but not stupid, and clumsy but aiming to please on the double, rather than careless or bumbling.
The technical aspect of the production provides all the finishing touches and bows to make the show a treat. Melissa Wohlwend's costumes are period and economically appropriate, the only miss being Alverson's mauve ensemble in the second act, and Michael Sullivan and Tony Elliot supply the lighting and sound. Scenic designer Tim Poertner creates a nicely appointed pre-World War II British living room, but it's the tricks and surprises he saves for the ending that enable "Blithe Spirit" to come together in one riotous moment. The last scene is a veritable cacophony of special effects and laughs that provide a satisfying ending to the delightfully quirky play. Often overlooked or sloppily executed, Poertner and the crew get the little details right.
Act Inc pulls out all the stops, ensuring "Blithe Spirit," continuing through June 24, is a witty, madcap adventure in theater. Entertaining performances, a clever script and paying attention to the right details make this show a welcome respite from heavy thought and hot temperatures.