Theatre Reviews
Theatre Reviews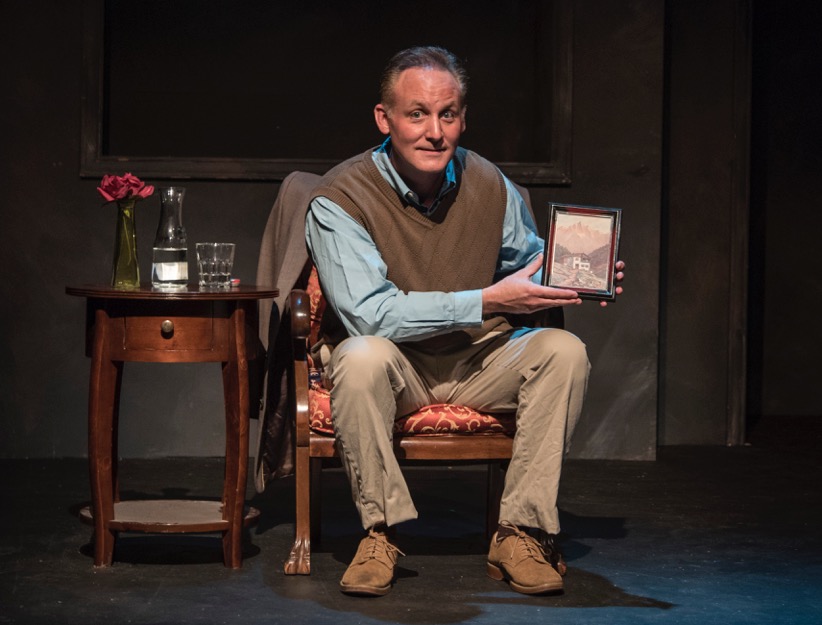 In Performance: Shows that celebrate 'girls night' every night and the second part of the LaBute New Play Festival headline this week's theater offerings
By
A quick check of the thermostat shows that this is a great weekend to beat the heat by enjoying a night at the theater. Most of the fare is seasonally light and full of humor, perfect to take your mind off yard work and other chores for a bit. Check out these previews and then head to the theater to grab a cold beverage, sit back and let the talent take your troubles away. And if tonight's not a good night, there's always tomorrow, tomorrow.
St. Louis Actors' Studio presents the "LaBute New Play Festival Set Two" at the Gaslight Theater. The two-part festival features new works chosen from an open submission process that begins each October as well as a new one-act play by the festival's namesake Neil LaBute. His provocative one-man piece, "The Fourth Reich," directed by John Pierson and featuring Eric Dean White, returns for the second set and is joined by "The Gettier Problem," by Michael Long, directed by Wendy Greenwood, "Unabridged," by Sean Abley, directed by Ryan Scott Foizey, and "The Process," by Peter McDonough, also directed by Foizey.
The playwrights are offered few constraints, though they are restricted to a limited number of actors and the dimensions of the stage as their playground. Generally, the shows are presented with minimal set decoration and costuming as the company chooses to focus on theme and character development for their selected scripts. The short one act plays touch on a variety of topics, but most resonate with current issues and ideas. The festival, continuing through July 29 at St. Louis Actors' Studio, features work that is often still undergoing refinement and revision, creating a unique opportunity for theatergoers to not only see new work but to provide feedback that the playwrights can use during their editing and revision process.
Grab your girlfriends and head to the theater, part one: The Playhouse at Westport presents "Girls Night Out," a fun musical revue featuring hits from the 80s and 90s that's the perfect excuse to get dressed up and tease your hair high. The "tell-it-like-it-is" musical introduces audiences to a group of female friends and invites them along for a ride filled with laughter and maybe a few tears. The evening is a musical journey through past, present and future hopes for five friends that you won't want to miss. "Girls Night Out – the musical" is presented in a limited one-weekend-only run at the Playhouse at Westport Plaza.
Take your girlfriends to a show, part two: Put on your favorite disco outfit, pull out your high heels and get ready to be a "Dancing Queen" when "Mamma Mia," the sensational pop musical featuring the songs of ABBA hits the stage. The hilarious and heartwarming show tells the story of a young girl about to get married who just wants to find out who her father is so he can walk her down the aisle. Set on a Greek island and featuring all of ABBA's biggest hits, the breezy musical winds its way through two generations of female friendship in a celebration of life, love, and being true to your self. STAGES St. Louis production of "Mamma Mia" continues through August 19.
Continuing this weekend:
Silhouettes Productions presents "Altar Boyz," at the Kranzberg Arts Center Black Box through July 21. The concert-style show satirizes contemporary culture, commercialized religion and formulaic pop music with effective humor. As the five enthusiastic members of the Christian boy band sing, dance, praise and recruit audience members to unburden their soul with them, we see their true selves come through. Uncertainty and insecurities as well as a touch of regret are revealed and their friendship is tested. The show is surprisingly funny and uplifting, pointing out religious excesses without being cruel or harsh.
Insight Theatre Company presents Oscar Wilde's "The Importance of Being Earnest," at the Grandel Theatre through July 22. The witty farce bristles with intrigue as two friends, and their fictional counterparts, find themselves caught in a tangled web of their own construction. Though set during the transition between the Victorian and Edwardian periods in England, the play's perceptive critiques of privilege, economics and social constraints still ring familiar to contemporary audiences.
America's favorite plucky orphan, "Annie," continues on the Muny stage through July 25. Based on the popular depression-era comic strip by Harold Gray, the family-friendly musical is upbeat, heartwarming and bursting with memorable songs like "Hard Knock Life," "Easy Street" and "Tomorrow" that have become part of the American musical theater songbook. Leapin' Lizards everyone, "Annie," at The Muny, featuring Peyton Ella as the eponymous redheaded girl, is certainly determined to please!
And remember, there's always much more art and culture happening in St. Louis than one reviewer can cover, so visit the KDHX Calendars for a complete listing of theater, performance, music, gallery exhibits and much more.