Theatre Reviews
Theatre Reviews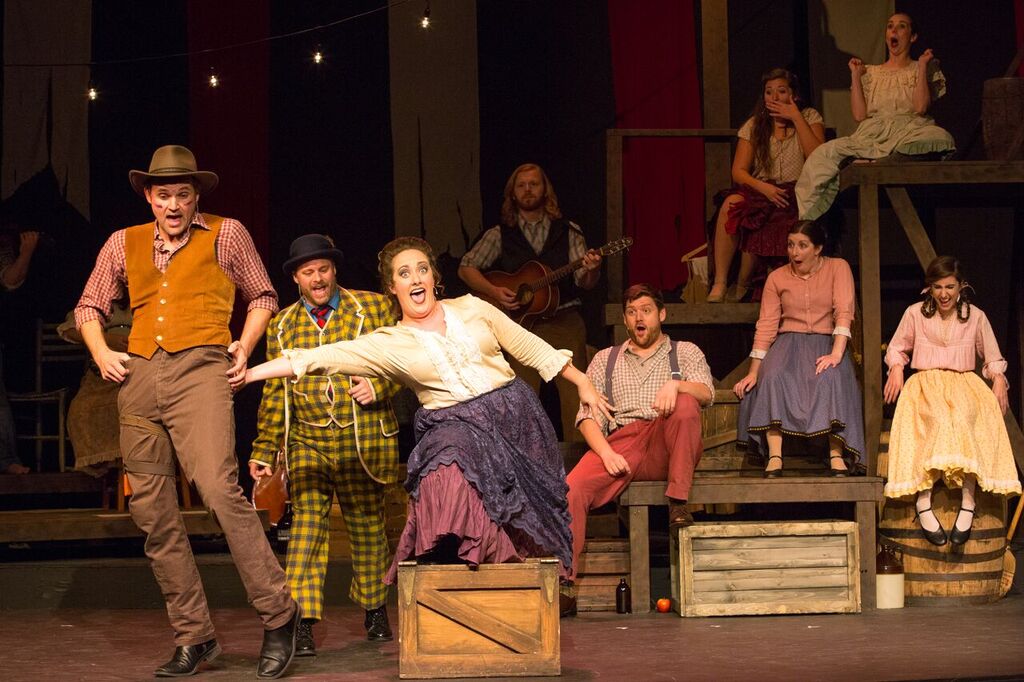 A fairy tale and a hootenanny ensure 'The Robber Bridegroom' thoroughly entertains
By
If you enjoy stories that spring from the Brothers' Grimm collections and songs with a bit of a twang, Stray Dog Theatre's "The Robber Bridegroom" is a folksy musical that's sure to make you laugh. The fast moving, slick-talking story features strong performances from a mysterious outlaw, a doting father, a spirited and independent-minded ingénue, a scheming stepmother and her bumbling henchmen. Basically, all the elements you need for a musical romance with a super-sized side of whimsical comedy.
Based on a fairy tale adapted into a novella by Eudora Welty, with book and lyrics by Alfred Uhry and music by Robert Waldman, the rustic musical spins an old-fashioned yarn. Cunning and shrewd Jamie Lockhart, a gentlemen robber, chooses to protect the wealthy Clemment Musgrove from the notorious Harp Brothers as he's making his way home from selling his tobacco crop. A grateful Musgrove offers Lockhart the hand of his beloved daughter Rosamund, even as Salome, Musgrove's second wife, plots her untimely demise.
Meanwhile in the forest… Lockhart meets Rosamund, who has wandered off from her task of gathering herbs, and they fall almost instantly in love. Lockhart's face is disguised and Rosamund is coy about her identity, so the two do not recognize each other when Musgrove introduces them a few scenes later. Humorous twists and turns, as well as a lively score, keep the audience and actors on their toes as the story romps to its happy ending.
Phil Leveling is completely in his element as Lockhart, with rich vocals and sharp comic timing. He's matched, note for note and laugh for laugh, by a winsome Dawn Schmid as Rosamund. Both commit fully to the constraints of the ludicrous tale and their voices blend well together while also standing out from the ensemble. The always-charming Jeff Wright has fun with Musgrove, making his preference for his daughter all too clear to Sara Gene Dowling, who is wickedly entertaining as Salome.
Logan Willmore and Kevin O'Brien are completely in-sync as the not-too-clever Harp brothers. The physicality of their stage business adds just the right over-the-top ridiculous touch while Bryce Miller, as Goat, and Susie Lawrence, as Raven, have standout moments that add to the general good natured humor of the show. There's nothing too sophisticated going on here and it works. Leveling and Schmid are oblivious of their alter egos though they wear every action and reaction on their sleeves, keeping the audience fully in on the joke. Dowling loudly cheers at Schmid's misfortunes and gleefully prods Willmore, O'Brien and Miller while Lawrence caws her commentary with eye rolls and shrugs.
Music director Jennifer Buchheit and the musicians are comfortable on stage, adding texture and visual interest to the story. The integration of the band with the ensemble adds much to the lively cacophony of the production in a satisfying tale told tall with a wink and a nod to the willing audience. Choreographer Mike Hodges utilizes square dancing and other folk steps, adding to the atmosphere in ways that feel surprisingly free and natural on the tight stage. The combination of these elements goes far in conveying an incredulous story while emphasizing the old-fashioned barn dance look and feel of the quick stepping musical.
Director Justin Been once again uses the full space of the theater for the action in the show. The entrance of the ensemble and band, with first one instrument playing then another, and another, until everyone segues into the opening number, is particularly enjoyable. Been also designed the effective set, with lighting by Tyler Duenow and costumes by Gary F. Bell. There aren't any new tricks or fancy technical treats in this musical and that's ok. The creative team understands both their space and the world they want to create for the story and they add the right touches without becoming excessive.
In terms of show selection, artistic director Bell and director Been hit all the right buttons to create an entertaining late summer musical. The story is light and breezy and the performances all for fun while the score is up-tempo, with straightforward melodies and harmonies that are satisfying and engaging. "The Robber Bridegroom," continuing through August 18 at Stray Dog Theatre, revels in its fairy tale roots. The songs are catchy and swinging, and the action is fast, furious and funny, ensuring plenty of laughter and toe-tapping good time for all.
Related Articles