Theatre Reviews
Theatre Reviews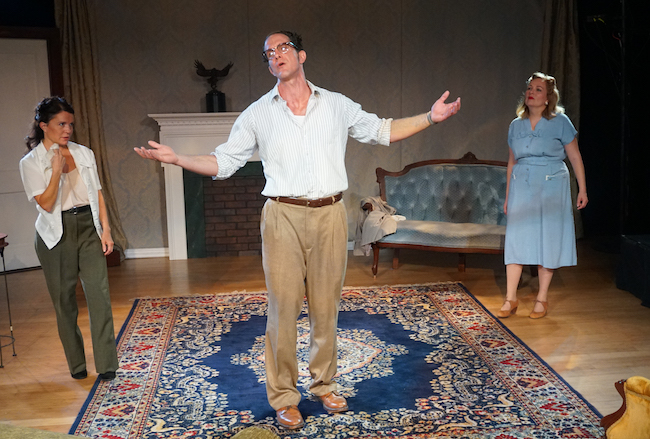 'No Exit' cautions that Hell hath no fury like the machinations of life
By
Slightly Askew Theatre Ensemble is a company that seems to enjoy mounting productions that cover the classic, the new and the unusual of theatre. The company's latest production offers two of the three, with a lively interpretation of Jean Paul Sartre's "No Exit." While not new, the script gets an unexpectedly humorous and insidiously thought provoking treatment that's enlivened by sharply stylized performances that retain individual interest.
"Welcome to Hell" are the opening lines and setting for Sartre's intentionally and cleverly vague script. One by one, the Valet escorts three strangers, Garcin, Inez and Estelle, into a room furnished with garishly mismatched second empire décor. Each has died fairly recently and all three are aware that they are in Hell, if they weren't previously informed the valet pointedly reminds them and pertly, but robotically answers a few questions before leaving them alone. Presumably forever.
Is this just a waiting room, before their final hellish assignment? Can the three get along, get out or in any way change their circumstance?
Katy Keating is the gleefully demonic Valet, welcoming the three to their room and casting knowing glances to an audience who, by means of Bess Moynihan's clever set design, are also currently in hell. Keating is perfunctory, with outbursts, cackles and expressive eye rolls that emphasize the context of hell through well-turned exposition. With a convincing flare for the macabre, Keating tells the audience everything they need to know to tap into the nihilistic banality of this underworld chamber.
Shane Signorino is a bit of a pompous know-it-all with a better than you attitude as Garcin, but with an offhanded shrug that's almost pleasant. He fully accepts his placement in Hell. He also quickly realizes that hell tailors its punishment to the souls placed and he, Inez and Estelle are together for the long haul. Signorino's approach is blunt, misogynistic and cruel – both passionately and indifferently, yet he plays it with a nonchalant demeanor. The script is of its time, though Signorino and Moynihan make a point of emphasizing his more egalitarian moments.
As Inez, Sarah Morris is constantly active, with a well honed, caustic wit and an aggressive, button pushing ferocity that keeps you watching to see when she's going to explode. Her energy is barely controlled, but her dialogue is crisp, clear and direct, showing command of the volatile character. Without Inez, this Hell would be quite tedious, and Morris never stops moving, whether it be in small ticks or leaping grabs. As rival to Garcin for Estelle's affection, Morris is more genuine and passionate in her pursuit, ensuring the character jumps off the page (and sofa).
The final arrival, Rachel Tibbetts' Estelle, is vivacious, flirtatious and resolute in her belief that she has been mistakenly assigned this destiny. There's a superficial charm to her character, with dark secrets hiding underneath her fashionable exterior. She's refined and reserved, building to a slow boil that's surprisingly, if only briefly, vicious when exposed. More genteel and easily offended, she nonetheless proves the most steely of the three characters. Tibbetts reveals more with her face and reactions than dialogue, ensuring the audience pays attention to the cat and mouse game. The often-restrained action bounces around out like a three-sided tennis match, and Tibbetts deftly proves that she is the cat, and the mice have not yet felt the force of her claws.
The script, which is more often studied than performed, proves a challenge, though Alyssa Ward's smart translation and Moynihan's sharp direction ensure the show is witty and highly affected, emphasizing the comic nature of the enduring conundrum. The language and costumes are of the 1940s, maintaining a more formal and elevated tone. Though often cast-off as a trifle, dense dialogue underscores the existential tone of the show as well as the playwright's more philosophical bent.
The script can likely be trimmed further without losing the essential quandary and interesting characters, but the focus is tight and the conversation generally clips along, compelling audiences to pay attention to the layers of meaning in every exchange. There are a several moments where the show becomes tiresome and repetitive. Luckily those moments are few and often punctuated with intensity or a swift, but not quite unexpected shift in the conversation.
Secrets and sins come tumbling out as the three push, prod, challenge, tease and confront each other in twisted, mostly verbal, assaults. Director Moynihan keeps the characters interesting, the dialogue glib and the action measured. "No Exit," is a heady play that demands thought and attention, and feels about 10 to 15 minutes longer than it needs to be. There are moments when the author's thoughts are belabored, but well-turned, committed performances, combined with quick pacing and a highly artificial approach heightens the tension and interest in the entertaining show.
Slightly Askew Theatre Ensembles "No Exit" closed September 1, after playing to receptive, engaged audiences. Fans of theatre that challenges while thoroughly entertaining are encouraged to consider the company's entry in the St. Louis FAUSTival, "Doctor Faustus, or the Modern Prometheus," by John Wolbers… and Kit Marlowe, October 31 through November 17, 2018.
Related Articles