Theatre Reviews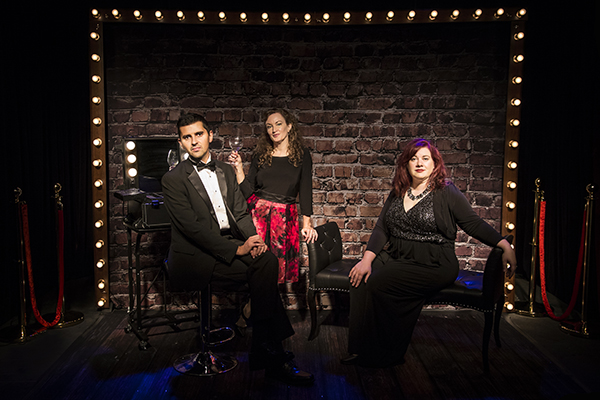 In review: Three Decembers
Written by

Steve Callahan
The St. Louis Opera Collective is an adventurous tiny company that brings us chamber operas. Their current offering at the Kranzberg Studio is "Three Decembers," with music by Jake Heggie and libretto by Gene Scheer.  
We meet Beatrice and Charlie – and their famous actress mother, Madeline. We drop in on the siblings' long-distance phone calls at three Christmases – in 1986, 1996, and 2006 – as they read Mommy's standard Christmas letters. And we hear their resentments toward their always-absent mother. Daddy died in an "accident" when the kids were small and Madeleine has always been too busy with her career to pay much attention to them – even at Christmastime. What's more, she so disapproves of Charlie's gay lifestyle that she simply won't remember his partner's name. That partner, Burt, is now dying of AIDS.
The role of Charlie is sung by Aleksandar Dragojević. He's a strikingly handsome young man with a strong, clear tenor and powerful emotional expressionm – which makes him well suited to the role.  \A recent immigrant from Bosnia/Herzogovina, he has a slight Slavic shade to some of his vowels; polishing this will open many more roles to Dragoyević. 
Beatrice is sung by Emily Truckenbrod, who did that splendid tour-de-force song cycle in last year's "Tesla's Pigeon".  (Disclosure: I played the silent Tesla in that show.)  With her clear, bright soprano she does lovely work here.
Stephanie Ruggles sings the role of Madeline, and she nails it as the self-absorbed diva.
The music is most engaging – rich, complex, fascinating. There are jazzy moments, lyricism, a sweet lullaby waltz, dramatic discordant passages. Pianists Curtis Moeller and Kurtis Shoemake do fine work with the difficult score.  
Mr. Shoemake is the Artistic Director and also the stage director and designer. His scene design has a lovely sense of style, making the most of the very limited space at the Kranzberg Studio. Costumes are fine indeed – including some very swank and elegant things for the Tony awards gala.
Movement on the stage is even more limited than necessary in this tiny space. Too often the actors are static – standing or seated when the words and music call for physical movement. For instance, when Beatrice is dressing for the Tony awards the lyrics clearly suggest that she's talking to herself in the mirror – but there is absolutely no movement to indicate this.
I was musically very engaged by the fascinating score and the fine voices – but the libretto ...  Well, I rather wished it had been in Italian where the maudlin tone might not be so obvious. There's more than a whiff of Joan Crawford melodrama. The story is full of self-pity and blame-laying. Charlie and Bea have serious problems in their lives – he faces the grim death of his lover, she is in a failing marriage. But they choose to lay all the blame on their mother. When she finally reveals that their father committed suicide the children react with horror and anger – as if Madeline's concealing this had deprived them of some even more dramatic victimhood.
But there are elements which brighten this dark evening. There is a very real sibling dynamic between Charlie and Bea and in one scene they sing a happy, hilarious number about the therapy of shopping for shoes. It's a cheerful contrast to the emotional shadows that pervade the story.
"Three Decembers" is based on an epistolary sketch written by Terrence McNally for a 1999 AIDS fundraising event. The libretto clearly betrays that provenance and now seems dated and overwrought.
But these singers surmount the "Mommy Dearest-ness" of the libretto to give a very engaging performance of some beautiful music.
"Three Decembers" played the Kranzberg on September 7 and 8.